Brewers' leadoff spot still up for grabs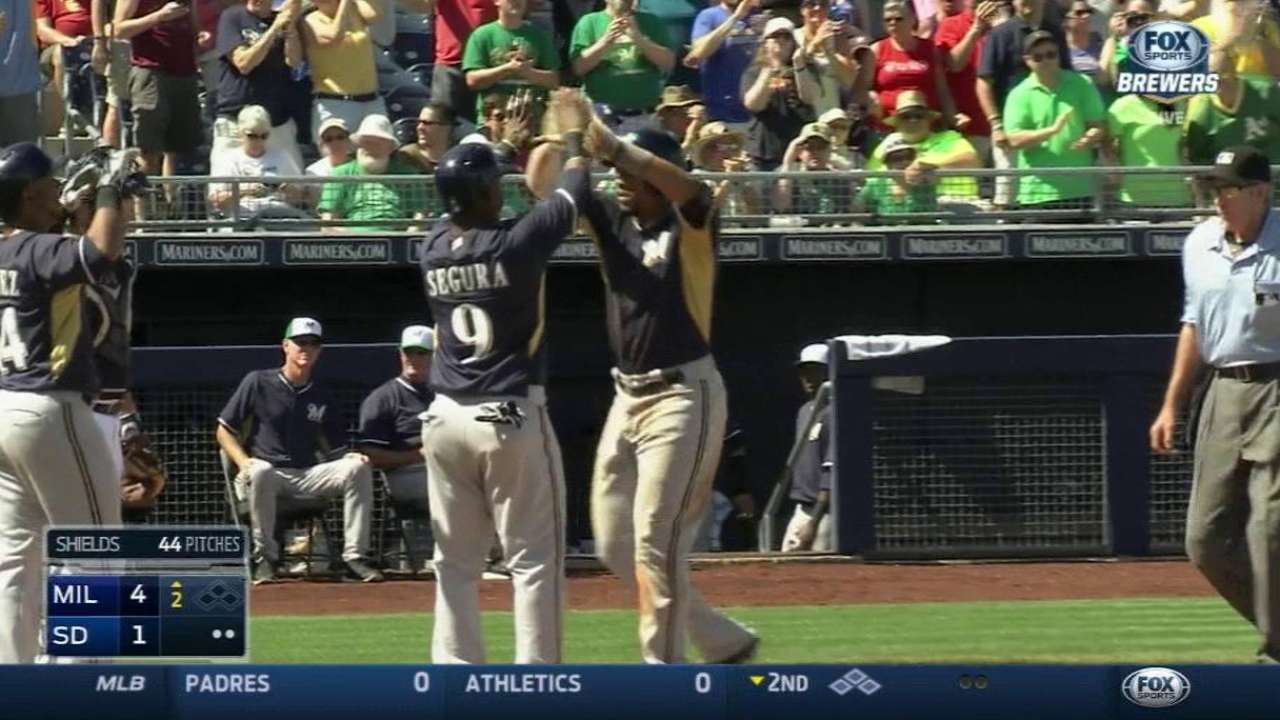 PEORIA, Ariz. -- In one corner is Carlos Gomez, who has the speed, the improved on-base percentage and the quick-strike capability that manager Ron Roenicke likes in a leadoff hitter. In the other corner is Scooter Gennett, who had some success hitting from that spot last season and would allow Roenicke to use Gomez in a run-producing position instead.
Twenty days before the regular-season opener, Roenicke still wasn't sure which player he will pick.
"I still go back and forth on that," Roenicke said. "Scooter has been doing a pretty good job at it. I'd like to at least have a couple guys doing it a few times down here, so I don't go Scooter all spring and then Opening Day go 'Gomey.'
"I talked to 'Gomey' today. I'd rather have him at least do it a few times, and then whichever way we go, we'll be OK."
Gomez made clear he would hit wherever Roenicke wishes, but he told Gennett on Tuesday when the topic came up in the clubhouse, "Take it. Get ready to lead off all year. Get on base and I drive you in."
Gomez added: "Fifth, fourth, third, leadoff, it doesn't matter, but I'm preparing myself mentally and physically to be in the middle of the lineup. It's about winning, and whatever Ron puts in the lineup that day [is what] he thinks is best to go and compete, but I dream about [hitting in the middle]. I'm getting so close to being the player that I believe that I can be, so I want to continue to learn.
"I've been dreaming about hitting third. Ryan [Braun] is one of the best players in the game and that doesn't mean I want to take that spot, but I want to get better to be around there. Aramis [Ramirez] is not going to be here next year. I want to be the guy to be behind or in front of Ryan, because we want to be The Man."
As for Gennett?
"When I'm in the leadoff spot, it helps my approach," Gennett said. "We're a pretty aggressive team, and when me and Gomey both are in the leadoff spot, we're not really true leadoff guys. We like to swing and we make contact. I think if I'm able to work the count more and see more pitches, it will only help me. So I like it."
Piecing together Roenicke's other comments on Tuesday and on other occasions this spring, these are the two most likely lineup combinations:
Option A
1. Gomez CF
2. Jonathan Lucroy C
3. Braun RF
4. Ramirez 3B
5. Adam Lind 1B (L)
6. Khris Davis LF
7. Gennett 2B (L)
8. Jean Segura SS
Option B
1. Gennett 2B (L)
2. Lucroy C
3. Braun RF
4. Ramirez 3B
5. Gomez CF
6. Lind 1B (L)
7. Davis LF
8. Segura SS
Central to the outcome is Gennett's success against left-handed hitters. If he continues to prove this spring that he can handle them, his chances would get a boost. But if he struggles and slips back into a platoon, it would boost Gomez's case, since Roenicke prefers to give one man the leadoff job and stick with it as soon as possible.
Gomez drew most of the leadoff duties last season, posting a .276./.356/.488 slash line and 20 home runs, including five homers leading off a game. When the Brewers needed him at a lower spot late in the season, Gennett took over and slashed .323/.351/.505 in 98 plate appearances as the leadoff man.
Gomez's on-base percentage last season was .365. Gennett's was .320.
Does Roenicke have a minimum OBP threshold for a leadoff man?
"Well, .320 doesn't work for me," he said. "I think you need to be .340 or more. I know today's game has changed and on-base percentage is way down. I think they'll show us by their production where they should be."
Adam McCalvy is a reporter for MLB.com. Read his blog, Brew Beat, and follow him on Twitter at @AdamMcCalvy. This story was not subject to the approval of Major League Baseball or its clubs.