CarGo to weigh options when facing shifts
Rockies slugger occasionally will put bunt down the left side, but he won't abandon power stroke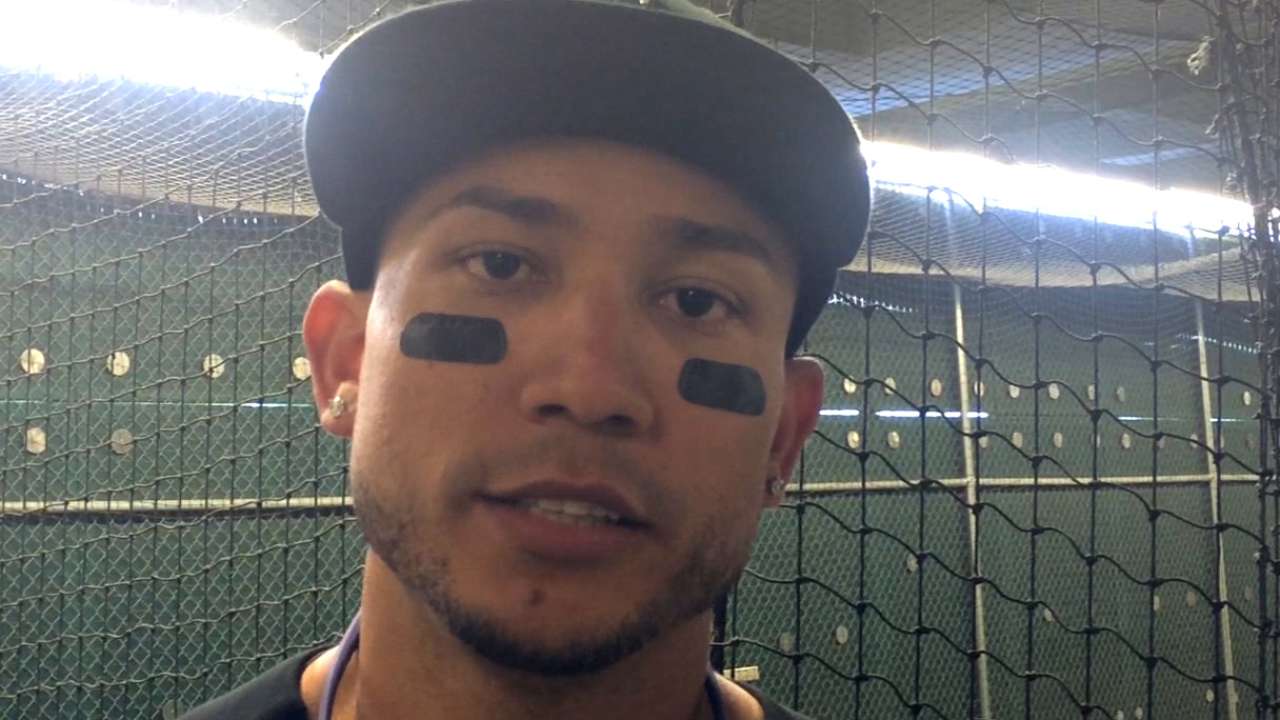 SCOTTSDALE, Ariz. -- The Rockies' Carlos Gonzalez is among a growing number of left-handed sluggers who face defenses that shift so dramatically that it looks as if a team meeting has been called on the right side of second base.
These shifts leave hitters weighing the logic of adjusting against using the pull-side power that makes them special in the first place.
Now that Gonzalez's left knee that bothered him the past two years has been repaired, a bunt to the left side -- manned only by the third baseman -- can work. Looking to tap the ball the other way can put him on first base, maybe second if he puts it past the left fielder and center fielder. And, don't forget, the usual lineup has Troy Tulowitzki behind him.
But, Gonzalez was leading the National League in home runs during the first half of 2013, before finger and knee injuries usurped him of power. Gonzalez is healed, and no doubt will pick times to swing like it.
"That's what they want you to do, bunt to third base and get a single and deal with the next guy," Gonzalez said. "Now if Tulo is hot, of course I'm going to put the ball down and get on first for him -- instead of a solo shot, it's a two-run homer. But if I'm going hot, I'm going to hit a lot for extra bases. And those extra bases are sometimes going to be home runs."
On Saturday against the Reds, switching strategy worked better than not.
Gonzalez drove an Anthony DeSclafani pitch to the left-field warning track for a ground-rule double in his first at-bat, beating the shift with power. Next time up, he barreled DeSclafani's changeup right to a waiting second baseman. A little more to the middle and the shortstop would've had it.
However, Gonzalez said that the changeup designed to make him roll over to the right side, if not located properly, "is a good pitch to hit into the seats."
Gonzalez looked different in the box from in the past. The leg kick wasn't as high, the swing wasn't as big.
"He's more under control, and he's feeling right now that he can control the at-bats," Rockies hitting coach Blake Doyle said. "I'm looking for a lot of big things out of him this year."
But the high kick is, well, CarGo.
"You start going higher and higher because you're trying to gain more power, more torque," Gonzalez said. "Right now I'm trying to be quiet, see the ball. But when I feel it, I'm going to let it fly."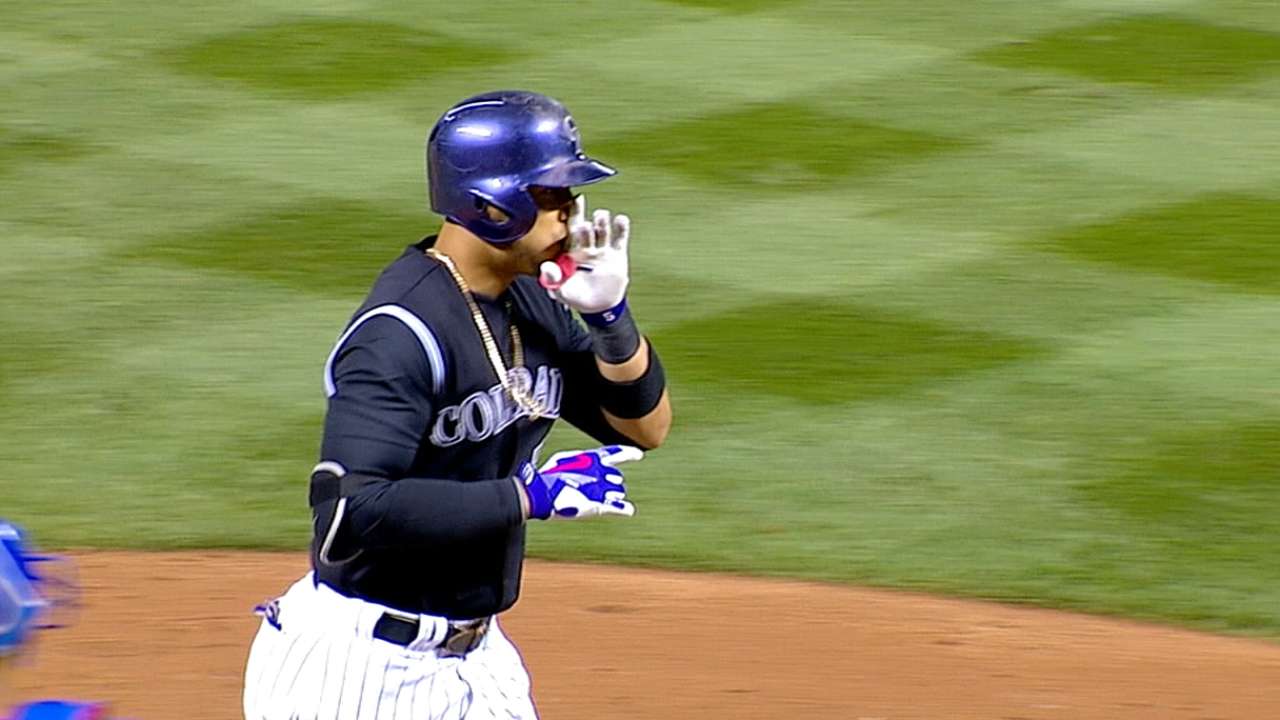 Sometimes, adjustments are better in concept than reality.
One shift-beating approach is to move forward in the batter's box so the swing is late and the ball goes the opposite way. But this is no secret to the pitcher. On Sept. 1, 2012, the move worked for Gonzalez against Edinson Volquez, but he regretted the success.
"He threw me a fastball inside, 97 mph," Gonzalez said. "I ended up hitting a double down the line at third base, but I blew up the finger on my top hand. I was in pain when I got to second."
Venue affects approach, especially for a Rockies hitter.
"We have a home-field advantage, so I don't want to get down bunts all the time when we're playing at home," Gonzalez said. "Sometimes I'm going to barrel a ball out front and it's still going to go out of the ballpark.
"On the road, it's different. If you're playing on a windy day in San Francisco, you know the ball is not going to carry to right field. Or when you're facing Clayton Kershaw, he's the best pitcher in the game, you just want to get on base."
Information travels quickly. If Gonzalez burns a few shifts, he may discourage the next team.
"You'll see CarGo lay down bunts to beat the shift, as well as some of our other players," Rockies manager Walt Weiss said. "We want to put them in position where they're reacting to us."
Thomas Harding is a reporter for MLB.com. Read his blog, Hardball in the Rockies, follow him on Twitter @harding_at_mlb, and like his Facebook page, Thomas Harding and Friends at www.Rockies.com. This story was not subject to the approval of Major League Baseball or its clubs.