Odor will be intriguing bat in Rangers' lineup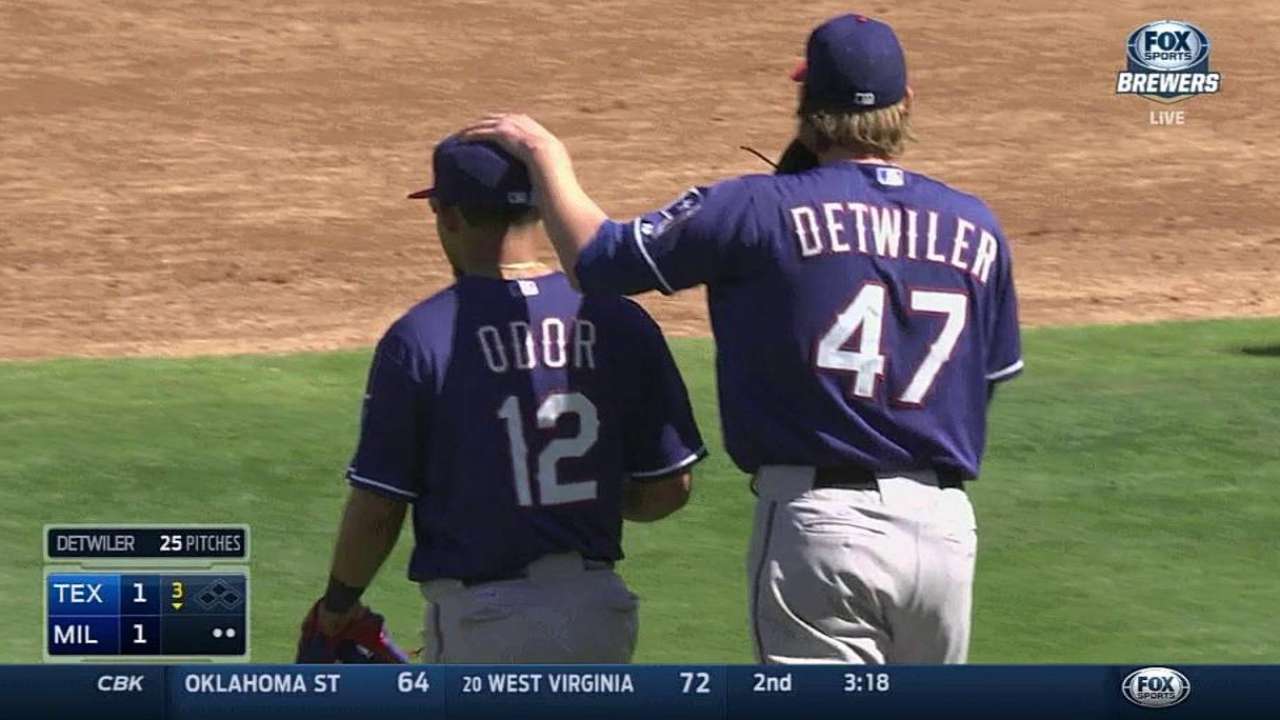 SURPRISE, Ariz. -- Rangers second baseman Rougned Odor had a root canal procedure done on Monday. Oral surgery can be a daunting experience for anybody, but apparently not Odor.
"He doesn't get scared," shortstop Elvis Andrus said. "My boy ... he has no fear."
The Rangers discovered that last season after they summoned Odor to the big leagues on May 8. Odor was 20 at the time, making him the youngest player in the Majors. That seemed to frighten him less than the average root canal.
"Why?' Odor said. "It's the same baseball. I have been playing baseball all my life. Why should I be scared."
Well, the Major Leagues might be considered a little different than Double-A Frisco and the Texas League. But apparently that wasn't the case for Odor.
"He didn't play like a rookie," third baseman Adrian Beltre said. "He had the ability and he acted like he belonged ... in a respectful way. He has no fear. He has confidence in himself and he works hard. He knows he has to do the best he can to stay up there. The way he plays shows he wants to be here."
Odor played in 114 games, hitting .259 with 14 doubles, seven triples, nine home runs and 48 RBIs. He had some issues defensively, committing nine errors in his first 78 games. But Odor also did not commit an error in his last 33 games, while turning 28 double plays.
"I learned a lot, I can tell you that," Odor said.
By the end of last season, the rookie was batting third in the order on a team that won 14 of the last 22 games. Odor won't bat third this season now that Shin-Soo Choo and Prince Fielder are healthy, at least not right away.
Where Odor does end up hitting is a bit of a mystery. There are multiple possibilities for a player who is still improving and may not be even close to reaching his full ability.
"He looks like he is doing a better job of controlling the strike zone," manager Jeff Banister said. "He looks like he can swing the bat and he's got some raw power. He hangs in there against left-handers. I think eventually if he is not one of the top of the order guys, he could be in an RBI slot as an offensive second baseman. His power sneaks up on you."
Odor was only 19 when he played 100 games for Class A Myrtle Beach and 30 games for Double-A Frisco in 2013. Combined, Odor hit .305 with 85 runs scored, 41 doubles, six triples, 11 home runs, 78 RBIs and 32 stolen bases. He had a .365 on-base percentage and a .474 slugging percentage.
That's not bad for a player who is still developing physically as well as gaining experience at a high level. For all the deliberations this spring about potential batting orders, Odor might change some people's thinking by being better than expected.
T.R. Sullivan is a reporter for MLB.com. Read his blog, Postcards from Elysian Fields, and follow him on Twitter @Sullivan_Ranger. This story was not subject to the approval of Major League Baseball or its clubs.