Cobb not concerned after exiting with forearm tightness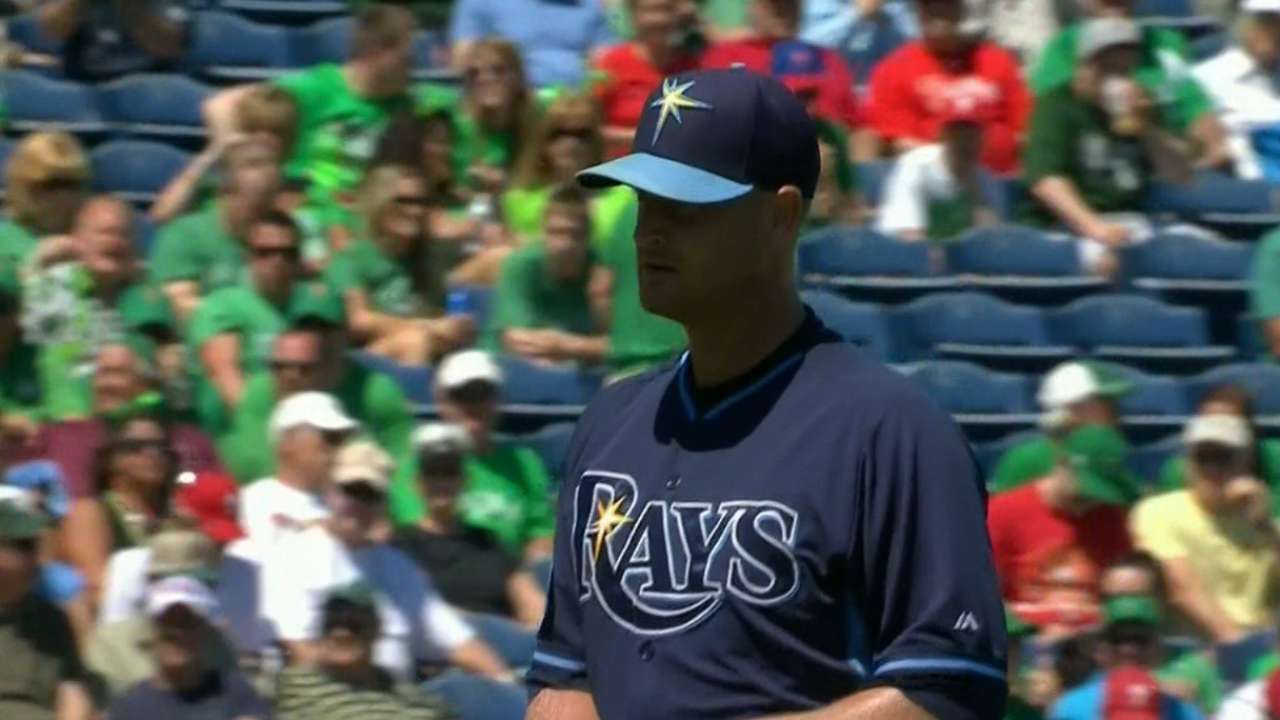 CLEARWATER, Fla. -- Rays right-hander Alex Cobb pitched three perfect innings against the Phillies on Tuesday, but then left his third start of the spring because of right forearm tightness.
Any arm issues should always be taken seriously, but Cobb did not seem too concerned after his outing. The Rays' Opening Day starter added that he should know more on Wednesday.
Cobb had "a little bit" of forearm tightness leading up to Tuesday's start.
"And then I was throwing in the game, and it loosened up really well," he said. "I got through three innings, and it was a little tight."
Cobb looked fine during his outing, striking out three.
"Felt like I got my work in pretty good," Cobb said. "I know I didn't get my pitch count up, but I was only going four regardless. So I just thought it would be best, precautionary, to kind of shut it down after three."
At that point, Cobb thought, "This is kind of pointless to go through and risk longer-term health over an inning." So he told pitching coach Jim Hickey, "I'm probably good for today." Cobb added that "cramping is a good word" for what he experienced.
"Kind of like when you're running and you cramp up a little bit," Cobb said. "That feeling just kind of lingers just a little bit."
When asked if he was really concerned, Cobb responded, "If I would have been really concerned, I probably wouldn't have thrown today at all. This was something I knew about. So really, throwing this much early in the spring, your forearm, triceps, start tightening up, your biceps, too, so it's one of those three probably."
Cobb explained that all pitchers experience pain every day.
"Can't really recall the pain I've had this spring," Cobb said. "I didn't have any pain [in my] last start ... bullpen [session] after that. It started getting tight on me. And it's probably because I worked on so many pitches [between starts].
"My last outing wasn't great, so I threw a lot of pitches in the bullpen. A lot of changeups that weren't working in the game before. That can leave your forearm pretty vulnerable."
Cobb noted that he felt a little tight before warming up.
"But you throw some heat on it, loosen up, you're good to go," Cobb said. "We put some heat on it before the game, it was good. So I decided to go through with the game. So after three, it was not excruciating pain, it was just there."
When asked if he would make his next start, Cobb said he did not know.
"I'll have to see how it feels tomorrow," Cobb said. "I'd assume I would, for sure. But I'll wake up and give you a little better answer tomorrow."
Pressed further, Cobb said, "I probably would have been gone by now if I thought it was serious. I can't tell you right now. If I was a betting man I'd say, I would be good for tomorrow or my next start."
Cobb said he has experienced forearm tightness in the past.
"Yeah, my forearm was tight last year," Cobb said. "I mean it moves around. It's your forearm one day, and then it's your triceps and biceps. It all kind of pulls on the same area."
The elder statesman of the Rays' rotation, Cobb is the only American League pitcher with 10-plus wins, a winning record and a sub-3.00 ERA in each of the last two seasons.
The Rays went into Spring Training with an open fifth spot in the rotation that will be filled by Matt Moore later in the summer if he can come back from Tommy John surgery. But they have experienced some bad luck thus far.
No. 3 starter Drew Smyly has been slowed due to left shoulder tendinitis, and No. 5 hopeful Alex Colome has been laid up with pneumonia.
Others in the mix for the open spot, or spots, include Nathan Karns, Matt Andriese and Everett Teaford.
Bill Chastain is a reporter for MLB.com. This story was not subject to the approval of Major League Baseball or its clubs.