Feeling rejuvenated, Valverde making case for Padres
Preller says longtime closer has 'good chance' to earn roster spot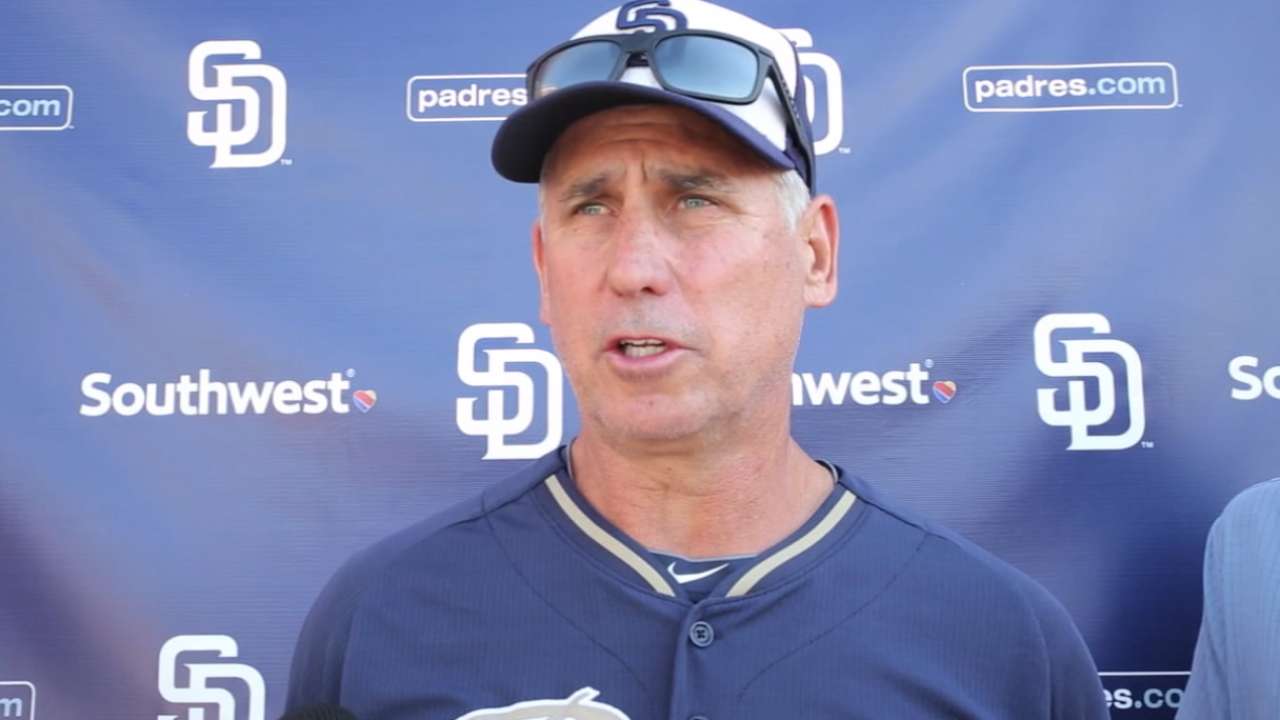 PEORIA, Ariz. -- Jose Valverde came into Padres camp this spring as a non-roster player with only a remote chance of making the team. After four appearances and four strong innings, he may be about to pitch his way not only into the bullpen, but into his traditional role as closer.
"He has a good chance of making the team," Padres general manager A.J. Preller said on Tuesday morning, hours before his split-squad club played the Brewers in a Cactus League game at Peoria Stadium.
The big right-hander known as Papa Grande will turn 37 on March 24, but he said on Tuesday he feels like a kid again. He comes in with a resume of 288 saves during 12 seasons for four teams.
"I feel like I'm 21 because I'm throwing 98 [mph]," Valverde said. "I'm surprised because I haven't walked anybody yet. I'm throwing my fastball, my cutter for strikes. That's pretty good for Spring Training."
Valverde is at his best when he keeps the ball down in the zone and has control of his pitches. His only hiccup this spring was a fastball that Dodgers rookie Joc Pederson hit out for a go-ahead homer Wednesday night. That happened in the game Will Ferrell played right field in the ninth inning for the Padres to finish his 10-team tour in five Cactus League ballparks. Pederson's homer sailed well over Ferrell's head.
Padres manager Bud Black said the homer hasn't marred the good work turned in by Valverde.
"Valverde is doing great," Black said on Tuesday. "His stuff is good. His velocity seems to be back. Good split-finger, he had a good winter ball. There's a presence to him. He's an experienced guy with where he's been and what he's done in his career. He's that guy who's been through it from April to October. That goes a long way. We'll see how it plays out."
The Padres have a lot of terrific young arms in camp. Right now they're allowing them all to throw, but as Preller pointed out: "A lot of tough decisions are going to have be made in the next few weeks."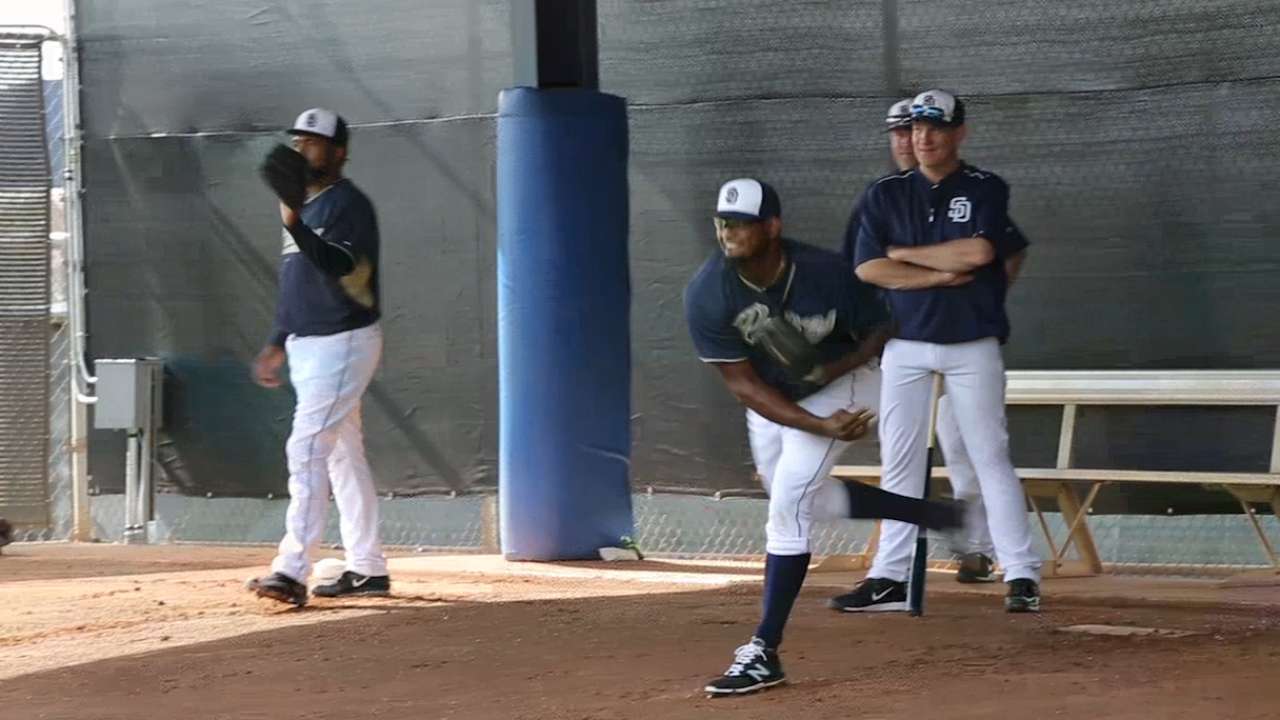 Valverde gives them a closer with bona fide experience. He saved 47 games for the 2007 D-backs team that reached the National League Championship Series. He had 49 saves for the 2011 Tigers, who made it to the American League Championship Series, and 35 a year later when the Tigers lost to the Giants in the World Series.
Valverde faltered after that. In 2013, he was replaced as Detroit's closer by Joaquin Benoit, the right-hander who entered this Spring Training as the favorite to fill the same role for the Padres. Benoit has 48 career saves, 11 last year, recording most of them after Huston Street was traded to the Angels. He saved six in a row before a right shoulder injury at the end of August caused him to miss a month.
Valverde said that because he threw so many innings for the Tigers -- 223 2/3 in four seasons -- he burnt out. He hasn't pitched much since he was released by Detroit on Aug. 7, 2013, save for two months last season before the Mets released him on May 26. And that may have been a good thing.
"I pitched a lot, I pitched too much in Detroit, I think," Valverde said. "But that's what happens. When a team is winning, you have to pitch every day. The time off has been good for me. I swam a lot. I worked hard down in the Dominican Republic. Thank God, right now my arm is in good shape."
Detroit's bullpen was at its best when Benoit was setting up Valverde. That could happen again in San Diego this season. The Padres have significant returnees in Kevin Quackenbush, Dale Thayer and Nick Vincent from a bullpen that led the NL and was second in the Majors with a 2.73 ERA. Shawn Kelley was added in a deal with the Yankees, and he closed for them last April when David Robertson was sidelined. Brandon Maurer came over in a deal with the Mariners, but he hasn't pitched much this month because of a sore back.
That leaves the charismatic Valverde with a major opportunity.
"I'd be so excited to be here because this is a great team," Valverde said. "I know I have more experience than anybody, but the thing is it's about the team, not only one guy. Everyone is here to win, to support each other. What I have to do now is throw strikes. That's it. I'll be happy if I make it, but I'll be happy even if I don't make it just to have the chance they've given me. I don't make that decision. The GM, the manager and the pitching coach make that decision."
And right now, all the indicators look good.
Barry M. Bloom is a national reporter for MLB.com and writes an MLBlog, Boomskie on Baseball. Follow @boomskie on Twitter. This story was not subject to the approval of Major League Baseball or its clubs.