Kendrick's HR fuels seven-run frame vs. Rangers
Ellis plates two with double, while Puig adds RBI single for Dodgers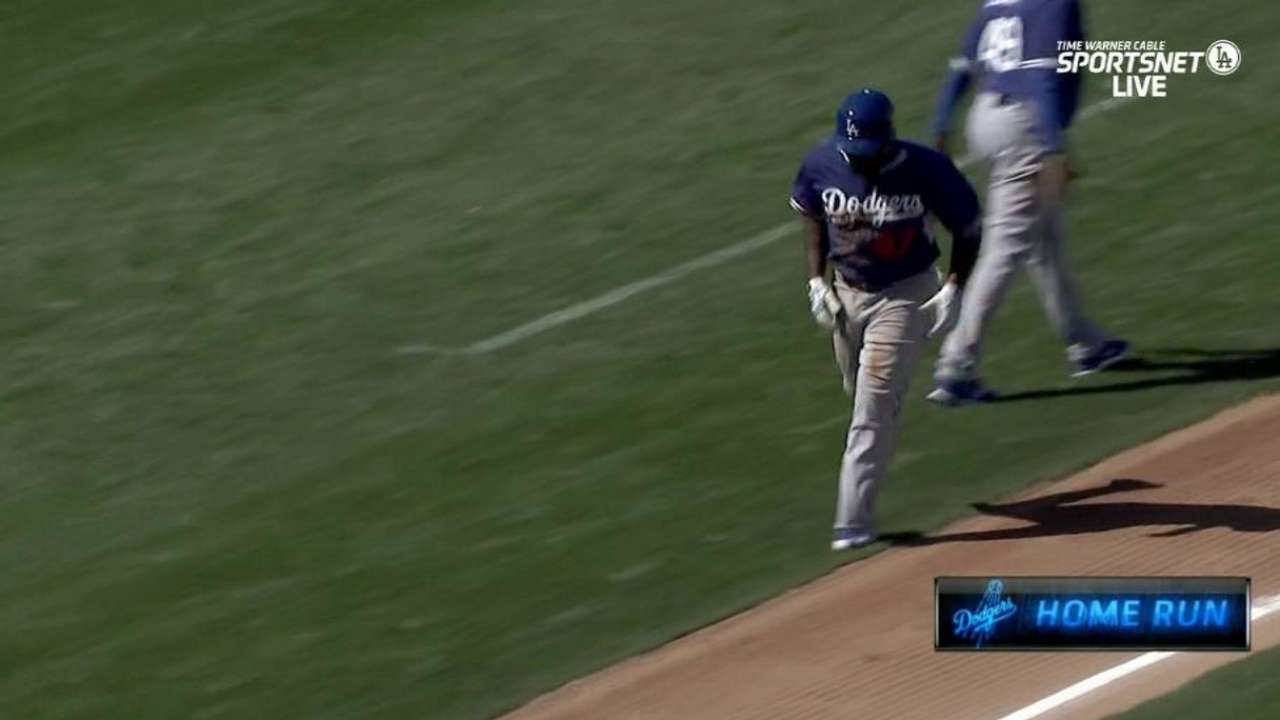 SURPRISE, Ariz. -- Kyle Jensen singled home the go-ahead run in the top of the ninth inning, but Jorge Alfaro's two-run single in the bottom half allowed the Rangers to earn an 11-11 tie with the Dodgers on Tuesday at Surprise Stadium.
The Dodgers' draw was the fifth this Cactus League season, matching the Los Angeles record set in 2006 and equaled last year.
The game was tied at 9 heading into the ninth before the Dodgers scored twice off of Rangers pitcher Nick Tepesch. Corey Seager also had an RBI single.
Carlos Peguero, becoming a force in the Rangers' left-field competition, had a home run and an RBI single to help erase the Dodgers' 8-3 lead going into the bottom of the fifth. Peguero is 7-for-16 in Cactus League play.
The Dodgers scored seven runs in the fifth as Howie Kendrick hit a three-run home run that landed at the top of the berm in center field. Elvis Andrus had three hits and two errors at shortstop for the Rangers.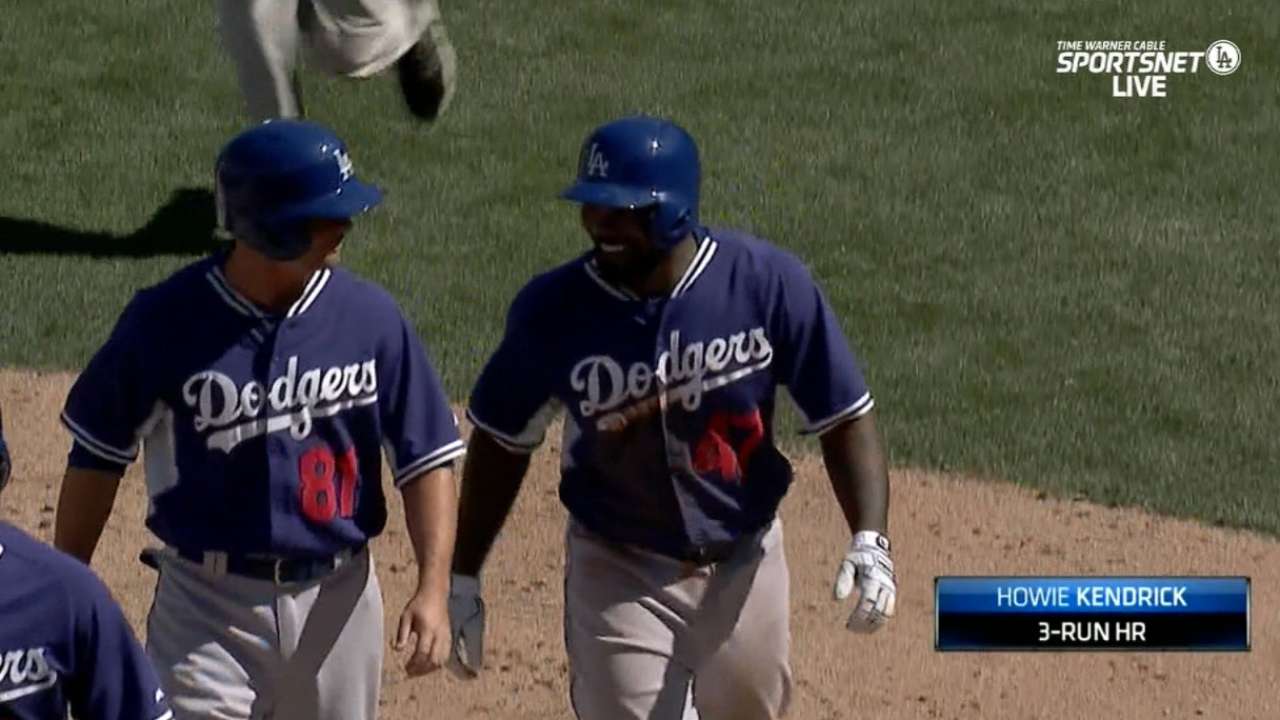 Texas starting pitcher Yovani Gallardo, putting himself in position to be the Opening Day starter, allowed one run in four innings. Dodgers starter Hyun-Jin Ryu allowed one run in three innings.
MOMENTS THAT MATTERED
Leonys Martin was the only left-handed hitter in the lineup on Tuesday against Dodgers lefty Ryu. Manager Jeff Banister wanted to see Martin go up there and battle a tough left-hander. Martin did in the third inning.
Martin came to the plate with runners on second and third with one out. Martin hit a grounder to first that brought home one run and another scored on an error by first baseman Scott Van Slyke.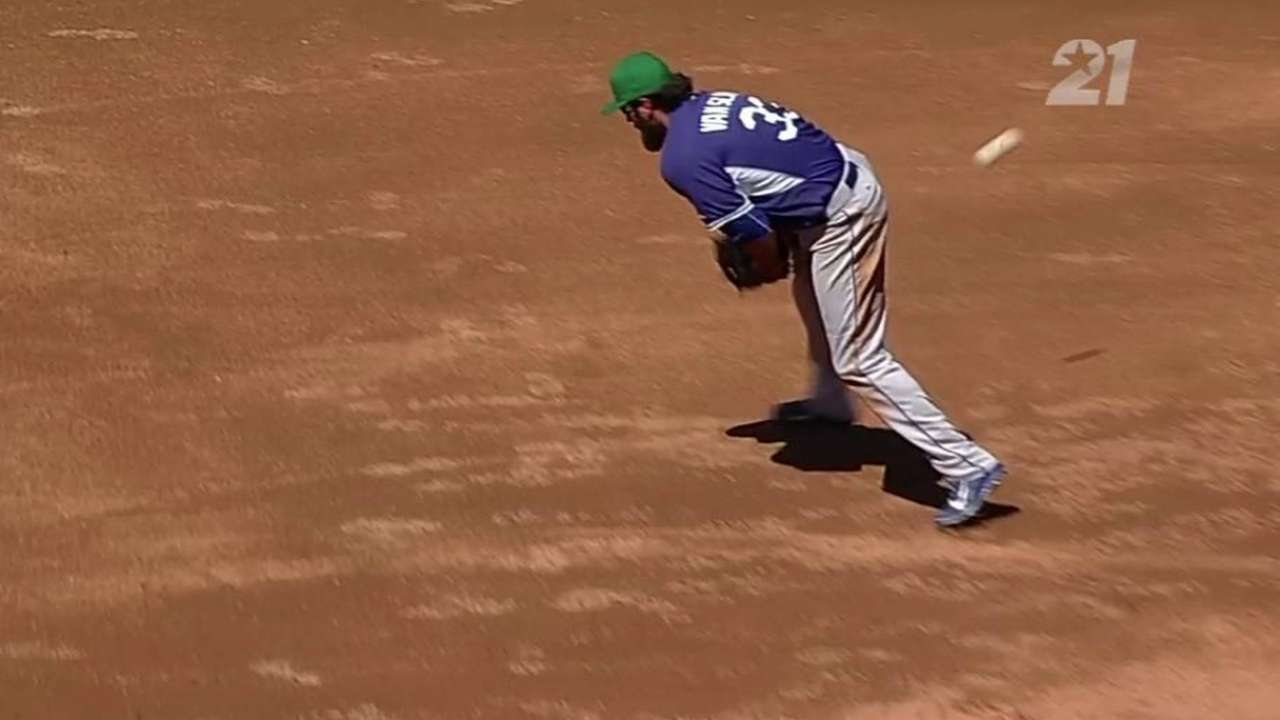 Beimel struggles again: On Tuesday morning, the Rangers released left-handed reliever Michael Kirkman and sent Martire Garcia back to Minor League camp. That leaves Joe Beimel and Alex Claudio as the only left-handed relievers in camp. Beimel allowed seven runs in the fifth inning against the Dodgers, although three were unearned because of an error by shortstop Andrus.
A pair of errors: Ryu allowed a pair of infield singles and a walk in the third inning, but sloppy defense behind him turned that into three runs. After an infield single and a walk that Ryu thought was a strikeout, Martin's grounder plated one run and first baseman Van Slyke booted the ball to allow another to score.
Rally time: The Dodgers turned the game around in the fifth inning off Beimel. The comeback started with Jimmy Rollins' one-out double, was prolonged by shortstop Andrus' error and included RBI singles from Yasiel Puig and Grandal. Kendrick's homer was estimated at 440 feet to dead center. A.J. Ellis added a two-run double in the inning.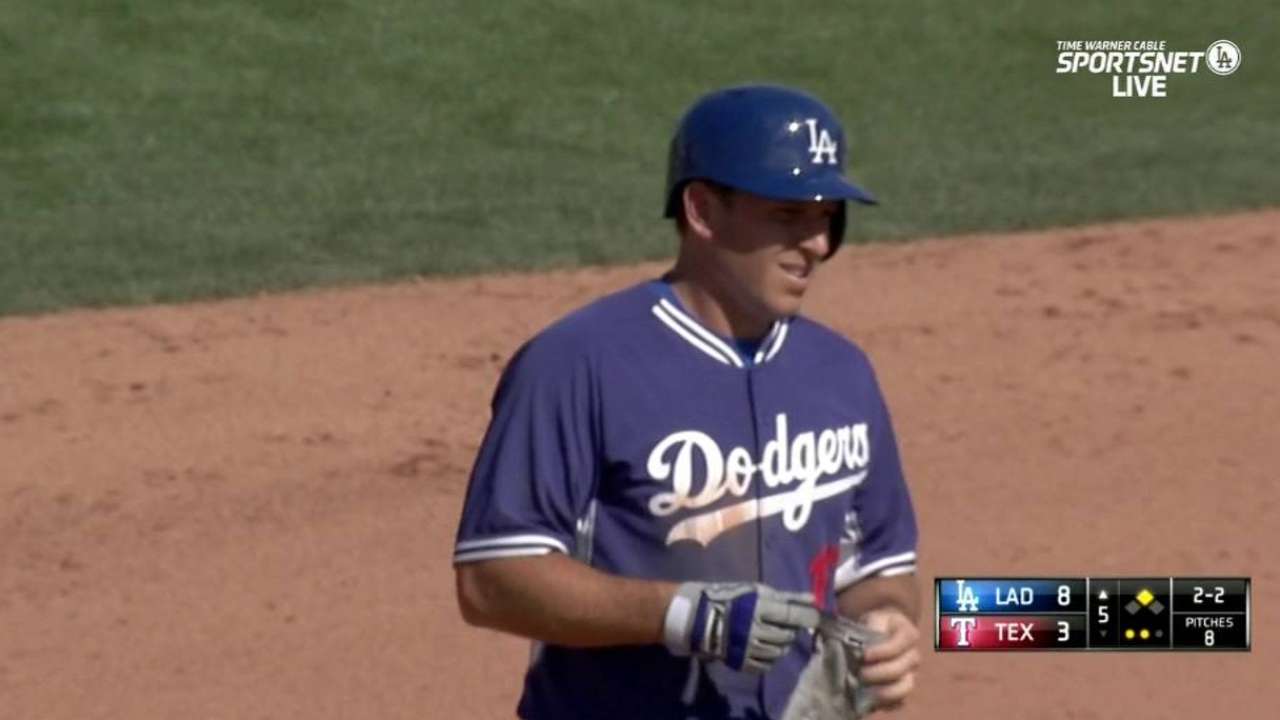 Not enough relief: J.P. Howell couldn't finish off his one inning of relief, while being charged with three runs. He's had two bad outings out of three this spring, but he said the groin tightness that shelved him for a week is fully healed. He did have a long warmup while the Dodgers were sending 11 batters to the plate in the fifth.
Successful switch: Alfaro was pinch-hitting for Peguero in the ninth when he singled home two runs. The bases were loaded with two outs when Alfaro replaced Peguero, who already hit a home run and a run-scoring single.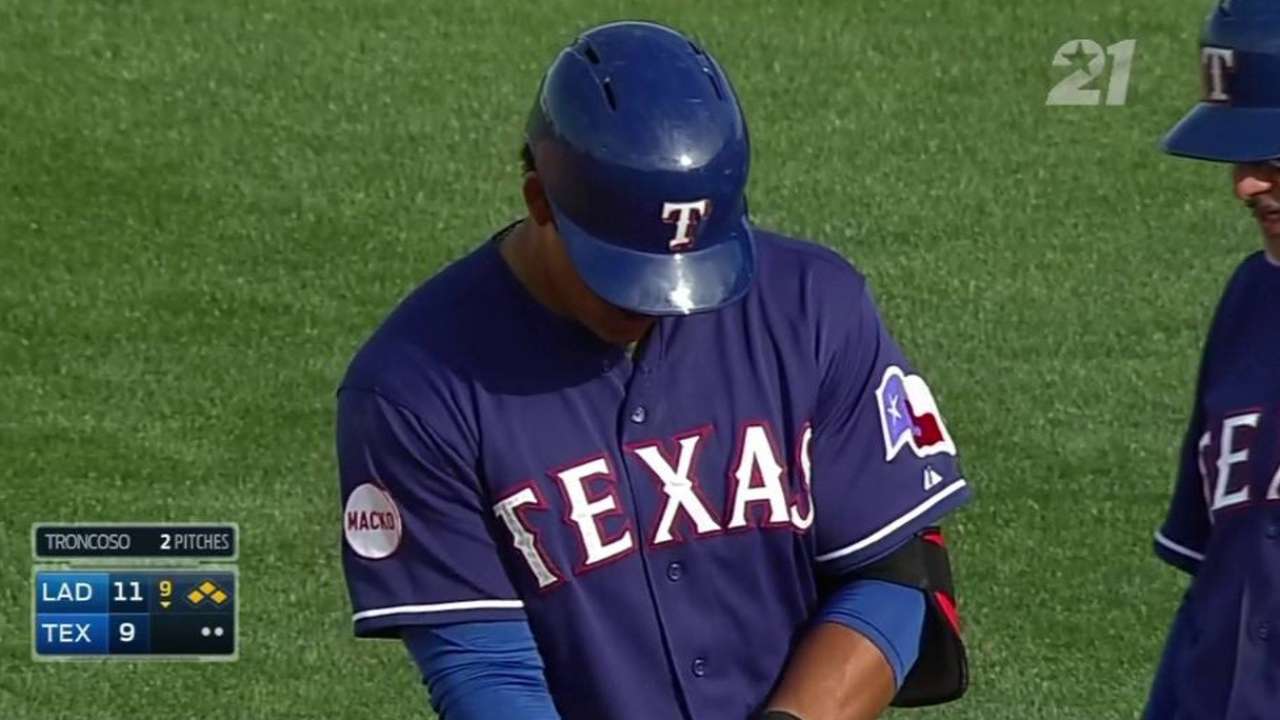 "I wanted to see the young kid hit," Banister said. "Alfaro has been working hard, he was on the bench during the game, he was engaged. I decided to get the young kid an at-bat."
QUOTABLE
"I felt better in the last couple of innings. I threw some pretty good curveballs today. For me, that's the last thing to come." -- Gallardo.
"I actually thought I missed it a little bit. I guess the wind was blowing a little bit." -- Kendrick on his center-field bomb.
SOUND SMART WITH YOUR FRIENDS
Andrus committed two errors on Tuesday. He has done that only seven times in 911 Major League games. It happened twice last season, the last one on July 27.
Rangers left-field wild card: In the outfield competition, people are overlooking Peguero. But he entered Tuesday's game with five hits in 14 at-bats. Then, he hit his first home run of the game off reliever Pedro Baez in the sixth inning. Peguero has power to rival Joey Gallo. Peguero hit 30 home runs at Triple-A Omaha last season while with the Royals.
"He is extremely intriguing," Banister said. "He is definitely in the mix."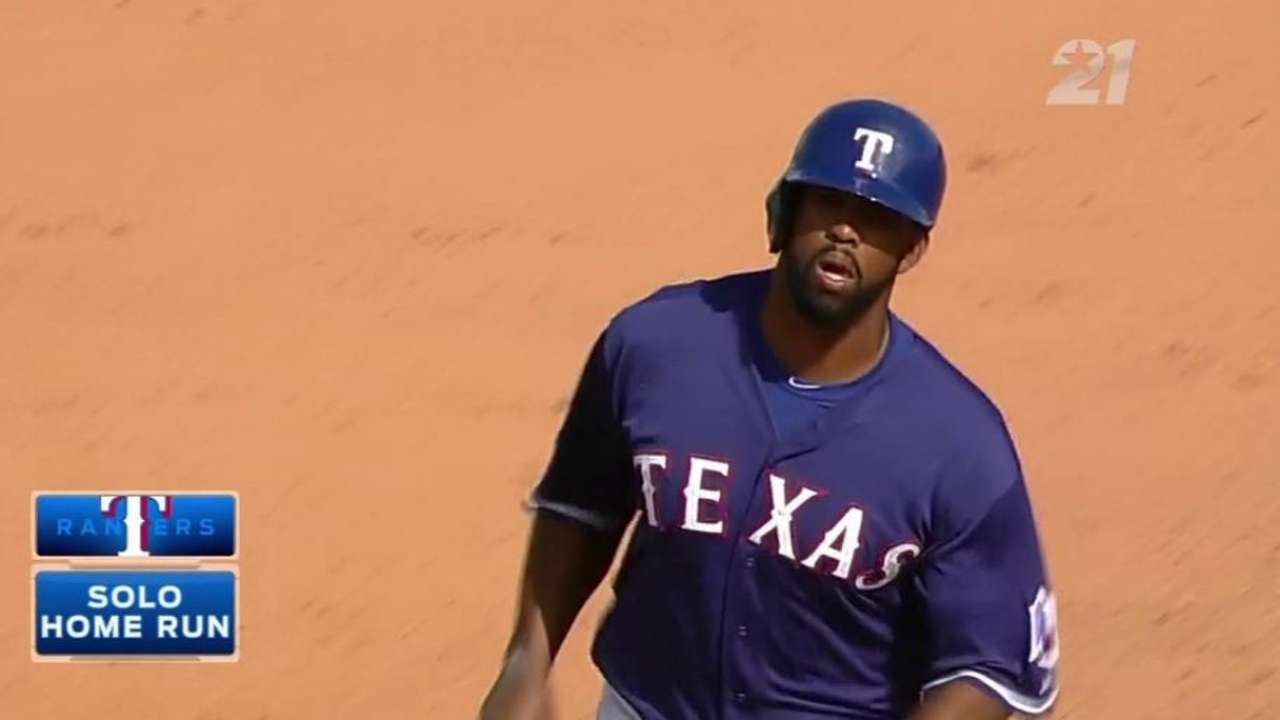 WHAT'S NEXT
The Dodgers will host the Cubs on Wednesday in a sold-out game at Camelback Ranch-Glendale, with Brandon McCarthy starting for Los Angeles. Rookie Joc Pederson gets another start in center field, with Andre Ethier the designated hitter as that competition continues. Among competing relievers scheduled to pitch are Dustin McGowan, Adam Liberatore, Sergio Santos and Mike Adams.
The Rangers are off on Wednesday before returning to action on Thursday with left-hander Ross Detwiler starting against the Reds in Goodyear at 3:05 p.m. CT. The game can be heard on Gameday Audio. Detwiler has a 1.93 ERA in two outings. He left his last outing with a bruised right hand, but he should be ready to go. Nick Martinez and Kyuji Fujikawa are also scheduled to pitch for Texas.
Ken Gurnick and T.R. Sullivan are reporters for MLB.com. This story was not subject to the approval of Major League Baseball or its clubs.