MLB.com Columnist
Lyle Spencer
To Baker, Rosen was guiding force in baseball, life
After learning mentor passed at 91, former manager reflects on his impact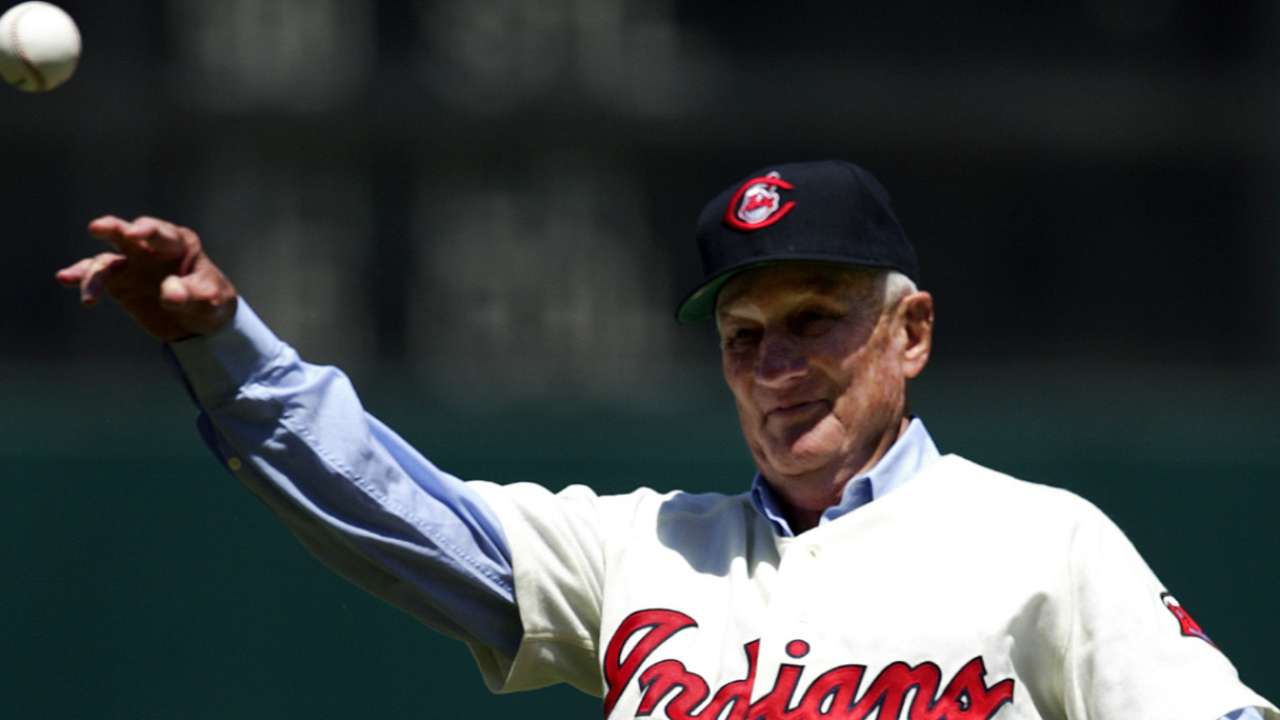 It was the summer of 1987, a dark period in Dusty Baker's life. His stellar playing career had ended, and he was in the process of divorcing his first wife. Baker had just ventured into a new world as a stockbroker -- right as the market was about to crash.
"I was at a crossroads in my life," Baker said. "I didn't know where I was headed or what I was going to do."
At that point, Al Rosen, general manager of the Giants at the time, came into Baker's life. Rosen became a driving force in turning Baker into one of baseball's most successful managers -- and a happily married man, as a bonus.
Baker had just visited his father's Northern California gravesite over the weekend, laying down roses Johnnie B. Baker Sr. loved, when word arrived that "Mr. Rosen," as Baker called his mentor, had died last Friday night at 91.
"Mr. Rosen was tough and straightforward, and he helped turn around my career and my life," Baker said by phone on Tuesday morning from his home in the Sacramento area. "I always called him on his birthday -- he was a leap year baby [born Feb. 29, 1924]. He was in a hospital, and his wife got on the phone and told me he'd taken a fall."
Baker's mind began racing back to that time when Rosen, without his knowledge, basically charted a course that would lead Baker to 1,671 wins as a Major League manager for the Giants, Cubs and Reds. Twelve of the 15 men ahead of him in wins are in the Hall of Fame; he's a three-time winner of the National League Manager of the Year Award as selected by the Baseball Writers' Association of America.
It began when Rosen, having made Baker aware of his interest in him through emissary Bob Kennedy, hired Baker as a Giants coach for $45,000 in 1988. When Baker questioned his salary, Rosen said, "Buddy boy, you've got it backward. The better work you do, you might get paid."
Baker was promoted to hitting coach the following season and was in that role when Giants owner Bob Lurie turned the struggling franchise over to a group headed by Peter Magowan. Rosen and manager Roger Craig were on their way out, but Rosen gave Baker a tip.
"Mr. Rosen told me I was being considered for the manager job," Baker recalled. "He said, 'When they interview you, don't screw it up by telling them how smart you are.' I said, 'I've got to tell them something,' and he said to just be cool. I think he knew I was going to get it if I didn't blow it."
Baker didn't blow it. His first Giants team, in 1993, won 103 games -- more than any of the three recent World Series champions -- but it didn't make the postseason. The Braves won 104, and there were no Wild Cards then.
Rosen's interest in Baker extended to his personal life.
"He wasn't ever shy about telling you what he thought," Baker said, laughing. "He always brought up Melissa, my girl at the time. He'd met her a number of times. He said, 'Dusty, you can't do any better; you should marry that girl.'
"I had natural doubts about marrying a second time. He was the first one to tell me that; my dad said the same thing a little later. Mr. Rosen was always looking out for me."
Dusty and Melissa married, and their son, Darren, fills up their lives these days as Baker involves himself in various post-baseball enterprises and activities.
Rosen was one of the greatest third basemen in history, his career cut short by injuries at 32. His 1953 season with the Indians -- when he was a unanimous American League Most Valuable Player Award winner -- was perhaps the best ever by a man at his position.
Rosen led the league in homers (43), RBIs (145), runs (115), slugging (.613), OPS (1.034), OPS plus (180). He hit .336, losing the Triple Crown on the final day of the season with Mickey Vernon batting .337. Rosen played every game and was considered an elite defender.
"He would confuse me at times," Baker said. "He would get upset after an ugly win and feel good after we'd played well in a tough loss. He taught me the difference between getting beat and losing. I took that into my managerial career. If your team played well and lost, he said, that's when you come in with support.
"All through my career as a manager, the people I would call for advice were Al Rosen, Al Attles, Bill Walsh and Hank Aaron. You knew you were getting the straight-up truth from those men. Mr. Rosen was good to you if he liked you; if he didn't, you knew it.
"He was tough. Being a Jewish player at that time, he had to be. He had been a boxer. In Cleveland, all the ladies called him 'Flip.' He was a good man, one who can't be replaced."
Lyle Spencer is a national reporter and columnist for MLB.com. Follow him on Twitter @LyleMSpencer. This story was not subject to the approval of Major League Baseball or its clubs.