McCutchen feels fine after Tuesday workout
All-Star centerfielder helps make a wish come true for young boy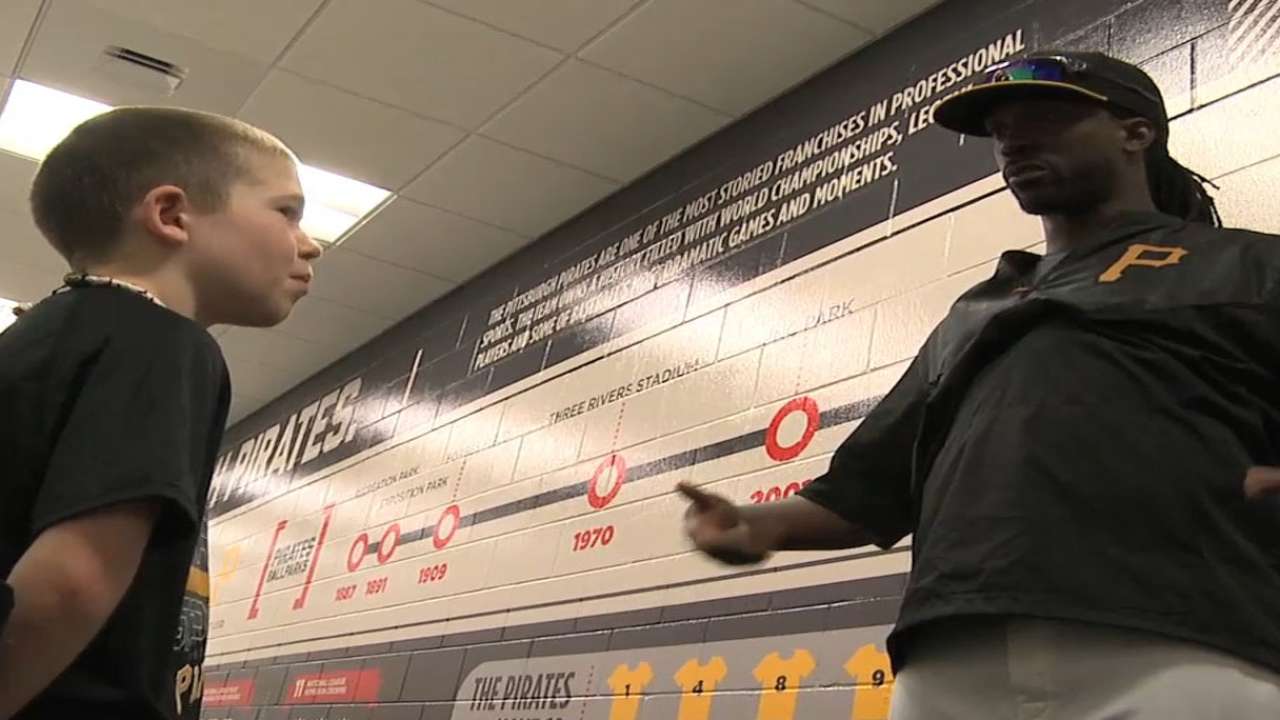 BRADENTON, Fla. -- Andrew McCutchen is still out of the Pirates' lineup, but he took part in the team's normal pregame work Tuesday morning and said afterward he feels "fine."
McCutchen has been sidelined since Friday with "lower body soreness" but said his body responded well after taking batting practice and doing outfield drills at McKechnie Field. Beyond that, McCutchen had no update on his condition or status.
"Taking it slow. No point in rushing it," McCutchen said. "Just keep going, doing the same stuff, taking my time. Rather safe than sorry.
"I'm going out and not feeling any type of hindrance from anything. Until that [soreness] gets out of the system, just going to take it day by day and go from there."
McCutchen's pregame routine was a little different than normal Tuesday morning, though -- and not just because he sat out the Pirates' game against the Astros.
McCutchen was joined before the game by 7-year-old Owen Taylor, who was given a chance to meet his "hero" by Make-A-Wish of Greater Pennsylvania and West Virginia. Owen, from Everett, Pa., met up with McCutchen at McKechnie Field after he and his family spent Monday night at Pirate City, the club's Minor League facility.
Owen, who has a congenitally corrected transposition of the great arteries, toured the Pirates' Spring Training home, stood by the cage when McCutchen took batting practice, followed his every move around the cage and even fielded a few grounders in center field.
He had his own locker in the clubhouse, next to Jordy Mercer's. He walked around the clubhouse before the game, taking pictures and asking players to autograph a baseball for him.
After having lunch in the Pirates' clubhouse, Owen -- clad in his own No. 22 Pirates uniform with "Taylor" on the back -- walked to the mound and threw out an honorary first pitch. He stood between manager Clint Hurdle and coach Rick Sofield during the national anthem and delivered the lineup card to home plate alongside hitting coach Jeff Branson before watching the game with his family.
"He had a lot of fun. He just wanted to get out on the field," McCutchen said. "He's not the type that really wants to talk. Just wants to go out and throw and catch and do all that. It was a good time."
Adam Berry is a reporter for MLB.com. Follow him on Twitter at @adamdberry. This story was not subject to the approval of Major League Baseball or its clubs.