Keuchel named Astros' Opening Day starter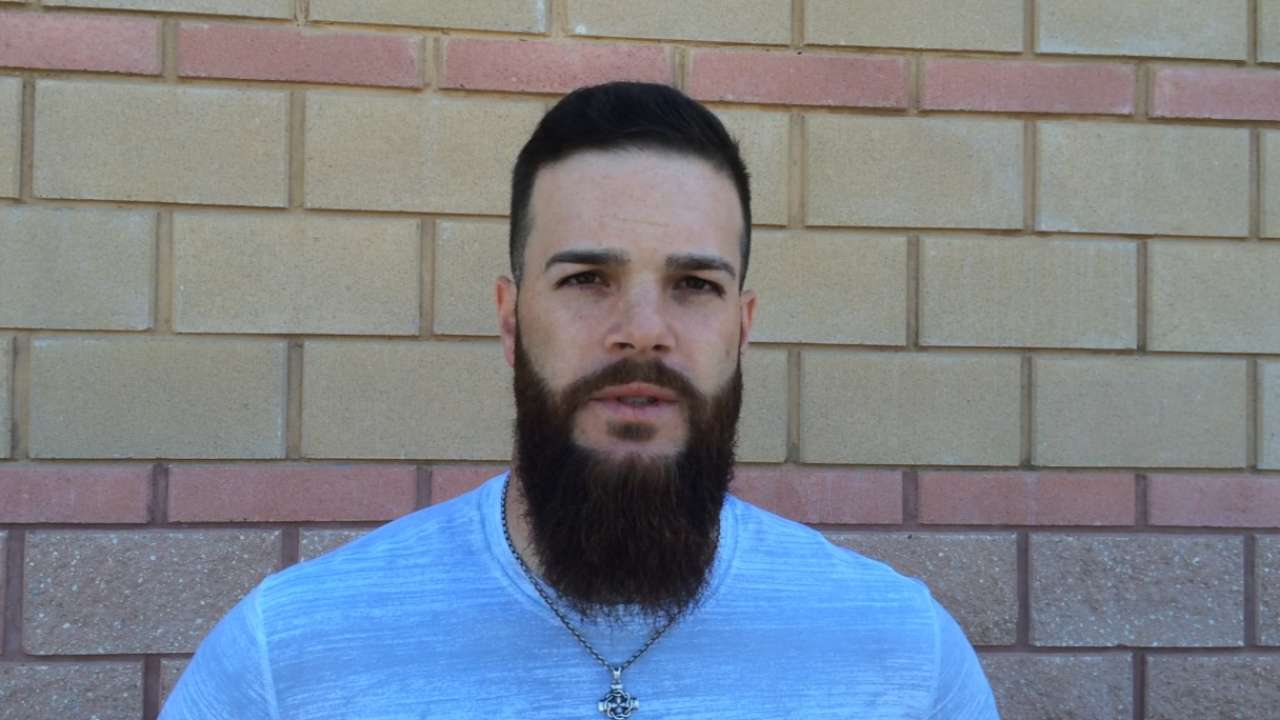 BRADENTON, Fla. -- Dallas Keuchel won't have to wait long to start building off his breakout season from a year ago, as Astros manager A.J. Hinch has named the left-hander the club's Opening Day starter.
Keuchel, 27, will be making his first career Opening Day start when he takes the hill for Houston's April 6 season opener against the Indians. Hinch informed Keuchel of his decision -- along with fellow front-end-of-the-rotation starters Scott Feldman and Collin McHugh -- about "four or five days ago."
"I'm very excited and very humbled by this announcement," Keuchel said. "But like I've said before, I feel like any one of the five starters could potentially be Opening Day [starters]. I'm blessed to get the ball on the first day and kind of roll with that, so I'm looking to start out hot and pass the torch off to the other four."
"He does everything you would want in a guy that you're going to hand the ball to," Hinch said of Keuchel. "He's coming off of a great season and he's taken great steps forward in his career. ... He embodies everything you want, from my perspective, to trust him with the responsibility of Game 1 -- and for the next 30-plus starts after that."
The southpaw put together an impressive 2014 campaign in which he went 12-9 with a 2.93 ERA, while tossing an American League-best five complete games. Keuchel also took home a Gold Glove Award for his defensive work on the mound.
"It's a little bit of everything," Hinch said when asked if the Opening Day nod was a reward for Keuchel's breakout season. "[He's] certainly coming off a solid season, in which he took a great leap forward in his career. There's a lot of trust that goes into it with being a starter in general, but most notably the Opening Day starter. I had good choices and I'm very, very comfortable with our group as a whole. Dallas can just go first."
As for how the rest of the rotation will line up, Hinch said he's not quite ready to lay it all out yet. Feldman and McHugh will likely follow Keuchel, not necessarily in that order, while Brett Oberholtzer, if healthy, figures to be the fourth starter. The battle for the fifth spot remains an open competition between a handful of hurlers.
"Today is just about Opening Day," Hinch said. "Obviously, Feldman and McHugh are rock solid, and we'll get [Oberholtzer] healthy and in the competition, but I'm just ready to announce Day One. It's not that hard to think about how the rest of the rotation will be, but I want today to be about Dallas."
Keuchel will be looking to pick up right where he left off last season, as the southpaw only got stronger as the season went on. Though he went just 3-4 in the second half after tallying a 9-5 record prior to the All-Star break, Keuchel tallied an impressive 2.55 ERA following the break compared to a 3.20 first-half ERA. He was a dominant 2-0 with a 1.66 ERA over three September starts.
The Opening Day nod is just the latest in a string of milestones for Keuchel, who -- along with the Gold Glove honor last year -- also notched his first career American League Player of the Week award, which came just two weeks after he had spun his first career shutout.
"Dallas was really excited, obviously," Hinch said. "It's his first assignment on Opening Day, so he was thrilled. It's only one day on the calendar, but it's a special day."
Paul Casella is a reporter for MLB.com. This story was not subject to the approval of Major League Baseball or its clubs.