Wieters goes six innings in catching debut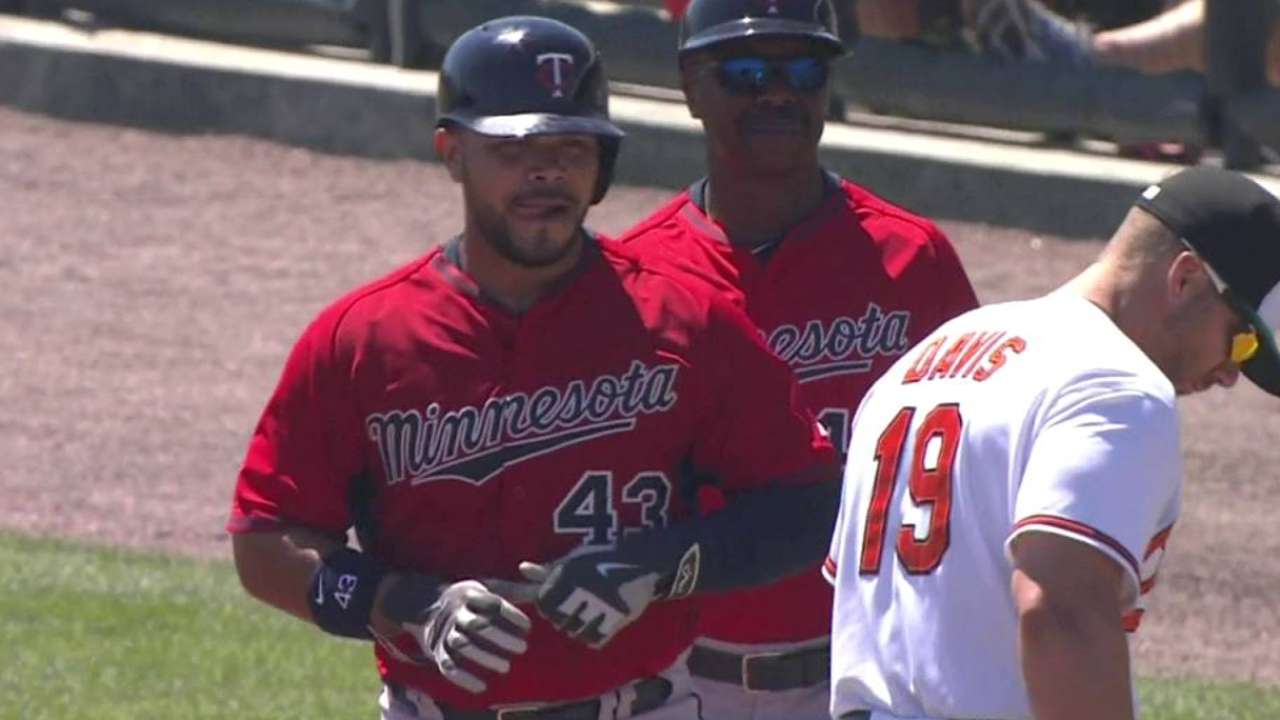 SARASOTA, Fla.-- Manager Buck Showalter made head athletic trainer Richie Bancells repeat three times Tuesday morning that catcher Matt Wieters had the green light -- instead of red -- on Tuesday's injury report. It had been a long wait for everyone as the All-Star catcher, exactly nine months removed from Tommy John surgery, finally stood behind the plate for his Grapefruit League debut against the Twins.
"Walking in from the bullpen, [I] got a great ovation from the fans down here, and it meant a lot to me to get that kind of ovation," said Wieters, who went on to catch six innings in the Orioles' 10-9 loss to the Twins. "To get back there behind the plate, it was a special day."
Wieters didn't see a lot of action and had just one fielding play in the second inning. On that play, his throw to first base was wide, and Josmil Pinto was able to leg out an infield single.
"I almost tried to make it a little bit too hard on myself," Wieters said of his first game throw. "I wanted to try and really test it out. I had a little more time than I actually had, than I actually thought I had, so I've got to get out of the mode where I'm trying to test it out and just go out there and play."
Wieters went 0-for-3 at the plate and is still hitless this spring, though for Showalter on Tuesday, just looking over and seeing him behind the plate was a victory.
Wieters will eventually catch back-to-back, though that won't happen anytime soon. There's still a lot left to evaluate.
"There's so many things he's doing for the first time today that he hasn't done. We can simulate as much as we want to, but I want to know how he feels tomorrow when he comes in," Showalter said.
"I know the guys are having a little golf thing on the off-day [on Monday], a little competition, and Matt said, 'I'd love to play, but I'm not taking any chances.' You can tell there's still some unknown. How's he going to respond? Is he going to be able to catch six days out of seven with one day game? I don't know. We'll see. I'm hoping to come out of it here with an idea. I'm hoping he'll have some back-to-back days here before we leave. I think I'll get more feedback tomorrow than I will today. That's my sneaking suspicion."
Wieters said he expected to feel fine on Wednesday, especially with no steal attempts during his debut. Now one step closer to being ready for Opening Day, he said the key has been to not doubt the rehab process and hope everything continues to go smoothly.
"It was really a regular game from the beginning for me," Wieters said of Tuesday. "It's nice to get back out there, but at the same time, it was going through the whole regular routine. It was nice to kind of get into a regular routine as opposed to, 'OK, don't throw today' kind of thing."
Brittany Ghiroli is a reporter for MLB.com. Read her blog, Britt's Bird Watch, and follow her on Facebook and Twitter @britt_ghiroli. This story was not subject to the approval of Major League Baseball or its clubs.