MLB.com Columnist
Jim Callis
MLB Pipeline checks in from Cubs camp
Torres, Underwood among breakout candidates; Stinnett discusses development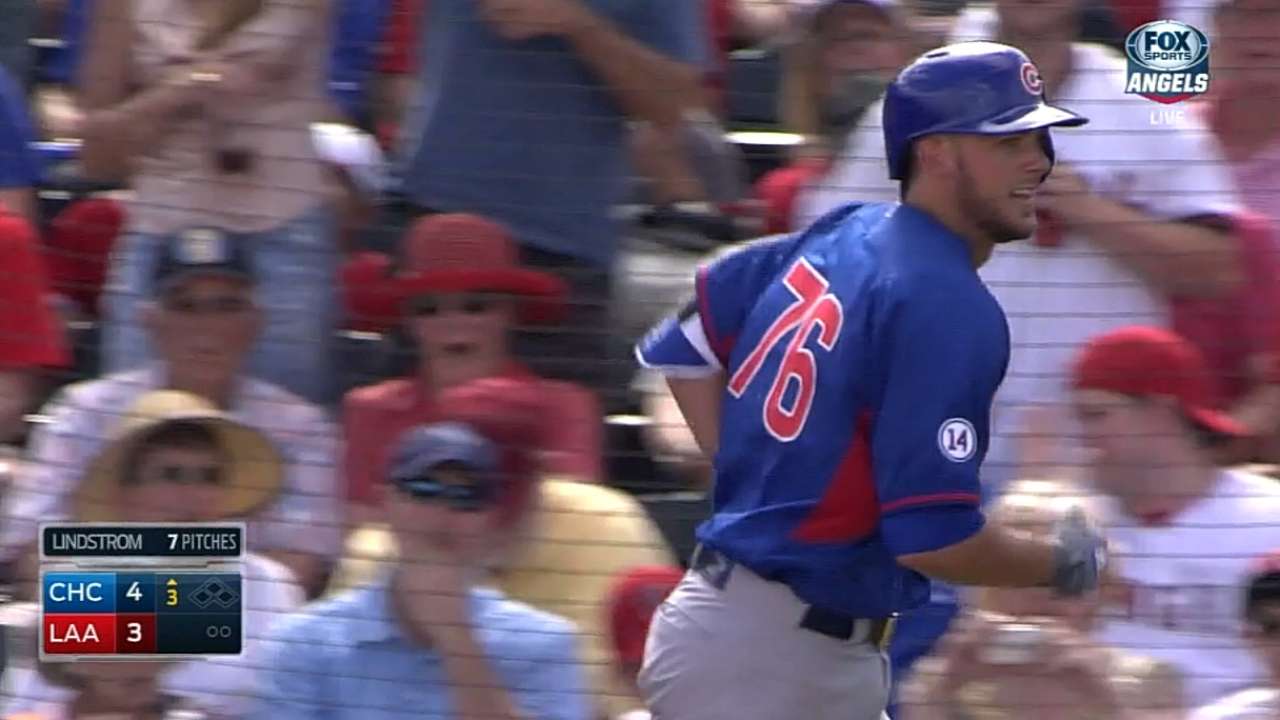 Every Spring Training, prospects get a chance to show what they can do as they prepare for the season ahead. Some are competing for jobs in big league camp, others are prepping for the season as they vie for spots at Minor League affiliates up and down a team's system. MLBPipeline.com will be visiting all 30 camps this spring. Today, we check in on the Chicago Cubs.
MESA, Ariz. -- If there was a single moment during Spring Training that encapsulated just how bright the Cubs' future is, it came last Tuesday when Jorge Soler, Javier Baez and Kris Bryant tagged Trevor Bauer for back-to-back-to-back homers. Chicago has the finest collection of young hitting talent the game has seen in years, which is the main reason its farm system is hailed as the strongest in baseball.
Don't sleep on the Cubs' pitching prospects, however. They may not be as advanced as Chicago's hitters, but there's legitimate hope for some homegrown mound help in 2016 and beyond. Right-handers C.J. Edwards and Pierce Johnson have the upside of front-line starters, and they have already reached Double-A. Meanwhile, righty Duane Underwood headlined an all-prospect rotation at low Class A Kane County last summer.
MLB Pipeline Spring Training Reports
"Our pitching is way, way underrated because of our position players," said Cubs director of player development Jaron Madison. "We've got some interesting guys coming. C.J. Edwards and Corey Black and Pierce Johnson will be in the first group, and that whole Kane County staff, with Duane Underwood and Jen-Ho Tseng and others last year, was strong."
Camp standouts
Bryant has been the talk of the entire Cactus League, not just Cubs camp, with six homers in his first nine big league games. His performance isn't that surprising considering he led the Minor Leagues with 43 homers in his first full pro season last year and has more usable power than any prospect anywhere.
Chicago took Bryant with the No. 2 overall pick in the 2013 First-Year Player Draft and followed up by selecting another potent bat at No. 4 last June. Kyle Schwarber celebrated his 22nd birthday with a grand slam off Ryan Vogelsong in his first spring at-bat, but the Cubs are more enthused with the progress he's making behind the plate, even if scouts outside the organization are less sanguine about his chances to stay at catcher.
"Schwarber has been so impressive," said Cubs senior vice president for player development and amateur scouting Jason McLeod. "His at-bats are ridiculous, it seems like he's hitting in three-ball counts every time. And on the catching side, it's almost night and day from when he signed. His setup is good and he has great hands.
"Probably the biggest thing he needs to work on is his transition on throws. He spins the ball OK and he's accurate, but he rushes sometimes."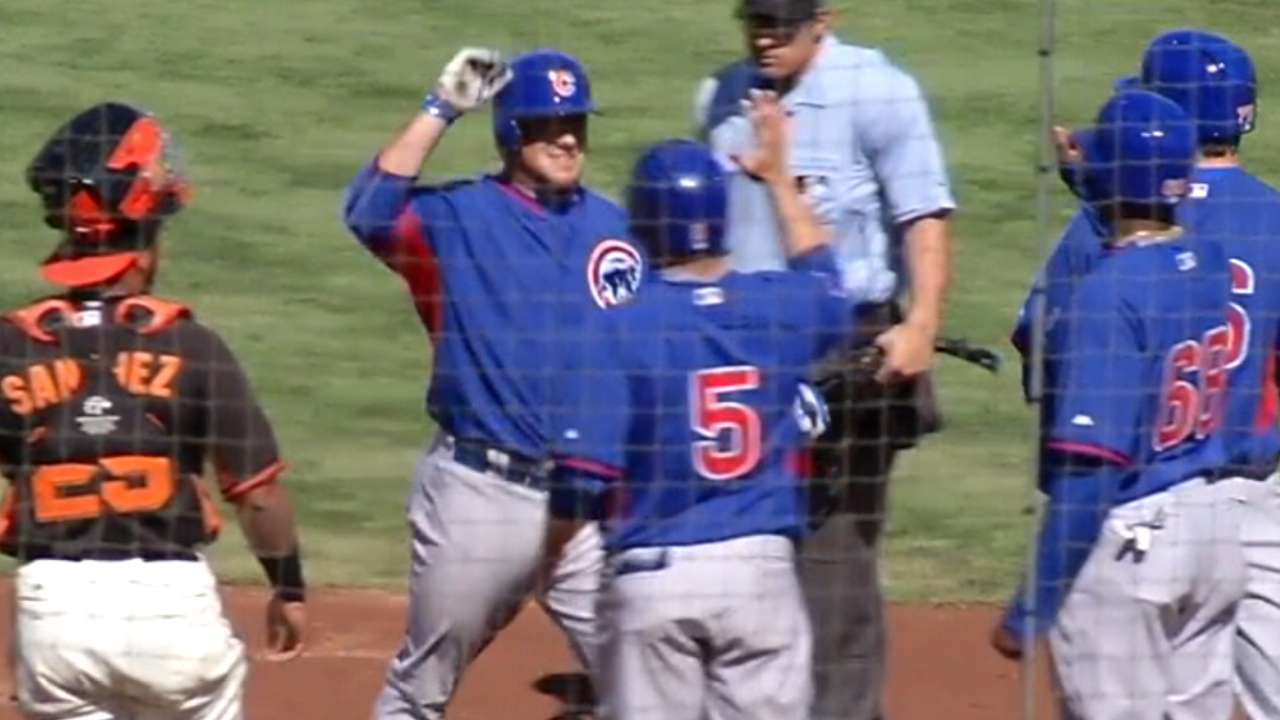 On the Minor League side, right-hander Tyler Skulina is showing why the Cubs invested $800,000 in him as a fourth-round Draft pick in 2013. Fully recovered from a sore knee that hampered him last year, he's back to throwing 92-95 mph fastballs and hard sliders with downhill plane and difficult angle.
Breakout candidates
Dominican shortstop Gleyber Torres signed for $1.7 million as part of Chicago's international spending spree in 2013, and he's so precocious that the club brought him to the United States and promoted him to short-season ball at age 17 last summer. Given late-inning at-bats in big league games this spring, Torres responded with two doubles in his first three appearances.
"He's the same age as a high school senior, and the other day he's hitting against Austin Adams, who had just undressed Wes Darvill and Christian Villaneuva," McLeod said of Torres. "He got down 0-2, battled back 3-2 and then went with a fastball away and laced a double. It was just an incredible at-bat. It was so impressive to see an 18-year-old do that."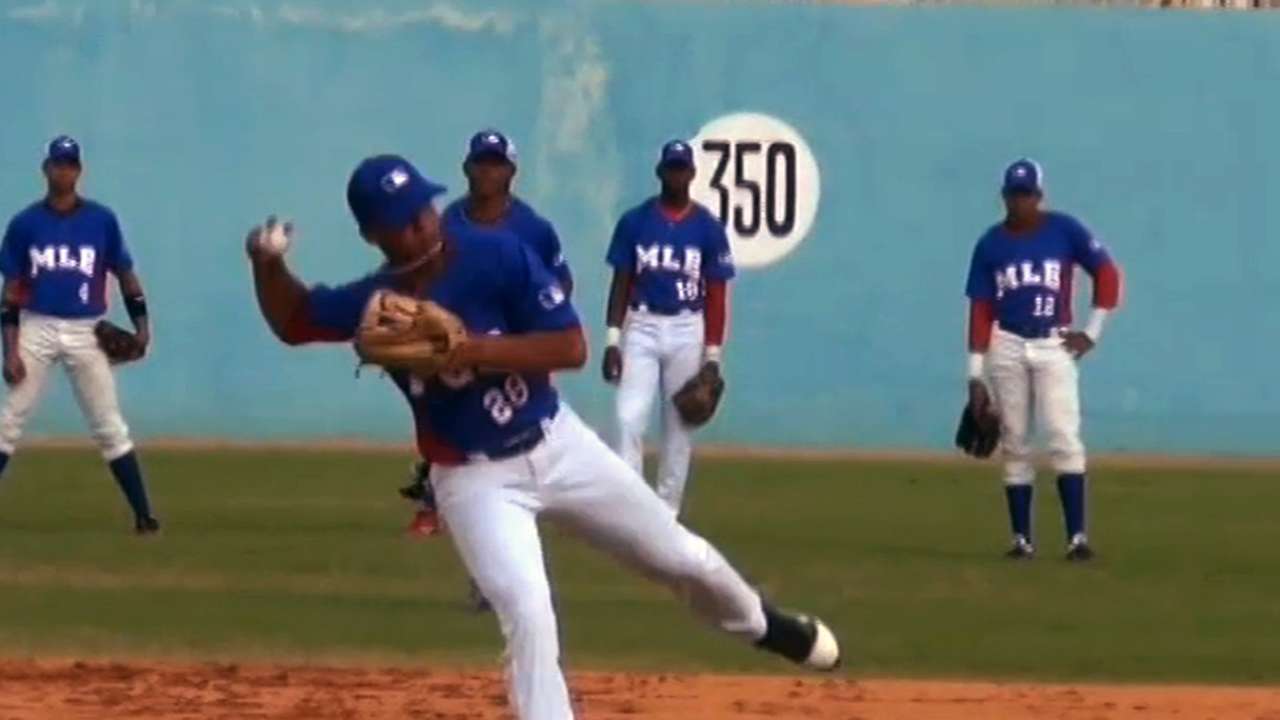 Underwood also landed a seven-figure bonus, signing for $1.05 million as a second-rounder in 2012. He didn't impress club officials with his dedication or conditioning early in his pro career, but he figured things out and started to take off in the second half of 2014. Underwood helped Kane County win the Midwest League title, overpowering hitters with a 92-95 mph fastball and a hard curveball.
"His arrow is pointing north after he understood what he needed to do as a pro," McLeod said of Underwood. "He has the most upside of all of our starting pitchers. He can sit 94 mph and he has two swing-and-miss offspeed pitches. His changeup can be very good."
Three questions with Jake Stinnett
Stinnett began his college career at Maryland as a third baseman and didn't pitch regularly until his junior year in 2013, when he declined to sign with the Pirates as a 29th-round Draft pick. As a senior last spring, he threw a no-hitter and set a school record with 132 strikeouts before getting a $1 million bonus from the Cubs as a second-round selection.
MLBPipeline.com: How difficult was your decision to turn down the Pirates, who reportedly offered much more than a 29th-round bonus?
Stinnett: I knew I was probably going back to school, but Pittsburgh made a run. And at times, I definitely considered signing. It's hard to pass up your dream, but I made the right decision. My senior season was awesome.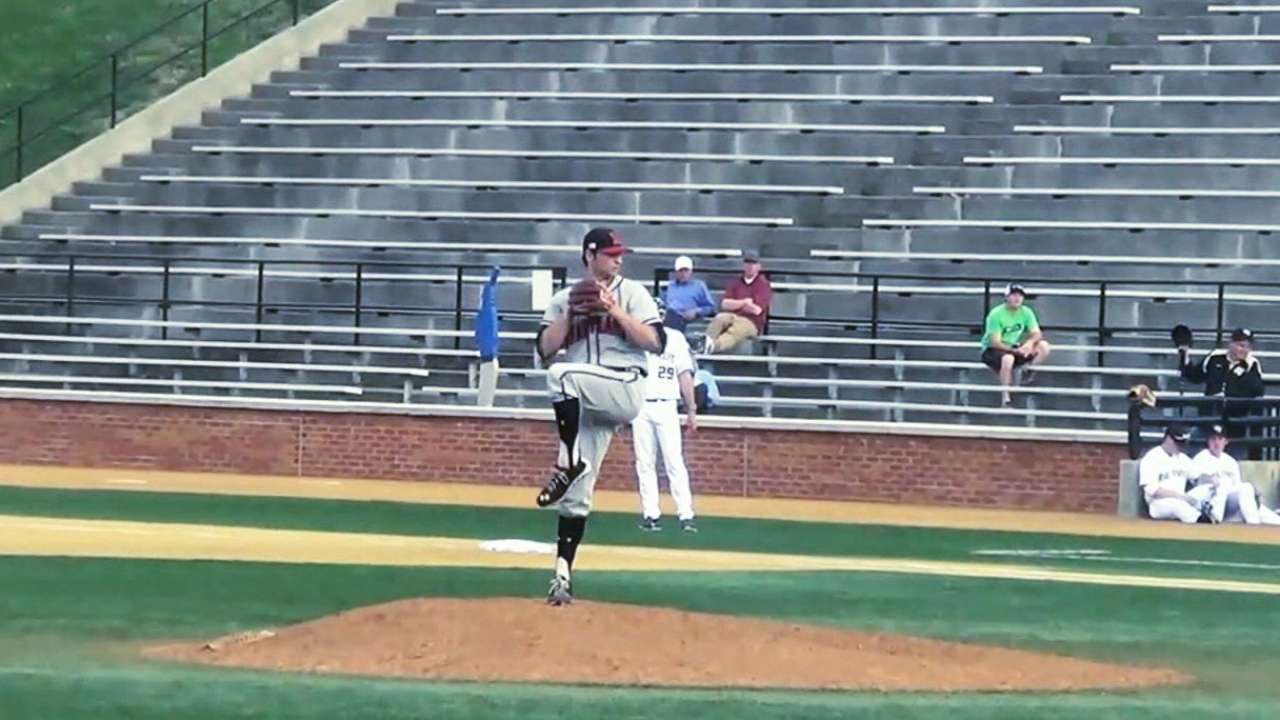 MLBPipeline.com: Maryland didn't have much history of success before you got there, but it had its best year ever with 40 wins and an NCAA Super Regional appearance. Now you're in an organization that hasn't won the World Series since 1908 or gotten there since 1945. How would you compare the two situations?
Stinnett: I kind of think about them the same way. This organization is extremely talented and you can see it's continuing to grow. Great things are on the way and I'm excited to be part of it.
MLBPipeline.com: What are you trying to work on this spring and in your first full pro season?
Stinnett: There are certain things in my delivery that could help me be more consistent. My front foot was a little unstable, so I've been working on that. It's helping me throw strikes more. I've trying to develop my third pitch, my changeup, that I'll need to be a starter.
Jim Callis is a reporter for MLB.com and writes a blog, Callis' Corner. Follow @jimcallisMLB on Twitter. This story was not subject to the approval of Major League Baseball or its clubs.
This story was not subject to the approval of Major League Baseball or its clubs.