MLB.com Columnist
Mike Bauman
Can Angels' pitching staff recapture last year's glory?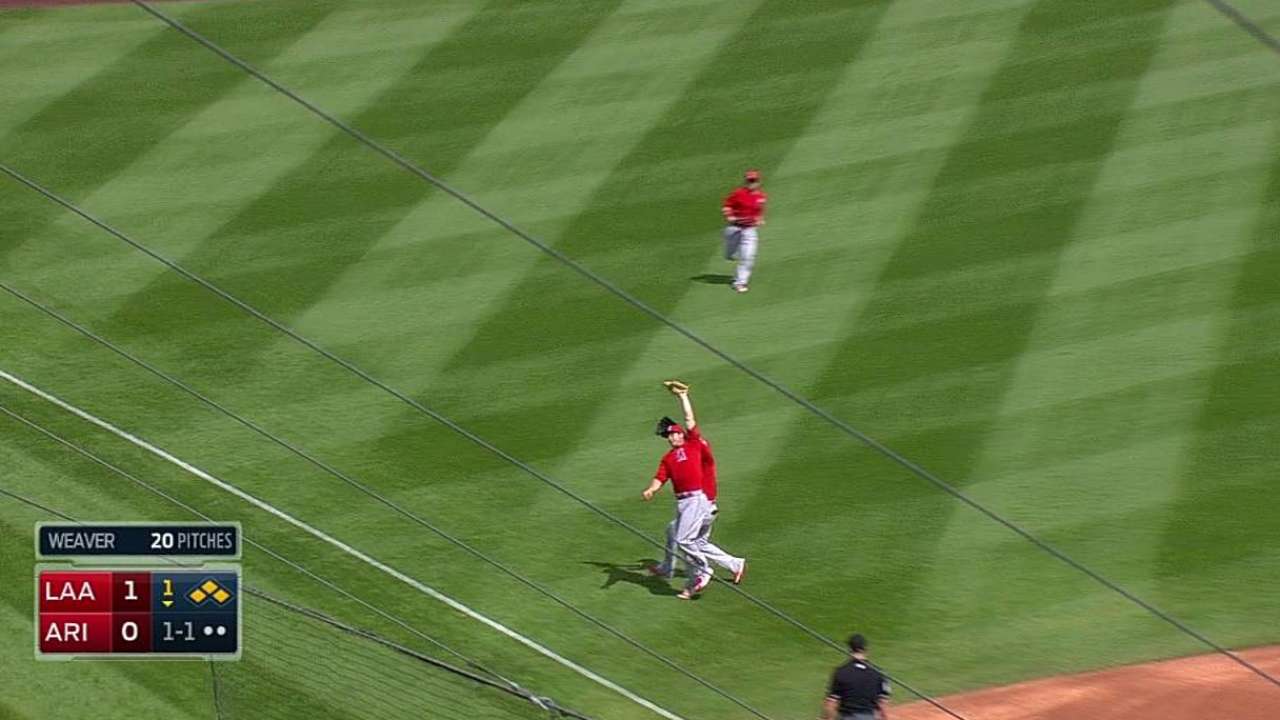 TEMPE, Ariz. -- The Angels led the Majors in runs scored last season, but what lifted them to the best regular-season record in both leagues was a successful starting rotation and a solidified bullpen.
They're not going to evaporate offensively in 2015, either. So what happens with the pitching? The potential exists for exceptional performance, but some of that potential is untested at the Major League level. Questions still have to be answered. Still, the Angels have a pitching outlook that most clubs could only envy.
Jered Weaver, senior in the Angels rotation in point of service, was displaying his command of his craft Monday at Tempe Diablo Stadium. He pitched five innings and gave up one hit, a home run, over five innings in a 5-3 Angels victory over the Rangers. Weaver struck out five, walked none, and was so pitch-efficient with 61 throws that he went to the bullpen after he left the game to get in the rest of his allotted 75 pitches.
"He was right on the money," Angels manager Mike Scioscia said. "It was a great outing for him."
There is some greatness around this rotation. Garrett Richards, who was a dominant force last year before suffering a torn patellar tendon, is expected to be back in the rotation in April. Matt Shoemaker had a breakthrough season. C.J. Wilson had what for him was a slightly down season, but his career says he'll be better this year. Hector Santiago has obvious ability, but his command at times was lacking. This spring additional focus has been on two talented young pitchers, new to the Angels organization.
Left-hander Andrew Heaney, 23, had been the Marlins' top prospect until he was dealt first to the Dodgers and then to the Angels in a trade for second baseman Howie Kendrick. Nick Tropeano, 24, came from the Astros in a trade for catcher Hank Conger. These two are in the running for the fifth spot in the starting rotation the season. In theory, they provide the Angels with admirable depth.
Weaver, who has seen some exceptional rotations with the Angels, likes the direction this one is taking.
"It's great," he said. "We've got some guys who did some great things last year, obviously with what Shoemaker did, with Garrett taking the league by storm before he got hurt. Cory Rasmus did some great things last year when he had to step up after Garrett went down.
"We like what we've got and there are some young guys battling for the fifth spot. It's always good to have extra arms battling for that fifth spot. Our rotation matches up. Obviously, there are some young guys, but guys who have good stuff. It's been fun to work with these guys. It's been fun to watch their progress."
Scioscia sees the potential of these talented young pitchers and would like it to turn into production, as soon as possible.
"I'll be pleased when the potential depth becomes depth," the manager said. "We've got a lot of good young arms but they have to produce. They have to go out there and give us chances to win. We'll keep going with that, but the depth we have has to become tangible and that's what we have to shoot for through Spring Training.
"The potential is there. The upside is incredible with some of these guys. But we need these guys the first week in April, when we need five guys who will give us a chance to win."
The bullpen should be much more stable than the one the Angels opened with last season. Closer Huston Street, who came over in a July trade with the Padres, had the best year of his career. Setup man Joe Smith did impeccable work in the second half, and recorded a WHIP of 0.80 for the season. The depth beyond this pair appears to be solid.
Scioscia says that Smith was the best setup man the Angels have had since Scot Shields, who was the gold standard for the Angels in that role.
"Joe Smith's year was incredible," Scioscia said. "A lot of things happened last year that Joe Smith's year might have been lost in the shuffle a little bit. At a critical time he came and what was he -- 10-for-10 [in his first 10 save opportunities] -- and then he allowed us to hold leads and stay in the pennant race."
After all that success, Smith is taking absolutely nothing for granted. "You just try to build on the good, try to find what was wrong during the year and what wasn't," he said Monday. "Early in the year I was just out of synch. I was rushing a lot. Definitely, the first half of the year could have been a lot better, I think. The second half, everything just clicked. You're going to have years like that. Every year is different. It's a constant battle."
Improvement is difficult to measure when you are coming off a 98-victory season. There are some questions with the Angels' pitching, but there is nothing here that says this club can't win again.
Mike Bauman has been a national columnist for MLB.com since 2001 and has covered Major League Baseball for more than three decades.
This story was not subject to the approval of Major League Baseball or its clubs.