Gaudin impressing; Greinke reports better command
Peralta looks sharp, Hatcher struggles in Dodgers' ongoing bullpen competition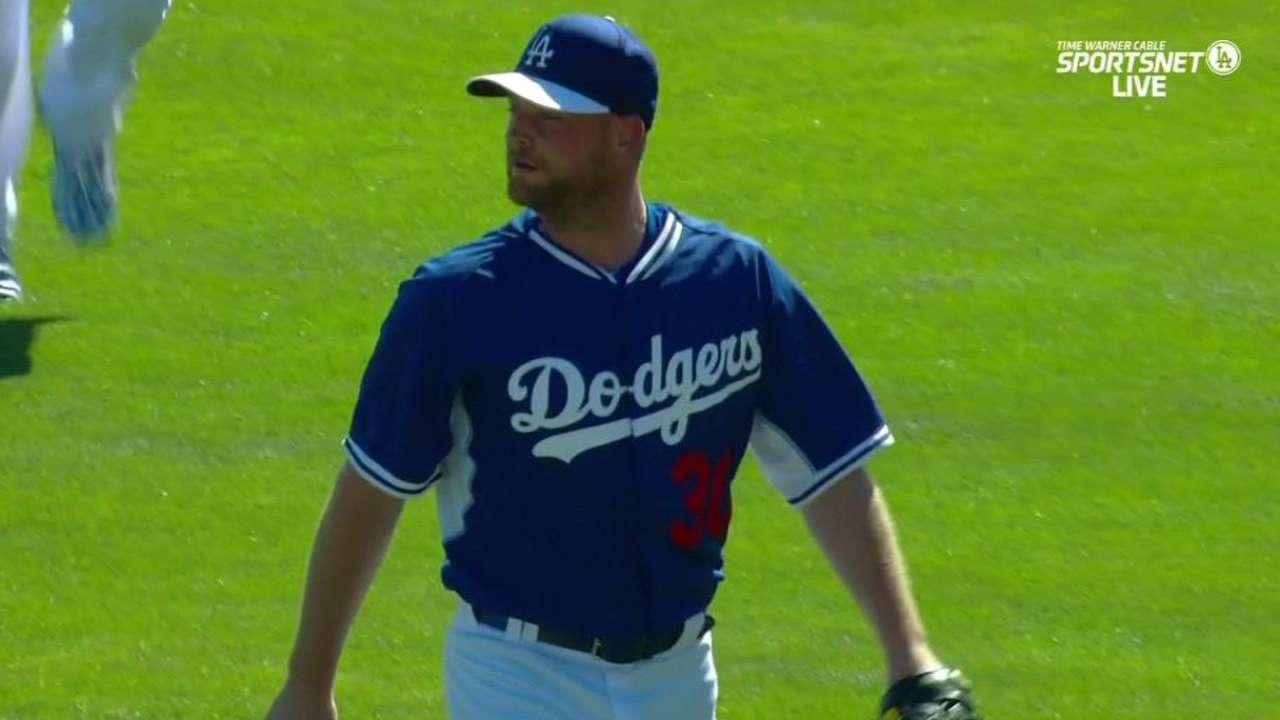 GLENDALE, Ariz. -- After an effective three innings by starter Zack Greinke and an eighth-inning long-ball display by Darnell Sweeney, Scott Schebler and Chris Heisey, Monday's 10-5 win against the A's provided the Dodgers with more information on their uncertain bullpen.
Chris Hatcher, the Dodgers' likely closer with Kenley Jansen out, scuffled in a three-run inning. Joel Peralta, the likely setup man, showed no signs of shoulder issues with a two-strikeout scoreless inning.
And the most intriguing outing probably belonged to Chad Gaudin, who also threw a scoreless inning with two strikeouts. Gaudin missed 2014 with neck surgery, was signed to a Minor League contract after camp opened and is looking like a real find.
Originally targeted for multiple innings and possibly spot starting, on Monday he was asked to pitch only the sixth inning. And that came after being asked to warm up quickly when it looked like Hatcher might max out on pitches and be lifted mid-inning.
Though Gaudin might be a fill-in for the injured Brandon League, Gaudin said he doesn't worry about not knowing what his role is.
"I've had to make teams so many times, I don't even look into why I'm asked to do anything because there are too many variables," he said. "I don't worry about things I can't control."
Greinke, meanwhile, said everything was coming out decently and his pitch location was OK.
"Nothing was good, nothing was bad," said Greinke, who allowed a solo homer to Josh Phegley. "Better than my last start. Today I mixed it up better than the last start, better location with my fastball."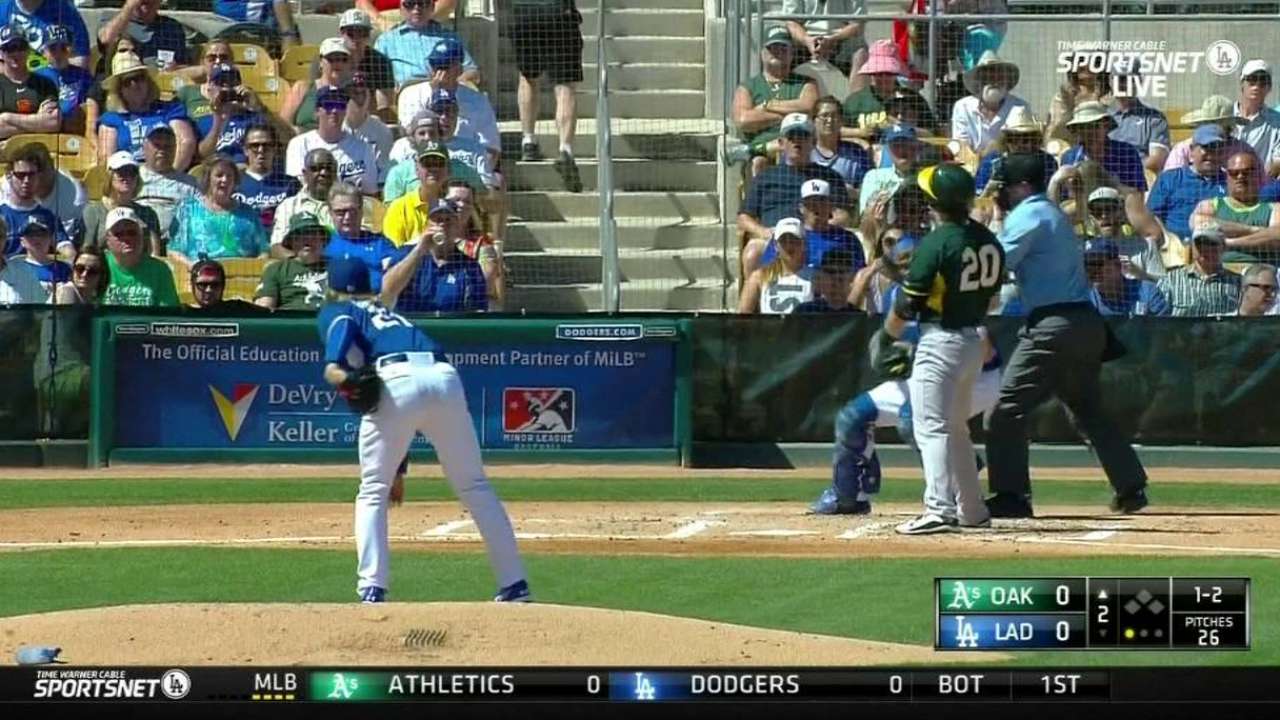 He said he went back to his original slider after tinkering with a new variation last start. The one used Monday "wasn't anything special, but at least I seem to know where I'm throwing it and where it moves. The last one I didn't know if it moved or not."
Greinke also took a pass on whether the Dodgers are better this year than in 2014.
"I still don't know for sure," he said. "[Yasiel] Puig wasn't in there, [Carl] Crawford wasn't in there. Every time is similar. We haven't had a couple days in a row where you could see the real team play. I just haven't seen the team play, so I can't tell if it's better talent-wise. There has been a great atmosphere in the clubhouse, not to say there wasn't last year."
Ken Gurnick is a reporter for MLB.com. This story was not subject to the approval of Major League Baseball or its clubs.