MLB.com Columnist
Richard Justice
Padres have a gem in Middlebrooks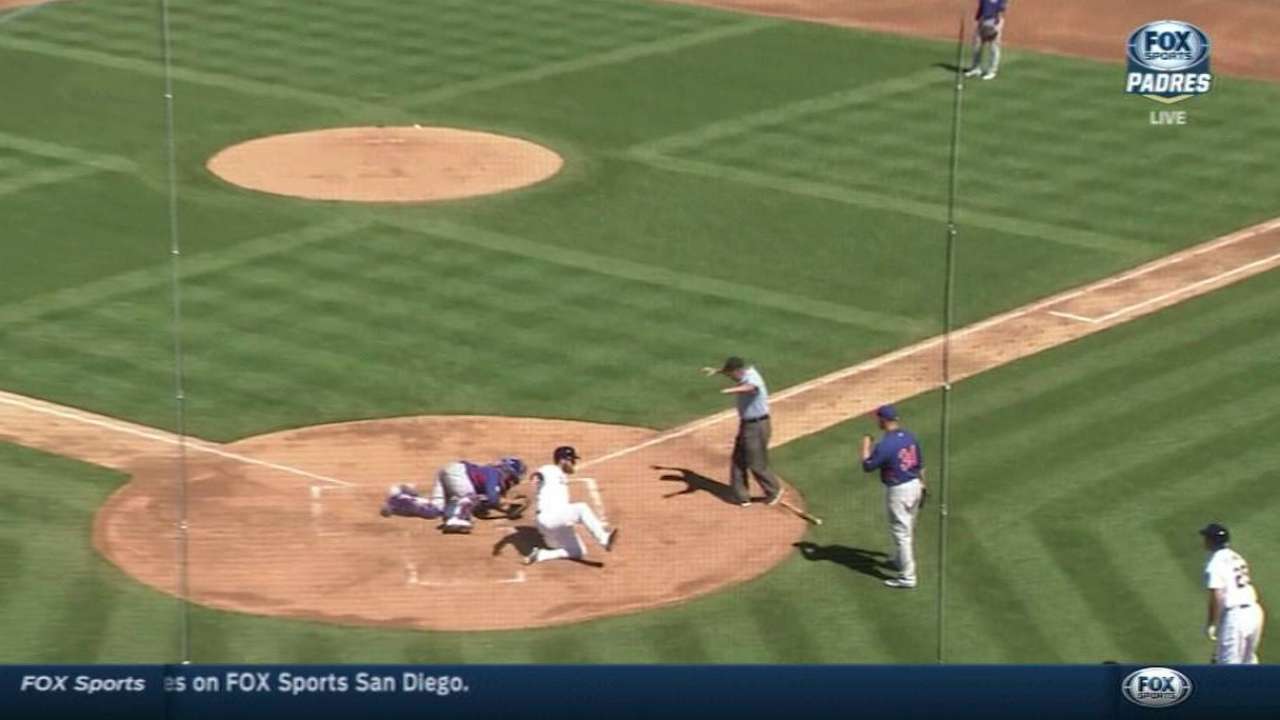 PEORIA, Ariz. -- Here's betting Will Middlebrooks ends up being one of the smartest moves San Diego Padres general manager A.J. Preller made last winter. You remember Will Middlebrooks, don't you?
At this time last season, the Boston Red Sox thought he might have the kind of year that would establish himself as an impact player at third base once and for all. They'd seen glimpses of greatness during his first two seasons, especially in 2012, when he made his big league debut with 15 home runs and a .288 batting average in 75 games. He was 23 then and did pretty much everything well. The Red Sox had every reason to be excited.
Middlebrooks struggled mightily in 2013 with injuries and a .227 batting average, but he was healthy at the beginning of '14, and the Red Sox had high hopes for him.
He was about to get a hard lesson in what a tough, humbling game baseball can be, and that while talent is a great thing to have, a teensy bit of luck is also important. He played just 63 games as back, finger and hand injuries robbed his swing of power and his mind of confidence. He finished last season with a .191 batting average and was a shadow of the player he'd been in 2012.
"It felt like, for the past year, I'd have to cheat to hit fastballs because I just didn't have my bat speed," he said. "Being able to get back to my normal swing without having to speed up other parts of my body to get to the baseball has been a big deal. It has allowed me to just get back to the basics."
Middlebrooks has learned plenty in the last year. For instance, he knows there are injuries a player is supposed to play through and some he isn't. At times the last two years, he refused to give in to pain, and his performance suffered.
"That's my competitive nature. That's who I am," he said. "As a young player, I didn't know any better. I learned the hard way. Now I have a better perspective of what I can play through and what I can't. It'll help me going forward."
When last season ended, he had simple goals. He spent the first several weeks strengthening his wrists and hands and didn't go back into a batting cage until he was convinced he could feel normal again.
"I was about as low as you can get," he said. "It was tough. Not being able to go out there and contribute and help my teammates out was tough."
And right about the time he was starting to feel good, reality intervened. In late November, the Red Sox signed free-agent third baseman Pablo Sandoval to a five-year, $95 million contract. Whatever career Middlebrooks thought he was going to have in Boston had just taken a dramatic turn.
"It stung a little bit, just because I cared so much about being a part of that team," he said. "I'd be lying to you if I said it didn't bother me. But at the same time, I like to think I have an idea of the business of baseball. You have a guy that keeps getting hurt, and they're an organization that wants to win now. I understand that. It is what it is."
For the next month, Middlebrooks was in limbo. His heart was still tied to the Red Sox, but his position had been taken by someone else.
"It wasn't fun," he said, "knowing my role going forward was as a utility player and backup. I didn't want that. I didn't know what to want. I'd never been in that position. So when the trade happened, it was a bittersweet feeling. I loved my time in Boston. I loved my teammates, my coaches, the staff. But for my career going forward, it was a great opportunity."
On Dec. 19, Preller acquired Middlebrooks for catcher Ryan Hanigan. As of now, Middlebrooks and former Yankees infielder Yangervis Solarte are competing for the Padres' third-base job. Both are having good springs, with Middlebrooks hitting .364 with two home runs and two doubles.
"When you look at him, you see a player," Padres manager Bud Black said. "You see a guy with ability, just the way he moves around the field, the way he runs. You've seen that in flashes the last three years. Both in the field and at the plate, you see a guy with a lot of potential. I think he's ready to break out."
Asked about the competition with Solarte, Middlebrooks said, "If there's a competition, I'm competing with myself. He's going to help us win a lot of baseball games. Wherever I can be on the field to help us win, that's where I want to be. I know he feels the same way."
Middlebrooks could be in the right place at the right time. In Preller's first few months on the job, he did a complete remake of the Padres, acquiring Matt Kemp, Justin Upton, James Shields, Wil Myers and others.
After eight years out of the playoffs, the Padres would surprise absolutely no one by hanging with the Dodgers and Giants in National League West and somehow snagging a playoff berth. In these first weeks of Spring Training, it has been about all these new players getting to know one another, beginning the process of functioning as a cohesive unit.
"I'm excited to come to the field every day," Middlebrooks said. "It's great to see how easily everybody has mixed together. There's great camaraderie in here, and that's what it's about."
Richard Justice is a columnist for MLB.com. Read his blog, Justice4U. This story was not subject to the approval of Major League Baseball or its clubs.