Roster battles unresolved so far in Tigers camp
Club still unsure of needs at this point of Spring Training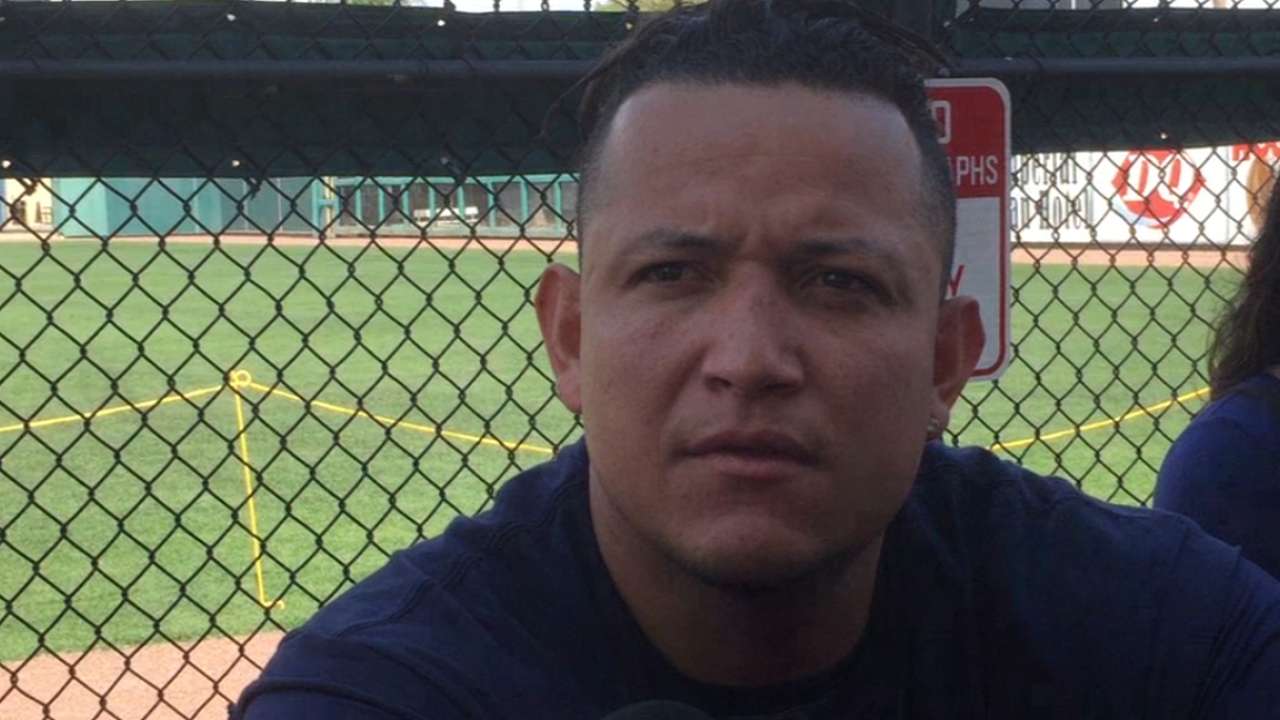 JUPITER, Fla. -- Nearly halfway through the Spring Training schedule, the Tigers still have precious few roster battles brewing. The ones that they face on the positional roster don't appear much closer to resolution than they were when the Grapefruit League slate began two weeks ago.
Part of that is because manager Brad Ausmus still isn't completely sure what he needs.
"Really, the main concern is we have to get everybody healthy that's in the starting lineup," Ausmus said Monday, "because then that gives us a clearer path as to what we need on the roster. If [Miguel Cabrera's] not ready, then we have to have somebody that not only can play first, but hopefully add a little offense.
"At this point, we're not sure. There's options, but we're not sure which direction we have to go."
Cabrera worked out with the team on the field again Monday at Roger Dean Stadium in Jupiter, taking batting practice and ground balls. He also has been running bases. If he continues to progress, he could be ready for games by the end of the week, as could designated hitter Victor Martinez.
That would give Cabrera and Martinez maybe two weeks of games to get ready. Barring a setback, it would give Ausmus the ability to tinker with his bench without having to worry about filling a massive void in the lineup.
In that case, the root question for Ausmus is whether he wants the flexibility of two utility players, or the extra bat that a fifth outfielder would provide.
If it's the latter, then he has three left-handed hitters at his choosing in Tyler Collins, Daniel Fields and Steven Moya. Fields has enjoyed a hot start to the spring, going 10-for-26 with three doubles, two home runs, two walks and five RBIs. Collins, the perceived favorite going in, has held his own with at-bats by going 6-for-26 with a pair of doubles and five walks.
That being said, Ausmus threw out the notion of using Grapefruit League stats to decide a spot.
"I don't really look at numbers as much as I look at the swings and what they're doing in the field," Ausmus said. "I don't get swayed by numbers in Spring Training. They mean almost nothing. It just means nothing."
That might temper some of the momentum over Hernan Perez's hot start among the utility infielders. He's 10-for-29 with a double, triple and three RBIs. Andrew Romine is 3-for-21, but with four walks against seven strikeouts.
It's the Perez-Romine competition that becomes tricky, since both players are out of Minor League options -- unless both make the team. It would leave Ausmus with virtually no impact bat on the bench but versatility on defense, notably if Jose Iglesias needs a schedule of days off during the season.
"If you carry a fifth outfielder, when is he playing? Maybe he can pinch-hit here and there," Ausmus said. "Maybe if one of the corner guys needs a day and there was a really tough righty, maybe a guy like Collins fits in that role. But you assume, barring an injury, that between those four outfielders, the vast majority of the playing time is already consumed. That's why I say it's possible to envision Perez and Romine [both on the roster], from that perspective."
Jason Beck is a reporter for MLB.com. Read Beck's Blog and follow him on Twitter @beckjason. This story was not subject to the approval of Major League Baseball or its clubs.