Knuckleballer Wright providing Red Sox rotation insurance
Right-hander tossed three scoreless innings in relief vs. Mets on Monday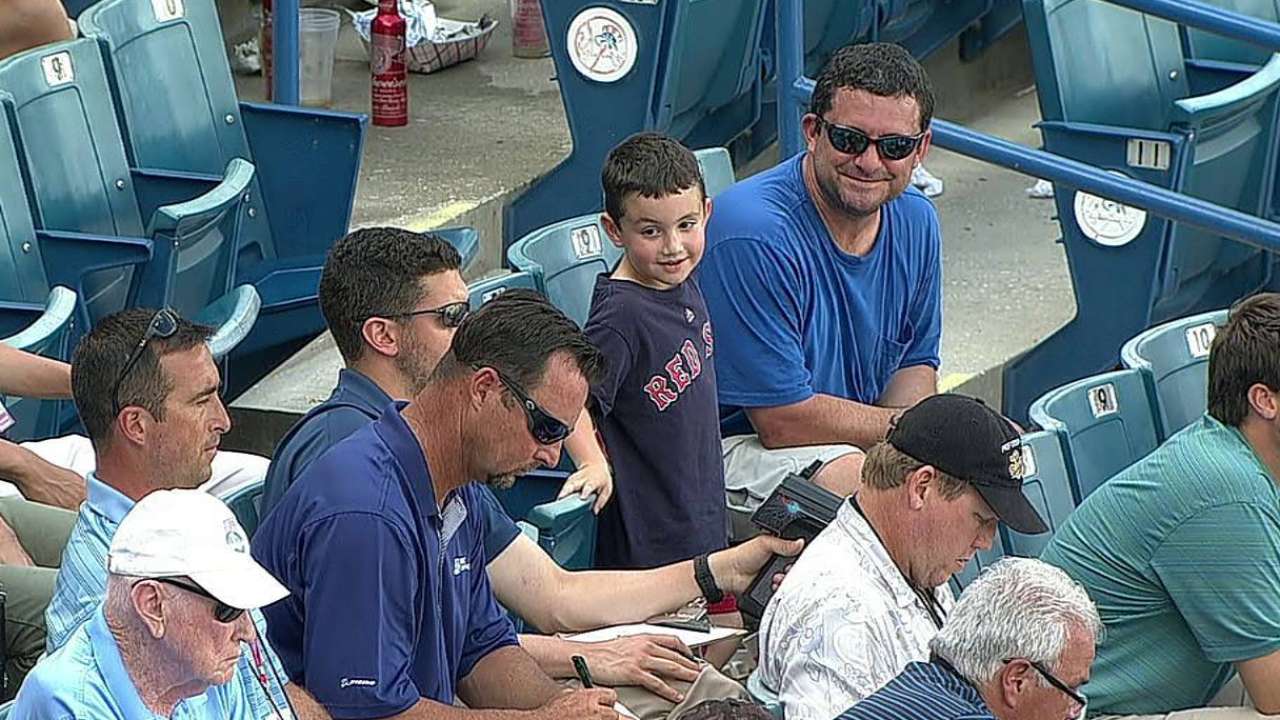 FORT MYERS, Fla. -- It might have been fitting that on a day when Red Sox starter Joe Kelly left a game against the Mets with biceps tightness, Steven Wright tossed three scoreless innings of relief.
Kelly does not believe his injury to be anything serious and fully expects to be in the Boston rotation on Opening Day. But if the situation turns out to be more serious, or if an injury strikes a different starter, Wright has positioned himself as a fill-in candidate.
"Steven Wright is a guy that in my mind gives us a lot of comfort," Red Sox manager John Farrell said before Monday's game. "As that knuckleball has come along, he's thrown a lot more strikes. He's got the ability to give a contrast of styles. So we feel like the depth starters that project to be in Pawtucket give us is what we're looking for."
Wright entered in the sixth inning and kept the Mets off the board as the Red Sox rallied to tie a game they eventually won, 4-3. He gave up two singles and a walk, with no strikeouts in his third appearance of the spring and has been feeling confident after working with former Sox knuckleball artist Tim Wakefield over the past couple of weeks.
The 30-year-old is happy just to be on the mound for Grapefruit League games, as he didn't pitch last spring after undergoing sports hernia surgery, which kept him out of action until late May. He eventually posted a 3.41 ERA over 15 starts for Triple-A Pawtucket and a 2.57 mark over six games (one start) for Boston.
"It's good, especially compared to where I was last year at this point," Wright said. "I was just trying to get healthy. So for me, I just come in and basically do what I know I can do, which is try to throw quality knuckleballs over the plate, and then whatever the team needs me to do, I'm more than happy to do it. I need to stay healthy."
Over the course of his career, Wright has pitched nearly 1,000 Minor League innings, but only 34 1/3 in the Majors, for the Sox over the past two years. That number certainly could go up this year.
"I feel like I'm ready for any job they want me to do, whether it's in Boston or Pawtucket," he said. "Hopefully it's in Boston at some point. But I feel confident to where if I keep doing what I'm doing, working with [pitching coach Juan Nieves] and Wake and those guys, that I feel like I'm ready whenever they call upon me to go out there."
Andrew Simon is a reporter for MLB.com. Follow him on Twitter @AndrewSimonMLB. This story was not subject to the approval of Major League Baseball or its clubs.