Commissioner Manfred visits A's camp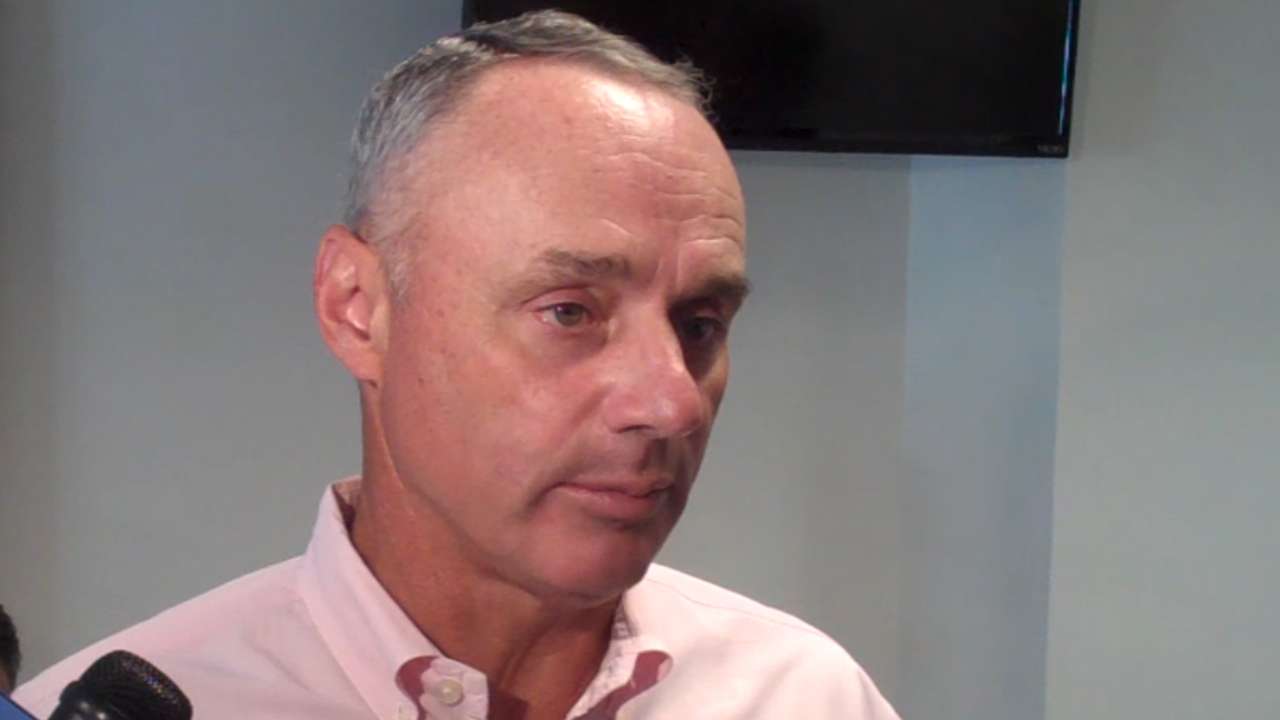 MESA, Ariz. -- New Commissioner Rob Manfred is making his tour of Spring Training camps, visiting the Dodgers and the A's on Monday and briefly talking to the players from each club.
He later attended the Cactus League game between the teams at Camelback Ranch in Glendale.
"The player meetings have been great. I've been trying to keep my agenda items limited," Manfred told a group of reporters in the A's dugout at Hohokam Stadium after his 15-minute meeting in the clubhouse with the A's.
"The real purpose is for them to get to know who I am. I don't want my first exposure to them to be in a crisis or collective bargaining setting, just want to give them a feel for who I am and my thoughts about the game."
Manfred has already visited seven clubs in Florida and Arizona, and said he plans on making a stop in Goodyear on Tuesday to meet with the Indians and Reds.
Manfred, who replaced the retired Bud Selig on Jan. 26, spoke about several topics in his short question-and-answer session with the media.
About the pace-of-play rules now in place during Spring Training: "I think the players understand the need to be responsive to fans. Enough has been out there on this topic that something needed to be done. Players are prepared to be cooperative even though for some of them, the batter's box rule is going to require some change. So it's been positive. I regard the response to be positive. I like it, I do. It's tough to judge in Spring Training games, but people are generally of the view we're headed in the right direction."
Regarding the A's stadium situation in Oakland: "When I think of the five long-term issues that I feel need to be resolved [in Major League Baseball], the stadium situation for the A's is right at the top of the list. It's one that does need to get handled. I've talked to [A's managing partner] Lew [Wolff] extensively. I've had conversations with the new mayor in Oakland. We're really focused on finding a solution to what has been a long-term issue."
On whether San Jose, Calif., might be a solution: "I'm not going to comment on areas outside of Oakland. There's ongoing litigation with San Jose, and it just makes it difficult for me to say anything on that topic."
On the impact of the NFL's Oakland Raiders on the A's situation: "The city needs to make a decision where it's going to be in respect to the two teams. I see the two issues as separate. I don't think that one is necessarily outcome determinative of the other. That's more a question for the politicians in Oakland than it is for me. I'm focused on getting the A's a new facility."
On combining the Civil Rights Game with Jackie Robinson Day this year on April 15 at Dodger Stadium: "I think combining the Civil Rights Game and Jackie Robinson Day will make both events bigger and provide more focus on that issue on a particularly appropriate day, [the anniversary of] Jackie Robinson's first day. We think we make both events bigger by bringing them together."
On whether this is an experiment or whether it will continue in the future: "Right now that's kind of our intention, but there's been no final decision on that topic."
Barry M. Bloom is a national reporter for MLB.com and writes an MLBlog, Boomskie on Baseball. Follow @boomskie on Twitter. This story was not subject to the approval of Major League Baseball or its clubs.