MLB.com Columnist
Tracy Ringolsby
Baseball lifer Lachemann continues living his dream
Member of Rockies' coaching staff ready to begin 52nd straight season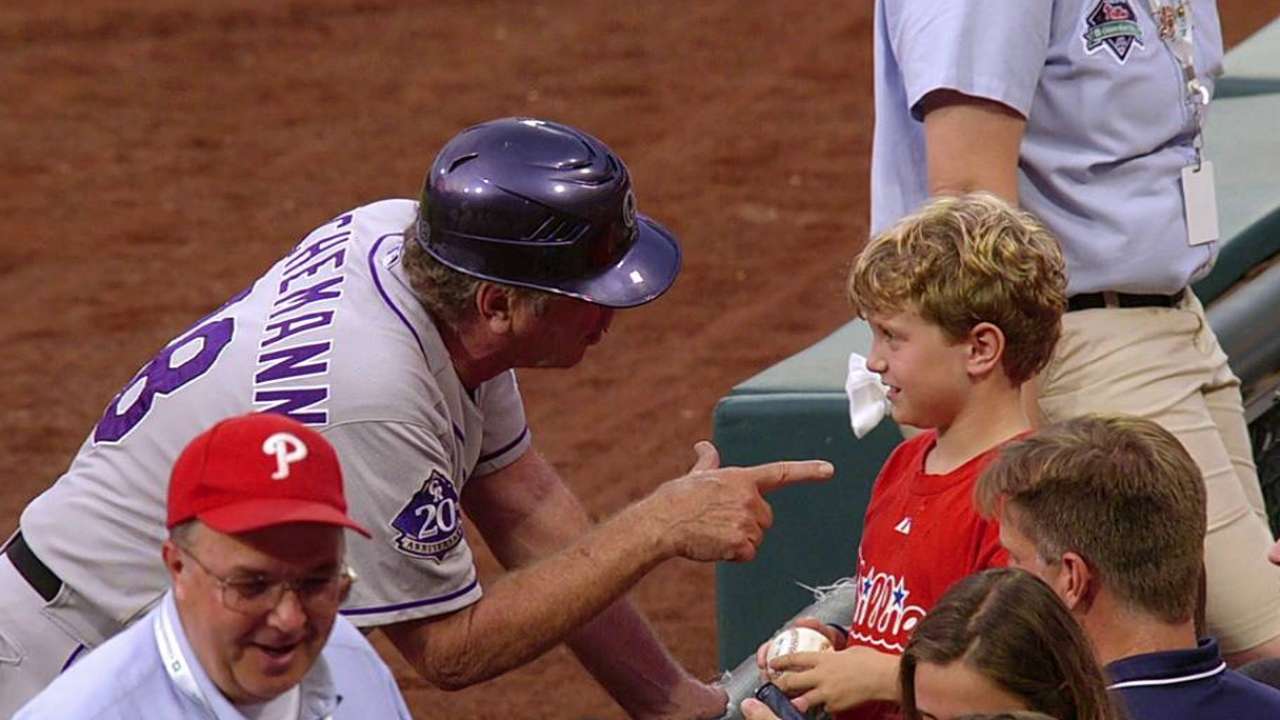 SCOTTSDALE, Ariz. -- Rene Lachemann became a baseball lifer as a teenager. He was a ball boy for the Dodgers at the age of 15. He worked in the home clubhouse at 16. And he was in charge of the umpire room at Dodger Stadium at 17.
"It made me realize that was what I wanted to do, be a professional baseball player," Lachemann said. "It was a dream."
It came true. And the bonus baby signed by the Kansas City Athletics back in 1964 is still living the dream.
Lachemann, who turns 70 on May 4, is on Rockies manager Walt Weiss' coaching staff, in charge of catching and defensive alignments. He is about to embark on a 52nd consecutive season in uniform as an active player, coach or manager, matching Don Zimmer for what the Hall of Fame believes is a Major League record.
Lachemann was a teammate of Satchel Paige with Kansas City in 1965, and he worked with A's coach Gabby Hartnett, who until the arrival of Johnny Bench was considered the greatest catcher in National League history. Hartnett was the Cubs' catcher in the '32 World Series game when Babe Ruth hit the debated "called shot" home run.
"Gabby told me what happened, but told me I could never tell anybody," said Lachemann. "He said he had never told anyone else."
And Lachemann has never betrayed Hartnett. It was mentioned to him that Hartnett died in 1972, so when Lachemann passes away, there won't be anyone left who will know the truth.
"That's the way Gabby wanted it," said Lachemann. "That's the way it will be."
Lachemann spent the 1965 season in the big leagues because he had been given a $45,000 signing bonus, and in the pre-Draft days, any player receiving more than $40,000 had to spend his first full pro season on the Major League roster. He was even the starting catcher for the A's in the game in which Bert Campaneris became the first player to play all nine positions.
Sent to Double-A Mobile in 1966, Lachemann was expected to be fast-tracked back to the big leagues. He, however, had a promising career sidetracked when he had two concussions in slightly more than a week. The first was sustained in a home-plate collision, and the second occurred when he was hit by a pitch just below the helmet, which in those days did not have ear flaps.
By the time Lachemann was 27, his playing career was at an end, and suddenly Lachemann, who completed one semester at USC before he signed with the A's, was considering what to do for the rest of his life. The Athletics offered him a chance to manage in their system, and the non-playing career was off and running.
Lachemann managed in the A's and Mariners' farm systems before taking the helm in the big leagues with Seattle and then Milwaukee. He then served on former Minor League manager John McNamara's coaching staff in Boston, followed by a stint with Minor League roommate Tony La Russa's staff in Oakland.
Lachemann was the expansion Marlins' first manager from 1993-96, after which he joined coaching staffs with the Cardinals (and La Russa), Cubs, Mariners and A's before joining the Rockies in 2008 at the age of 63 for a five-year run as the hitting coach with Triple-A Colorado Springs. He joined Colorado's big league staff when Weiss, who Lachemann coached with the A's and managed with the Marlins, became the team's manager in '13.
"It's run the whole gamut," said Lachemann. "But even the bad times have been good."
Lachemann can laugh about the early years. Managing in the A's system when they won three consecutive World Series, he remembers being invited to attend Major League games by the team owner, Charlie Finley. When Lachemann arrived, he found out he was in charge of making sure Finley's friends seated behind the dugout had their peanuts, pennants and programs.
"It was a special team for me," said Lachemann. "I had grown up in the A's system as a player with [Sal] Bando, [Rick] Monday, Reggie [Jackson], [Jim] Nash, Blue Moon [Odom] and [Rollie] Fingers."
Lachemann was promoted by the Mariners from managing their Triple-A team, where he was to make $30,000, to the big leagues, where he was given a contract that called for $35,000 for the season. Owner George Argyros, however, prorated the deal and Lachemann said he "made less than if I had stayed in the Minor Leagues."
Not that Lachemann is complaining. He was the third-base coach when the A's captured American League pennants in 1988, '89 and '90, winning the World Series in '89, and he was with the Red Sox when they won the AL pennant in '86.
"That '86 was a great year," said Lachemann. "It was my first time in a World Series. And it was the highlight and lowlight of my career."
There was Game 5 of the AL Championship Series in Anaheim, when Boston was trailing three games to one. Don Baylor hit a two-run home run with two outs in the ninth, followed two batters later by Dave Henderson's homer off Donnie Moore.
The Red Sox won the final two games in Boston, and the Sox advanced to the World Series, where they took a 3-2 lead over the Mets. They never got that fourth win. New York rallied in Game 6 thanks to a 10th-inning error charged to first baseman Bill Buckner.
"Ten times, we had two strikes on a hitter [for the final out], but we couldn't put him away," Lachemann said.
The Mets pulled out Game 7, rallying from a 3-0 deficit, but again, Lachemann isn't complaining.
"I don't look at this as a job," Lachemann said. "I am living a dream. I played in the Major Leagues. I managed in the Major Leagues. I was part of a staff that went to four World Series."
And after all this time, there is no sense waking up now.
Tracy Ringolsby is a columnist for MLB.com. This story was not subject to the approval of Major League Baseball or its clubs.