Showalter happy to see Orioles offense come alive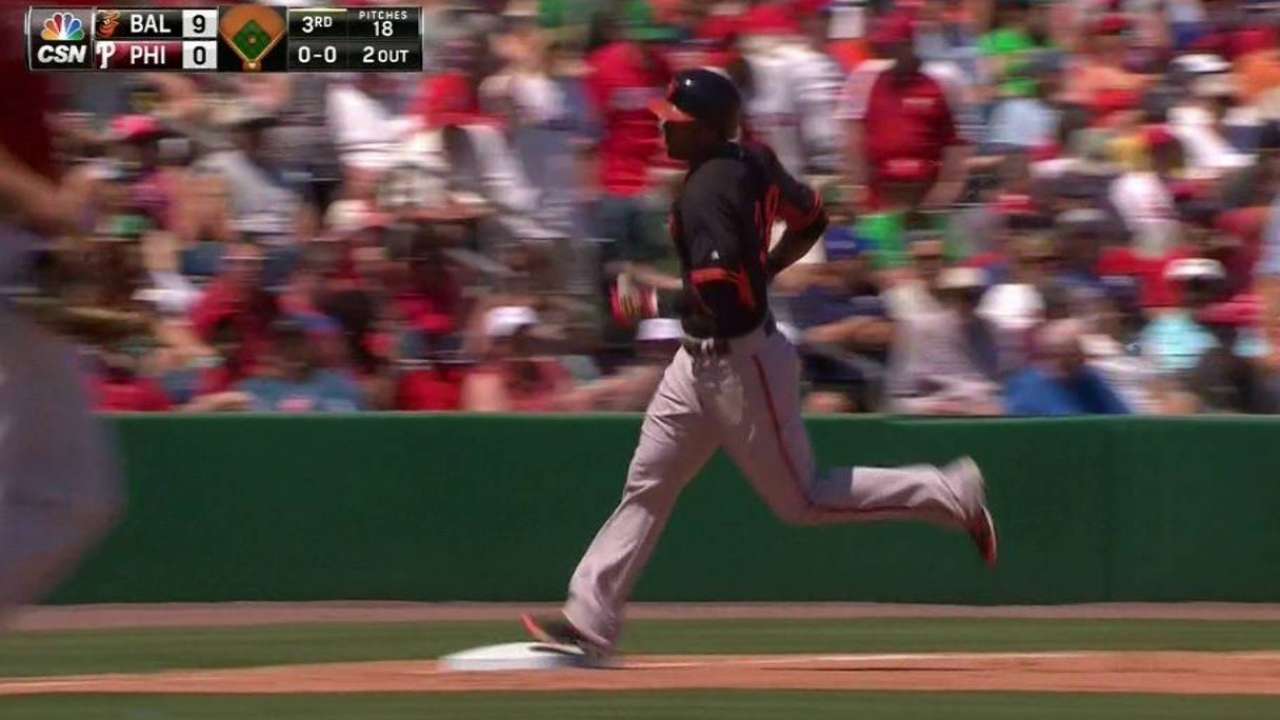 CLEARWATER, Fla. -- It's only Spring Training, but don't think Orioles manager Buck Showalter didn't enjoy watching his lineup pile on the runs against Cole Hamels and the Phillies.
"You bet ...," Showalter said after the Orioles cruised to a 16-4 win Monday at Bright House Field. "You like to see them have one of those days. They've been working hard. Get a return for it."
The Orioles tagged Hamels for five runs on six hits and two walks in his two innings of work. They pounded out 21 hits and launched five home runs on the day, even with a majority of their everyday players working out back at the club's Spring Training complex in Sarasota.
The Orioles had only managed to score 17 runs over their last eight games, a number they nearly matched in about three hours Monday afternoon.
The offensive showing completely overshadowed a solid start by right-hander Miguel Gonzalez, who threw 3 1/3 perfect innings before giving up two runs on four straight hits.
Gonzalez was pleased with his outing overall, making the necessary adjustments he worked on in his between-starts bullpen. And he was more than happy to watch his teammates' drive the ball all over the field while he sat in the dugout.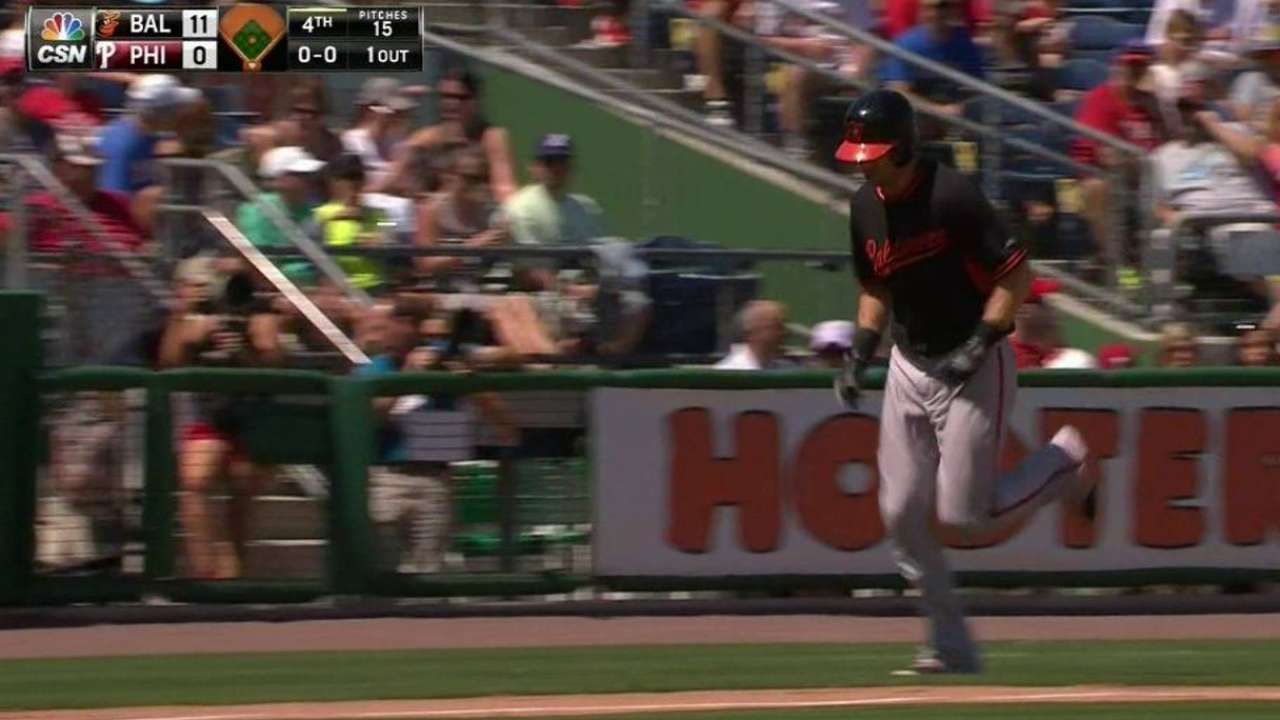 "Hopefully they can do that every time I'm out there. Really impressive watching those guys hit today," Gonzalez said. "It was fun. ... They faced a really good pitcher today. Obviously, it wasn't his day.
"That's the type of guys we have in our clubhouse. They're going to get things done. I was really happy and fortunate to be a part of it."
First baseman Chris Davis wasn't initially supposed to be a part of it. He wasn't scheduled to make the trip to Clearwater, but he asked Monday morning if he could get some more at-bats.
He got four of them on the day, three of them resulting in hits: a single, a double and a three-run homer to the opposite field off Hamels.
"Glad he came," Showalter said afterward.
Right fielder Steve Pearce continued his hot streak at the plate, going 2-for-4 with a home run -- his third in as many days. Pearce is hitting .417 in his first camp as an everyday player.
"Isn't it funny how much things change? We're not even talking about in the conversation about where he fits, can he make the club, can he not," Showalter said. "Now I'm concerned about not overusing him so we're saving bullets for the season. Just a reminder about how fickle we all are and what an inexact science this is."
Third baseman Jimmy Paredes (2-for-3, five RBIs) and left fielder Nolan Reimold (2-for-4) also went deep for the Orioles. Delmon Young went 1-for-2 with two walks. Jayson Nix picked up two hits. Leadoff man Everth Cabrera was 2-for-3 with a double and a triple.
"A hitter-friendly day," Showalter said.
Adam Berry is a reporter for MLB.com. Follow him on Twitter at @adamdberry. This story was not subject to the approval of Major League Baseball or its clubs.