Orioles send top prospects down to Minor League camp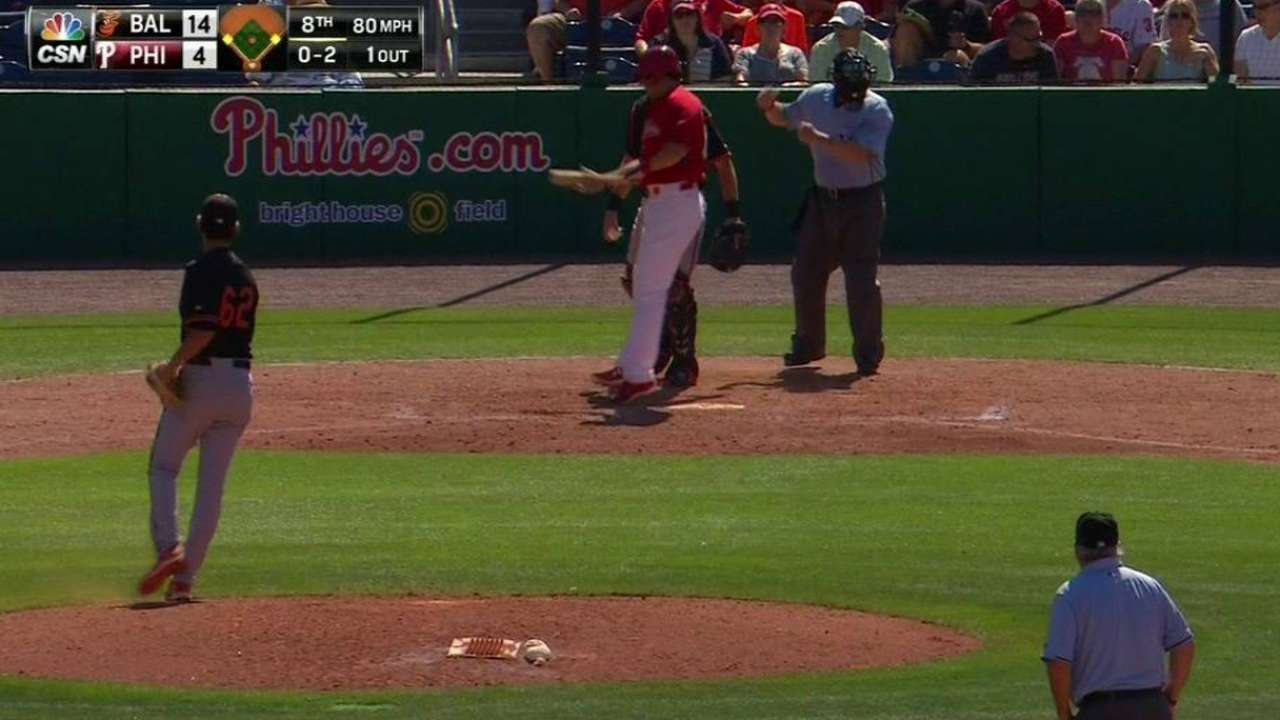 CLEARWATER, Fla. -- The Orioles sent their top three prospects to Minor League camp Monday afternoon. Odds are, they all will be back in orange and black at some point before the end of the year.
Officially, Baltimore optioned top prospect Dylan Bundy to Double-A Bowie, reassigned No. 2 prospect Hunter Harvey to Minor League camp and optioned No. 3 prospect Christian Walker to Triple-A Norfolk.
All three will continue their Spring Training at the club's Minor League complex, getting back on normal schedules and preparing to potentially help the big league club if called upon later this summer.
Bundy and Harvey pitched in Monday's 16-4 win over the Phillies at Bright House Field, each of them giving up a run and two walks.
"They've gotten everything out of this camp they can get. It's time for them to get stretched out," Orioles manager Buck Showalter said. "They both know it.
Bundy, 22, made his big league debut in September 2012 but has been slowed down by injuries since then. He underwent Tommy John surgery in June 2013, returned to the mound a year later and made nine starts before being shut down with a lat strain.
Now, Bundy has a chance to start the year on a normal schedule and begin the road back to Baltimore.
"I was telling Dylan what a difference it is this year right now compared to last year. He's just getting ready to go pitch in Bowie, I assume. That's exciting for him," Showalter said. "He told me he can't tell you how nice it feels to not be in Florida in three weeks. He'll have some moments early on this season where he'll take a step forward and half a step back. He'll hold himself to a high standard. I think by June, July, you'll see a pretty good product."
Harvey, only 20 years old, has a chance to move quickly through the Orioles' Minor League system. Showalter said Harvey, the 22nd overall pick in the 2013 First Year Player Draft, could have an impact for the Orioles at some point this season.
For that reason, Baltimore will closely monitor Harvey's workload in the Minors. He only threw 87 2/3 innings last year. The Orioles don't want to risk an injury by dramatically increasing that number, nor do they want to shut him down early in the season. They want him to be available to pitch down the stretch.
"You want those guys to experience a long season but not have the taxation on their arm, so it's not like he's going to go home back to North Carolina for a month," Showalter said. "Get ahead of it. Be proactive instead of reactive. Don't wait until the innings are piled up and then, 'Oh my God, we've got to shut him down.'
"Everybody's goal is to play into October and play meaningful games in September, so it's crazy all of a sudden this gets on top of you. If you have them pitch through it, studies will tell you you're going to pay the piper. It may not be that one, but you're going to pay it the next spring. Who we are, we can't afford to have these guys get hurt. We have to be 15 starting pitchers deep in our organization between Double-A, Triple-A and the Major Leagues, because that's where we're going if someone goes down. We can't go buy another one."
Walker, 23, hit .167 with a home run over six games in his big league debut last season. The first baseman also moved quickly through the Orioles' farm system, batting .288/.357/.489 with 26 homers and 96 RBIs in 139 games for Bowie and Norfolk last year.
After sending those three players to Minor League camp and releasing lefty reliever Mark Hendrickson, the Orioles were left with 45 players in Major League camp, including nine non-roster invitees.
Adam Berry is a reporter for MLB.com. Follow him on Twitter at @adamdberry. This story was not subject to the approval of Major League Baseball or its clubs.