Cabrera gets chance to show off his versatility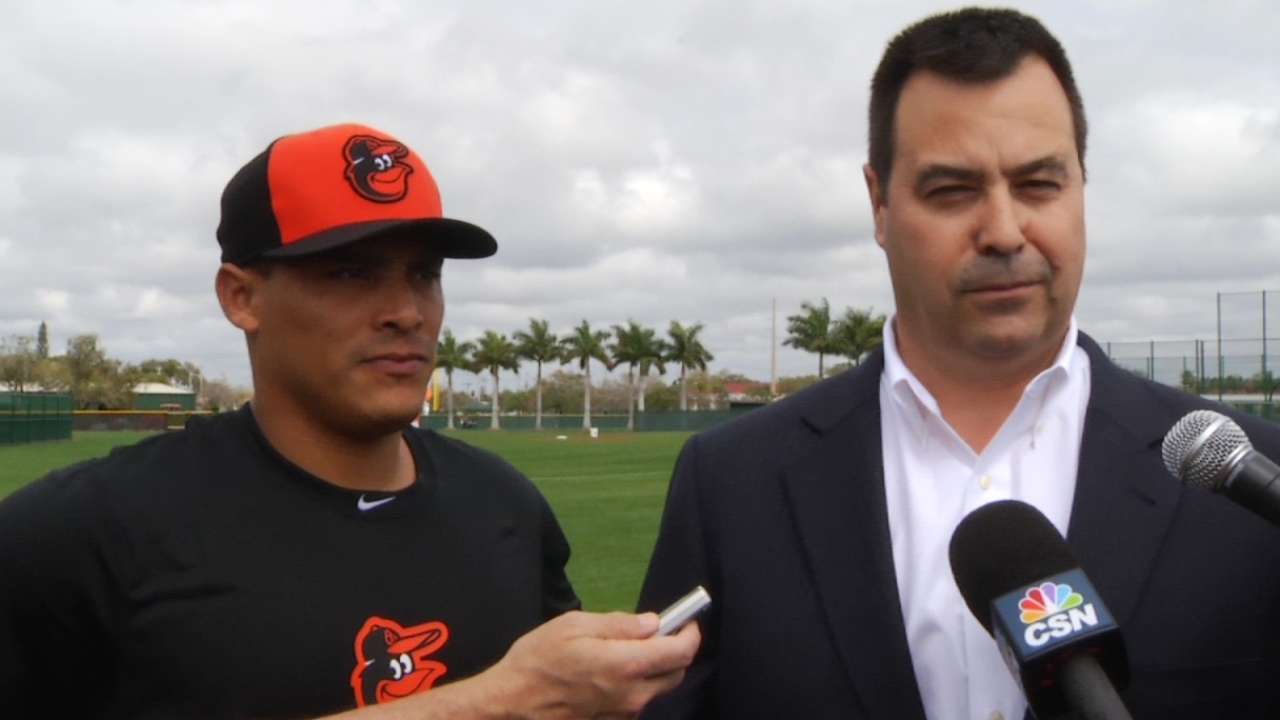 CLEARWATER, Fla. -- The Orioles signed Everth Cabrera in late February with a super-utility role in mind. Manager Buck Showalter expected to try him out at pretty much every position aside from pitcher and catcher.
Still, Cabrera was surprised to learn from a group of reporters Monday morning that he'd be playing center field against the Phillies at Bright House Field in Clearwater. Cabrera has played only five games in center as a professional, and that was for Triple-A back in 2012.
"That's surprising," Cabrera said Monday morning. "I've been playing a little bit of center field before. It doesn't matter to me. I need the opportunity to play somewhere and I can help my team win games."
Naturally, Cabrera didn't have a single ball hit in his direction in Monday's 16-4 win over the Phillies. But starting in center field apparently agreed with him in the batter's box, as he hit leadoff and went 2-for-3 with a walk, double and triple.
"That was good to see," Showalter said. "He had a really good day."
Cabrera has spent most of his time in the Majors as a shortstop. He's made a handful of appearances at second base and one at third. He hadn't fielded any fly balls with the rest of Baltimore's outfielders this spring.
"I can play all over. No first base, no pitcher, no catcher," Cabrera added. "But other than that, I can help my team in a lot of situations."
The Orioles have a few other options in center field behind starter Adam Jones, who has averaged about 157 starts there over the last three seasons. They could turn to David Lough or Alejandro De Aza as a backup center fielder, if necessary.
But versatility is the key for Cabrera, who has a Minor League option remaining, as he looks to lock down a roster spot out of Spring Training.
"Just keep going down the role that made him attractive," Showalter said. "I think about the only two places I probably wouldn't play him is first base and catcher -- and pitcher. I'm hoping if he makes the club that's what he can do for us."
Adam Berry is a reporter for MLB.com. Follow him on Twitter at @adamdberry. This story was not subject to the approval of Major League Baseball or its clubs.