Harvey delivers boost with strong outing
Right-hander shuts down Red Sox hours after Wheeler injury announcement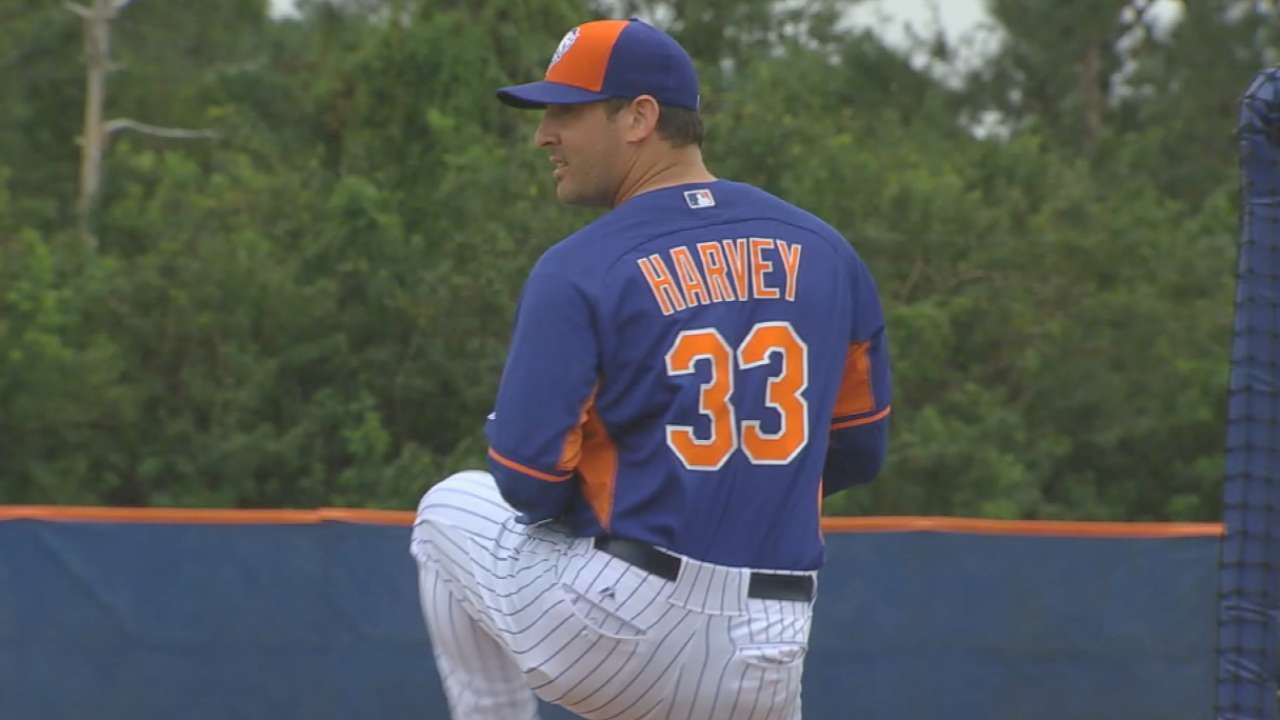 FORT MYERS, Fla. -- A classic, good news, bad news scenario began to unfold this morning for the Mets as they rolled into Fort Myers to face the Boston Red Sox.
The bad news, of course, was the club's pregame announcement that starter Zack Wheeler, who went 11-11 with a 3.54 ERA in 32 starts last year, would likely be lost for the season with a torn ulnar collateral ligament in his pitching elbow.
The good news? Matt Harvey.
Facing his most formidable challenge to date in his comeback from Tommy John surgery, Harvey was impressive in four scoreless innings of work against a powerful Red Sox batting order that closely resembled their likely Opening Day lineup.
Harvey yielded three hits, while striking out three and walking none, in an outing that saw the 6-foot-4 right-hander throw 35 of his 53 pitches for strikes while boasting an elusive changeup, a slider with movement and a fastball that topped out at 98 miles per hour.
"I knew the pitch count was going to go a little bit higher today, and that the work load was going to increase," said Harvey. "Obviously, we tried to go three (innings) last time and just didn't feel that great, but today was pretty successful … definitely a positive and I felt great to the last pitch."
In light of this morning's news on Wheeler, did Harvey feel as though he gave the organization a lift with his performance?
"I hope so. It's a tough day for all of us," Harvey said. "We needed to go out and throw four innings, and to be able to go out and do that today on top of everything that happened? If you want to call it picking the team up, I did my best to do that."
On a day that manager Terry Collins -- and the entire Mets organization -- needed some good news, Harvey certainly provided it.
"Getting Matt back is a lift. You can tell he's getting ready," said Collins of Harvey's effort. "He takes every game seriously. Location's getting better, he's getting himself ready."
Harvey was particularly pleased with his slider, which was a point of emphasis as he prepared for Monday's start.
"It was working pretty good … threw a half a dozen or so. We just went back to how I gripped it before, and it felt like it was getting a lot better action than it has in the past couple of outings," he said.
And with his fastball blazing, did Harvey take an occasional peek at the radar gun during his outing?
"I did today, a little bit," he grinned. "I threw two or three fastballs that I could have sworn were like 88 [miles per hour], and looked up and was shocked how hard it was.
"Every time I've looked it's been kind of a reassuring thing that I can still hum it up there," he added. "We're moving in the right direction."
Michael Kolligian is a contributor to MLB.com. This story was not subject to the approval of Major League Baseball or its clubs.