Lee placed on 60-day DL, will try rehab
If left forearm strain improves, four-time All-Star would begin throwing program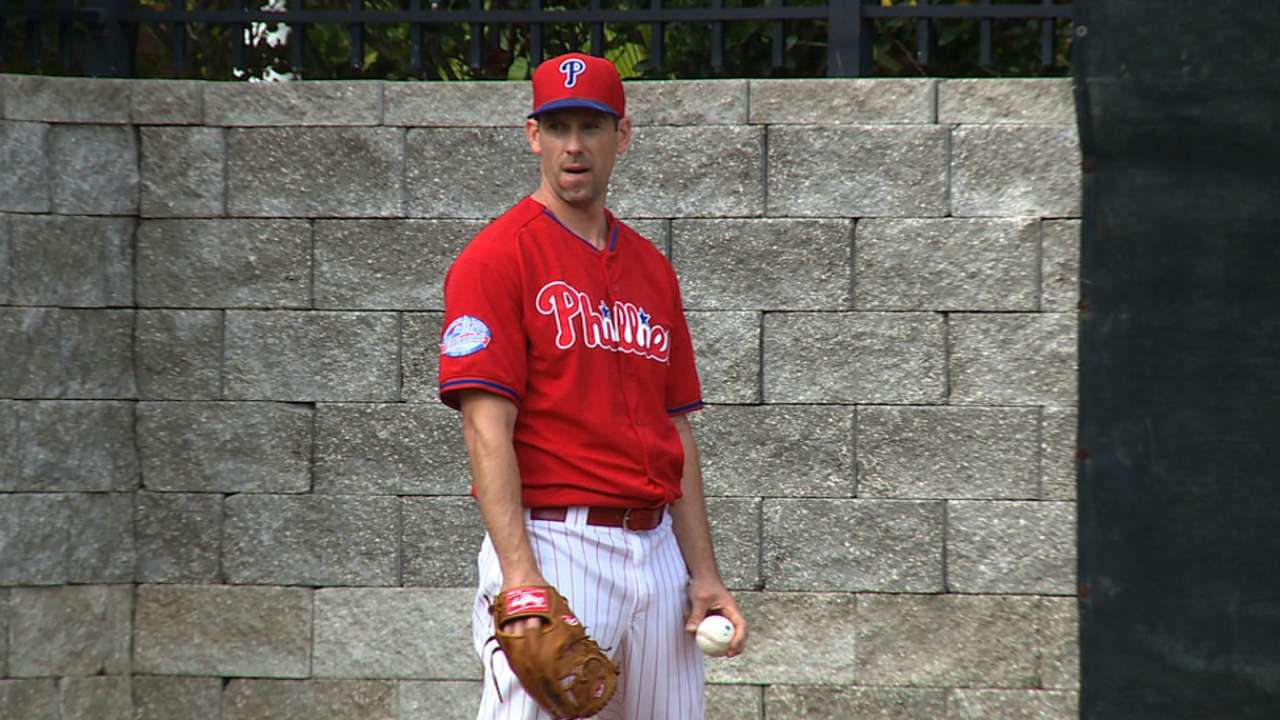 CLEARWATER, Fla. -- Cliff Lee's triumphant return to Philadelphia in December 2010 preceded a memorable press conference two months later at Bright House Field, where the Phillies introduced the "Four Aces" to a national audience.
Lee spoke that afternoon about multiple World Series championships.
He spoke in that same room Monday afternoon about the miracle he needs to save his career, and a five-year, $120 million contract that will end without the championship he wanted.
Lee has been placed on the 60-day disabled list following a second failed attempt to rehabilitate from a torn common flexor tendon in his left elbow.
Despite the fact a handful of doctors have recommended surgery, Lee will try to rehab a third time.
It is the longest of long shots.
"It's fairly likely that it will remain the same," Lee conceded.
Surgery would require six to eight months of rehab, which would end Lee's season. Lee indicated that he has little interest in surgery or rehabbing from it, and he can't be forced to have it because doctors recommended it. But Lee also has $37.5 million remaining on his contract, including a $25 million salary this season and a $12.5 million buyout on a 2016 club option.
Lee, 36, can't simply walk away without forfeiting his contract.
There is virtually no chance that will happen. Lee must show intent to pitch again.
The Phillies at least have insurance on Lee's contract, although how much is unknown. But they will recoup some of his salary because it is the same injury as the one that forced him to the 60-day DL last July.
That should soften the blow financially, but Lee's injury is crippling to the organization because it hoped he could return healthy and eventually trade him to a contender for a prospect or two to speed up its rebuilding process.
Those hopes are gone.
"It's tough to stay positive about it but it kind of is what it is," Lee said. "There's nothing I can do. To me, it came down to either have the surgery, or don't. I'm going to give it a chance. The doctor wanted me to have the surgery and recommended it, but I can still do that two to three months from now if I'm not able to pitch."
"This may give him the chance, albeit it's not the greatest odds I guess, it still gives us the opportunity to have him on the field for us at some point this year," general manager Ruben Amaro Jr. said.
Lee will return home to Arkansas to rest. He said he will not pick up a baseball for at least a couple months.
Maybe Lee will get incredibly lucky and the pain will go away.
It is more likely Lee is headed toward more disappointment, something he did not expect when he re-signed with the Phillies, joining Roy Halladay, Cole Hamels and Roy Oswalt in a rotation for the ages. Many expected the Phillies to be a baseball superpower for the foreseeable future, but instead they have been on a steady decline since a 102-victory season in 2011.
"We didn't win any World Series," Lee said. "That's what I came here for. Obviously, that's what we wanted, but there are 30 teams every year trying to do that. It's hard to pick a spot and for sure it's going to happen. You've got to make it happen. It takes 25 guys doing it. We fought as hard as we could. We got close a couple times. We got beat by the Cardinals in [2011]. That was probably the best team I thought we had over those few years, but you never know. You never know what's going to happen until you play the games. That's the beauty of it."
The Phillies entered Spring Training already thin in starting pitching. Lee's absence leaves Hamels, Aaron Harang, Jerome Williams and David Buchanan for the first four spots.
Amaro said candidates to replace Lee include Miguel Alfredo Gonzalez, Kevin Slowey, Paul Clemens and Joely Rodriguez. Chad Billingsley is an option, but he is recovering from two elbow surgeries and is not expected to be ready until late April.
"Somebody's going to have to pitch for us," Amaro said.
It just will not be Lee.
Todd Zolecki is a reporter for MLB.com. This story was not subject to the approval of Major League Baseball or its clubs.