Zunino embracing leadership role with veteran arms
Young catcher diligently working to learn nuances of staff, improve offense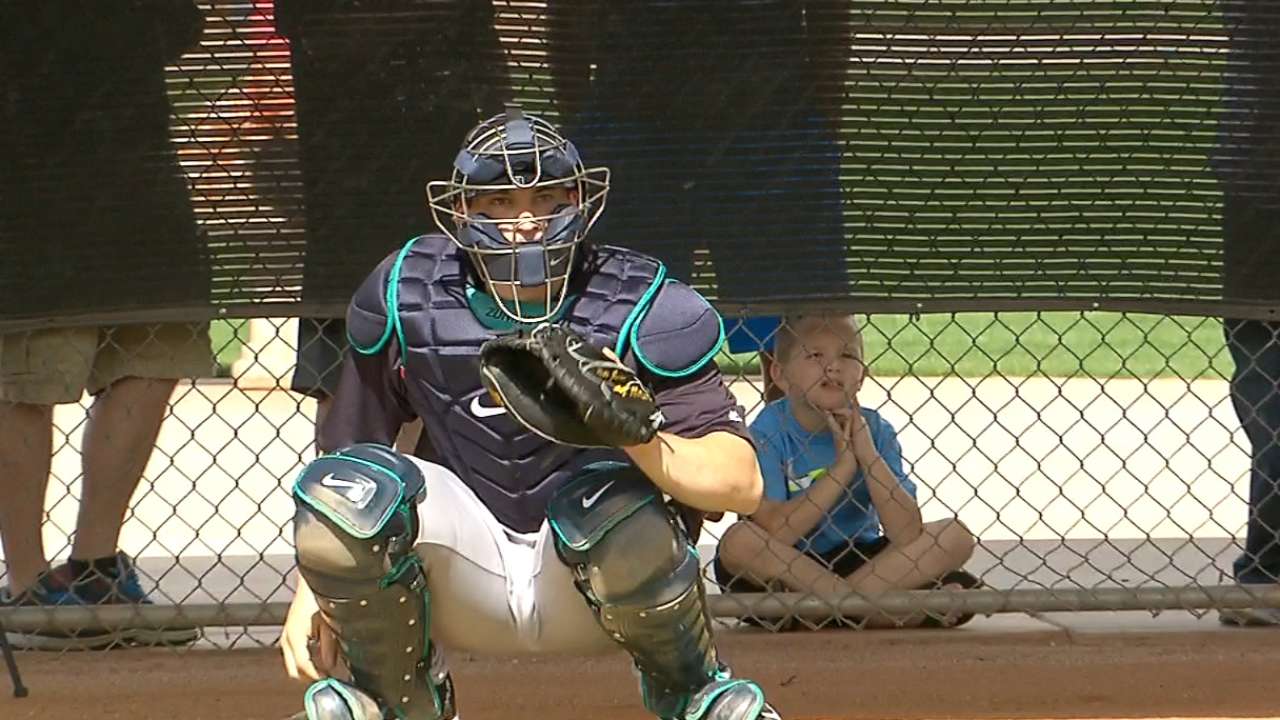 PEORIA, Ariz. -- When people talk about leaders in the Mariners' clubhouse, they naturally focus on Felix Hernandez, the face of the franchise. And Robinson Cano, the six-time All-Star second baseman. And up-and-coming third baseman Kyle Seager. And new veteran designated hitter Nelson Cruz.
But one name that should be added to that group is 23-year-old catcher Mike Zunino who, despite his youthful status, is quickly growing into a central figure in the Mariners' plans. Watch any of the pitchers work at the club's Peoria facility, and you'll see Zunino in the middle of things, discussing strategy with Seattle's highly-regarded hurlers and pushing, prodding and cajoling the talented arms in camp.
"He's just interested, and that's huge," said veteran left-hander J.A. Happ, the one newcomer to this year's rotation. "Some catchers sometimes can get focused on offensive stuff, but he's very focused on trying to run a staff and learning what guys want to do and the best way to back that. I think as we go forward, it's going to be even better, just getting to know each other and getting a better feel and having a plan."
Mariners manager Lloyd McClendon saw last year what the 2012 first-round Draft pick brought to the table. He said then that Zunino could be an All-Star backstop once he becomes more consistent with the bat and learns the league better. This spring, Zunino has worked hard at hitting the ball to right field and keeping his bat in the zone longer as he strives to raise the .199 average that took some of the shine off his 22 home runs last season.
That push is paying dividends, as Zunino has hit safely in all six of his Cactus League games this spring, posting a .429 batting average and a .714 slugging percentage in the early going.
But even while the former Florida All-American spends time honing his offense, he's clearly taken another step forward this spring in his comfort level and confidence in working with pitchers, many of whom have far more Major League experience than him.
"I've seen a real nice maturation process," McClendon said. "I see more leadership skills coming out, taking charge of the bullpen sessions and BP sessions. It's nice to see. Your catcher is the leader on the field. Nothing starts without him. It's nice to have a guy with high energy."
Zunino works hard at his craft and takes a personal interest in each of his throwing partners.
"If [pitchers] can feel comfortable and know I have their best interest in mind, then they can trust me and we can all be on the same page," Zunino said. "That's a big thing between a pitcher and catcher, to gain their trust so they know in hard circumstances, or when push comes to shove, I'm not putting a pitch down just to put it down. I have their best interest in mind."
Case in point: learning Happ's mindset as quickly as possible this spring. After an early bullpen session, the two huddled for a long time, talking strategy.
"I was just asking him questions," Zunino said. "'After this pitch, what do you like to go with? In this count, what are your thoughts?' You just want to ask a million questions so you can get on the same page. And guys approach things differently. I watched film of him last year, and he was able to run the fastball and cutter in on guys, so I ask him when he likes to do that. Does he like to do that early? Late? You're just constantly trying to learn."
With 28 pitchers in camp at the start of Spring Training, that wasn't an easy process, but Zunino made the extra effort. After each bullpen or batting-practice session, he tucked away ideas that needed to be explored further.
"A lot of times, it's in batting practice and they may be shagging in the outfield, and I'll go find them and ask questions," Zunino said. "You just try to find time any way you can. I may be thinking one thing, and I wait until the next day to ask. It's crazy sometimes."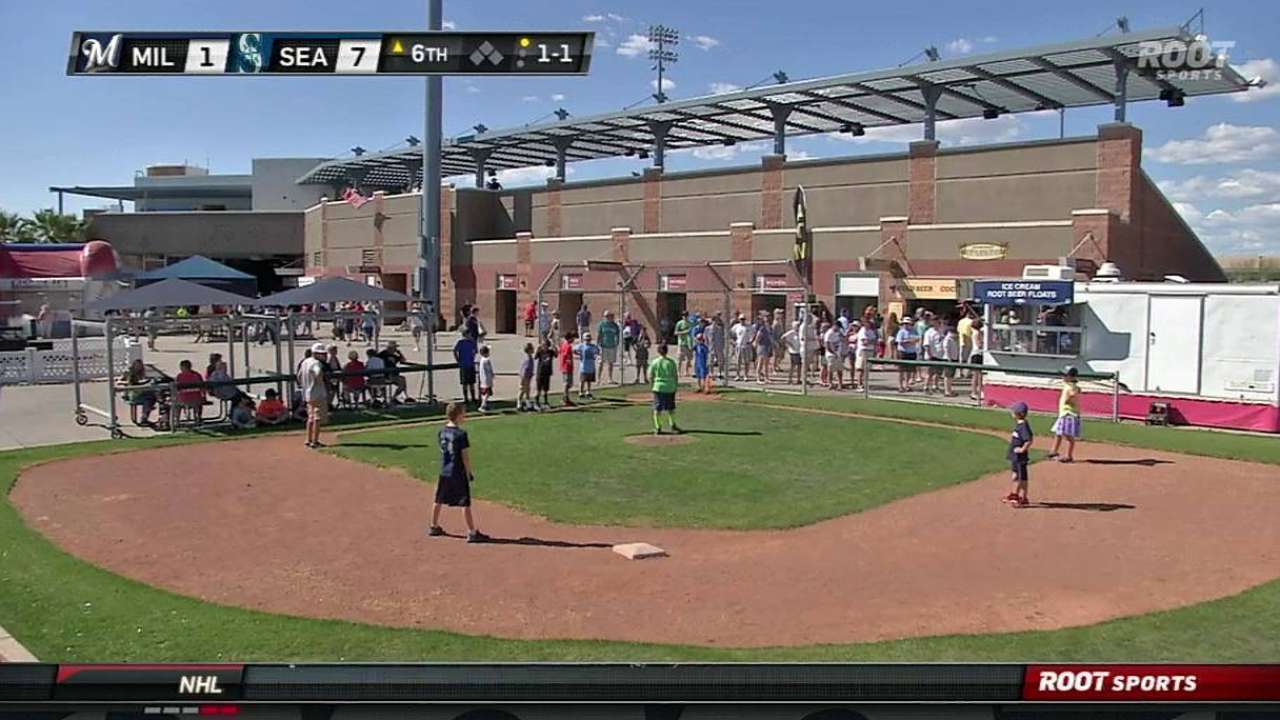 Zunino's defensive mindset paid dividends last year for a team with the lowest ERA in the American League. McClendon appreciated that Zunino never let his offensive struggles leak over into catching.
"I was very proud of him," McClendon said. "From a defensive standpoint, he always separated his offense, and he understood what was most important from him, and that was to run that staff, control the running game, block balls in the dirt. We have some tough guys to catch, and he did a tremendous job last year."
And the Mariners expect even more this year, now that Zunino has a full season in the Majors under his belt. He may be young. He may not have any All-Star or Gold Glove Award credentials attached to his name yet. But on a Seattle club looking to contend, Zunino looms as a central figure and a player to watch.
Greg Johns is a reporter for MLB.com. Follow him on Twitter @GregJohnsMLB as well as his Mariners Musings blog. This story was not subject to the approval of Major League Baseball or its clubs.