Santana locking down first-base spot for Tribe
Francona will also find time for slugger as designated hitter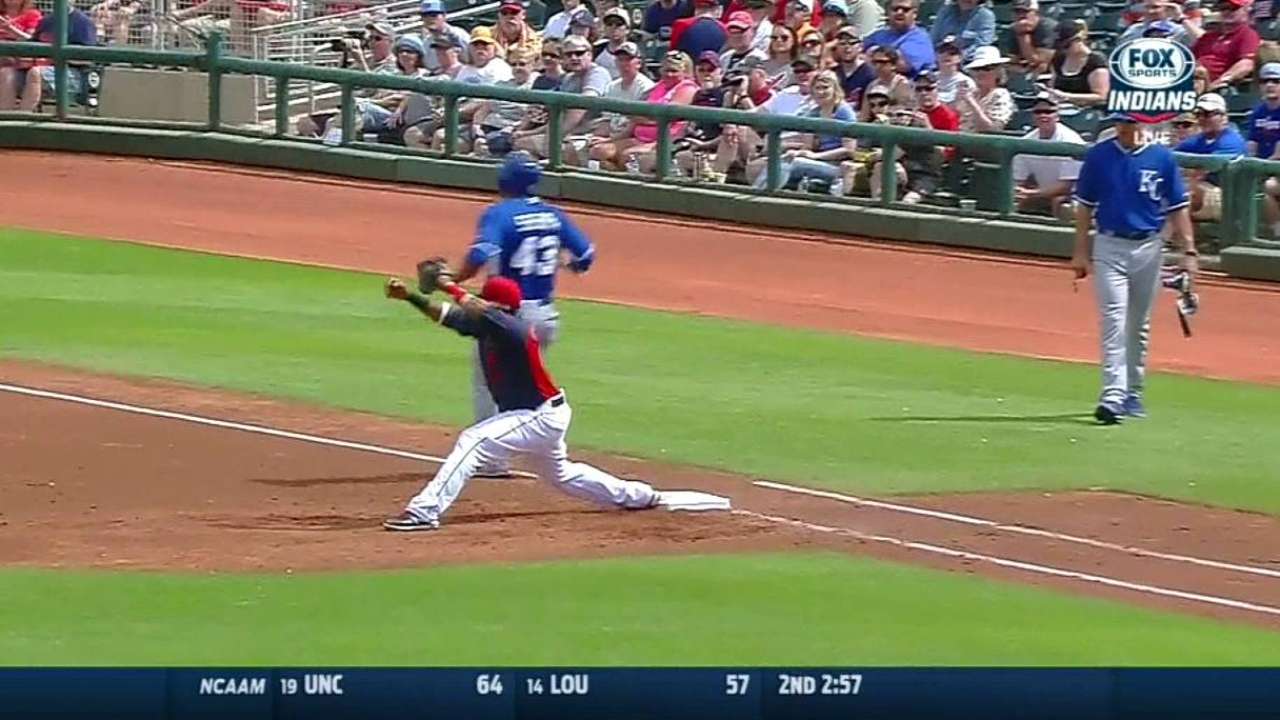 GOODYEAR, Ariz. -- Over the course of the past three years, Indians manager Terry Francona has watched Carlos Santana turn himself into a solid first baseman. While the former catcher still has room for growth defensively, he has become more than capable of handling the position.
"In fairness to him," Francona said, "when he was playing first base before, it was almost an off-day off his legs. So, he was tired and he didn't have a chance to take a lot of ground balls. But, he was always athletic enough to be able to do it.
"Now that that's pretty much all he's doing, I think you're starting to see him get more comfortable and you're starting to see some of his athleticism starting to show a little bit."
Francona said he will have to balance using Santana as a designated hitter at times this season, too.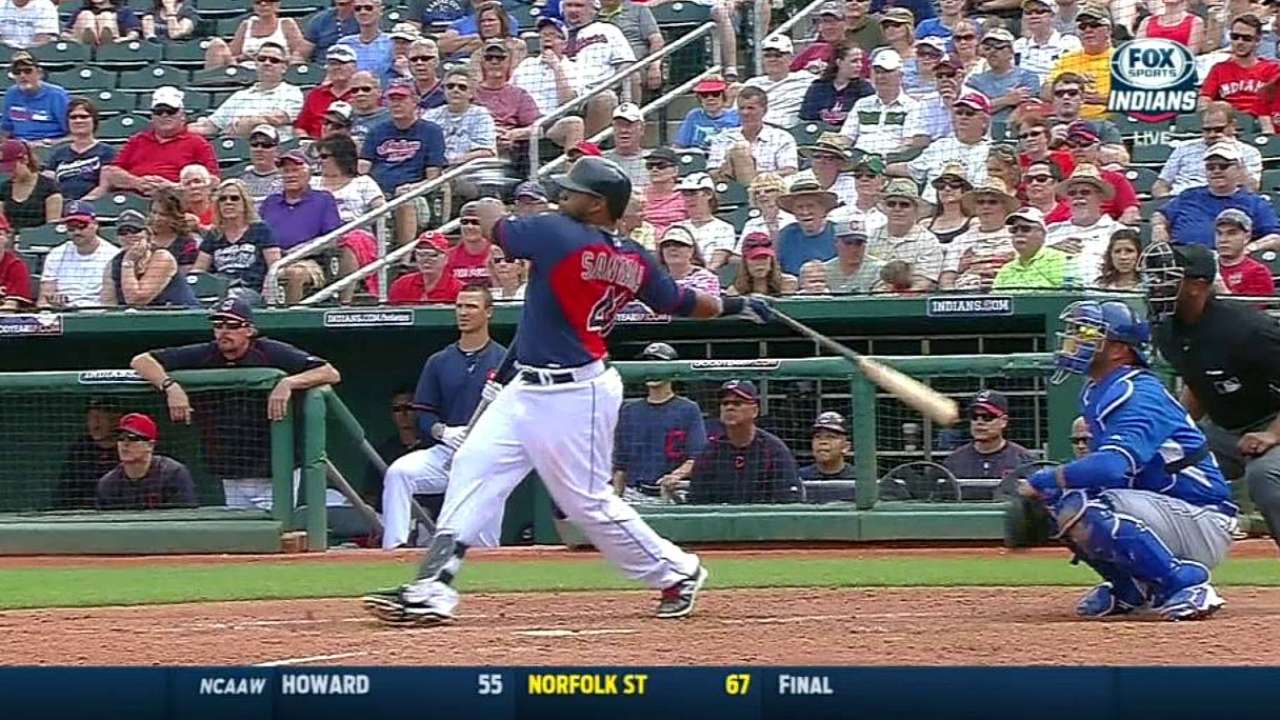 "He would rather play the field, so he doesn't make himself go crazy," Francona said. "So, then you're sitting there thinking, 'OK, we want our best lineup and we want our best defenders, if possible, and we want to help our guys feel as comfortable as possible.' You try to add all those together and see where it ends up."
Here are some more notes from Monday morning:
• Utility man Mike Aviles has been given a couple days off from games due to what Francona called "normal" arm soreness. Said Francona: "Once they have games under their belt and they start to feel OK, then you start thinking, 'OK, the guys that we know are on our club, let's get them ready for the season.' Sometimes that's giving them a couple days away from games or away from throwing in practice or whatever."
• Right-hander Danny Salazar logged four innings (one run on three hits with nine strikeouts and no walks) in a simulated game on Monday, rather than face the Royals for the second time in three starts. Francona said the club wants to see more "consistency across the board" from Salazar this spring.
• There were no new victims on Monday of the flu bug that has been hitting players up and down the Indians' roster this spring. Michael Brantley, who was sent home on Sunday, was at the complex on Monday and feeling improved.
• Right-hander Carlos Carrasco, who dealt with flu-like symptoms over the past couple days, was scheduled to throw off the mound in a bullpen session on Monday. As things stand, Carrasco will start again for the Tribe on Thursday against the Mariners.
• Francona has been impressed with how strong outfielder Brandon Moss (hip surgery in October) has looked this spring at the plate, on the bases and in the outfield. Said Francona: "He's passing all tests -- like flying by. He looks really good."
• Third baseman Giovanny Urshela, the Indians' No. 4 prospect, according to MLB.com, continues to fight some stiffness in his back. Francona said Urshela would be held out of all baseball activities on Monday for the second day in a row.
Jordan Bastian is a reporter for MLB.com. Read his blog, Major League Bastian, and follow him on Twitter @MLBastian. This story was not subject to the approval of Major League Baseball or its clubs.