Harrison's confidence growing in return from spinal fusion surgery
Despite retirement concerns, lefty hopeful for a return to bigs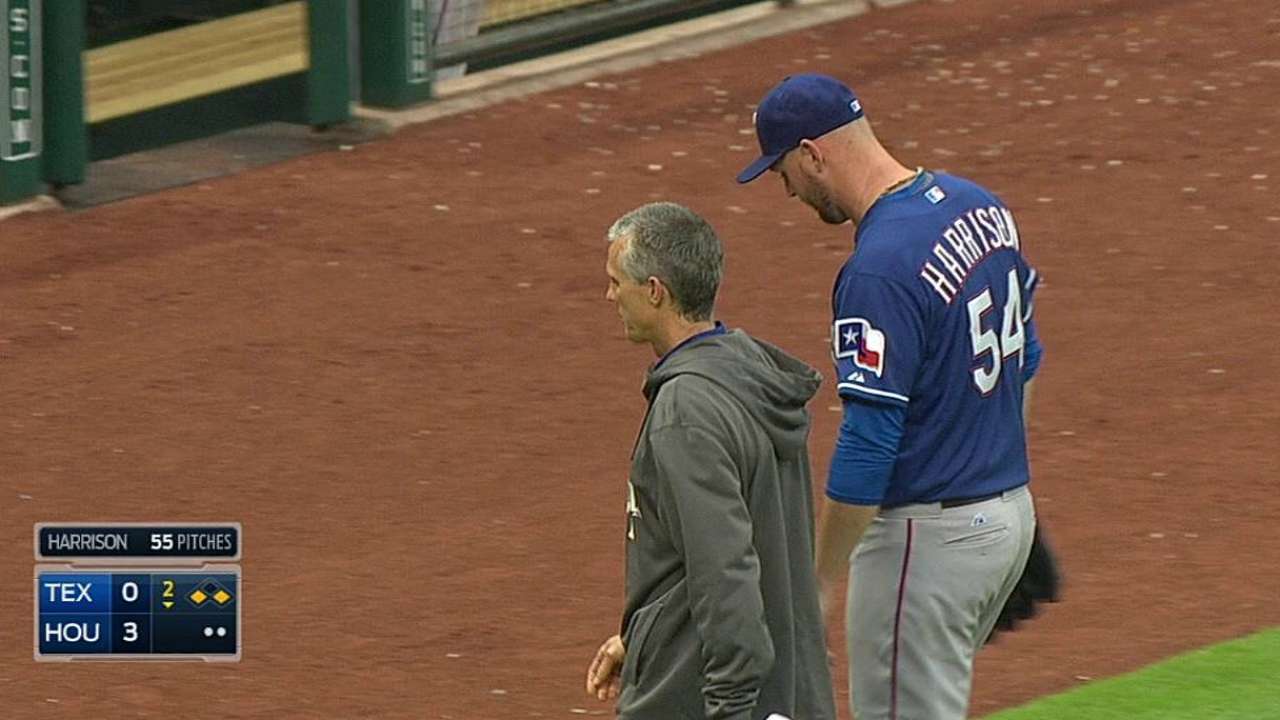 SURPRISE, Ariz. -- Matt Harrison threw 15 pitches off a half-mound on Sunday. He showed up on Monday morning without any soreness in the back and renewed hope he will eventually pitch in the Major Leagues again.
That appeared to be a dubious proposition when he underwent spinal fusion surgery on June 3, 2014. It was his fourth back operation in two years and the most radical, one that offered no precedent of an athlete undergoing and then returning to peak form.
But as he graduates from flat ground to half-mound, Harrison's confidence is growing.
"It was a little weird getting off a mound again," Harrison said. "But my back felt good and my arm felt good. It was good to do it again. The first time on a slope is the first test of how I'll feel going downhill. It's not the big slope but it is different from flat ground. It's a good sign that I'm not sore today."
Martin Perez will also take another step Tuesday when he is scheduled to throw off a full mound for the first time this spring. But Perez is coming back from Tommy John surgery. That's a much-pounded path for pitchers, and the recovery process is charted out clearly. The Rangers have every reason to expect Perez's return to competitive pitching at some point this summer.
Harrison's uncharted comeback is still murky. He'll continue to throw off the half-mound this week and then graduate to the full height next Monday. Beyond that is uncertain. But with each step he takes, thoughts of retirement fade from view.
"I feel like if I stay on course and be patient, everything will work out and I'll be back in the game," Harrison said.
Harrison won 32 games for the Rangers in 2011-12. But he has made only six starts the past two seasons while searching for a remedy for his chronic back problems. The fusion surgery was the best option to resume a normal life as a father and husband. Pitching is another matter. Initial reports following the surgery suggested retirement was a far more likely option than pitching again.
Now the odds are slowly tilting the other way.
"I don't think about [retirement] anymore," Harrison said. "It would definitely be hard to do without giving it another shot. The more I learn and the more I understand the rehab, I feel good about the possibility of getting back to a five-day rehab."
Harrison hopes to be on the full mound by next Monday but is still a long way from pitching in any kind of a game. As far as a Major League game, even under best-case scenario, it would probably be in July or later. That still beats the alternative, and patience remains paramount.
"It does get a little old but the more time I take, the better the back feels," Harrison said. "I keep in mind I only have one shot at this."
T.R. Sullivan is a reporter for MLB.com. Read his blog, Postcards from Elysian Fields, and follow him on Twitter @Sullivan_Ranger. This story was not subject to the approval of Major League Baseball or its clubs.