Who makes fantasy's all-comeback team?
Examining the best bet at each position for a 2015 turnaround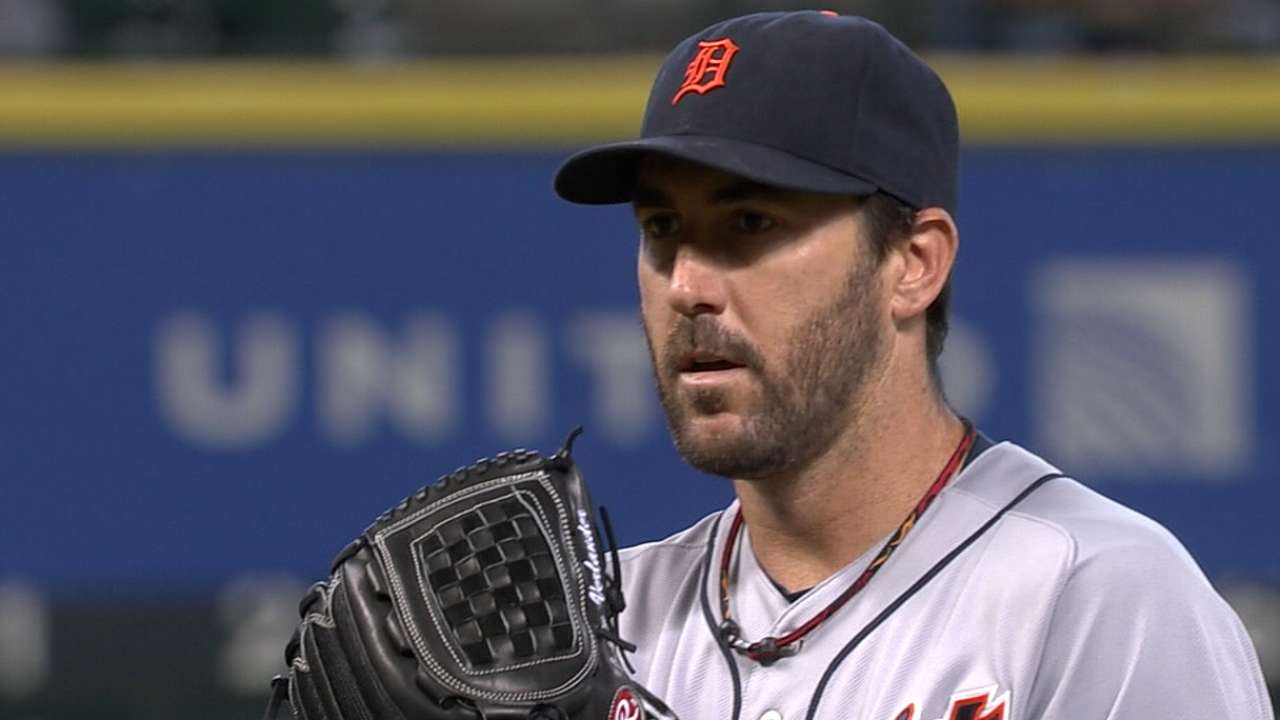 Year after year, players see their fantasy stock decline due to injury, poor performance, bad luck, age or some combination of these factors. Identifying which players can right the ship and which will continue to decline can be one of the keys to a league championship. Although predicting yearly fluctuations with 100 percent accuracy is impossible, here's a look at the player at each position who seems particularly likely to rebuild his stock in 2015.
Catcher: Brian McCann, Yankees
McCann's first season with the Yanks didn't go as planned, as he batted .232 with a .286 on-base percentage. At the same time, he recorded his lowest strikeout rate since 2008, posted a line-drive rate better than 22 percent for the second straight season and had the third-best contact rate of his career. Such marks portend improvement in the batted-ball-luck department after McCann had a .231 BABIP in 2014. Accordingly, the backstop will likely boost his average closer to his .272 career mark in '15.
First base: Chris Davis, Orioles
Fresh off a 53-homer season, Davis saw his home run total halved and his average plummet to .196 during a 2014 campaign in which he had the second-worst strikeout rate of his career (33 percent). In September, he was suspended 25 games for taking Adderall -- an ADHD medication for which he no longer had a therapeutic use exemption (TUE). But Davis, who has reportedly been granted a TUE for ADHD medication this year, could author a bounce-back campaign if his uncharacteristically low '14 BABIP (.242) returns to previous levels.
Second base: Dustin Pedroia, Red Sox
Slowed by ligament damage in his thumb in 2013 and a wrist issue that required September surgery last year, Pedroia hit just 16 home runs across the past two seasons. But with his left hand now healthy for the first time since '12, the second baseman could get his homer total back to the 15-20 range. Moreover, Pedroia should receive a boost from the free-agent additions of Pablo Sandoval and Hanley Ramirez to Boston's lineup. Encouragingly, Pedroia maintained a sound approach in the batter's box last season in spite of his injuries, as he notched baseball's 12th-highest contact rate and its 23rd-lowest strikeout rate.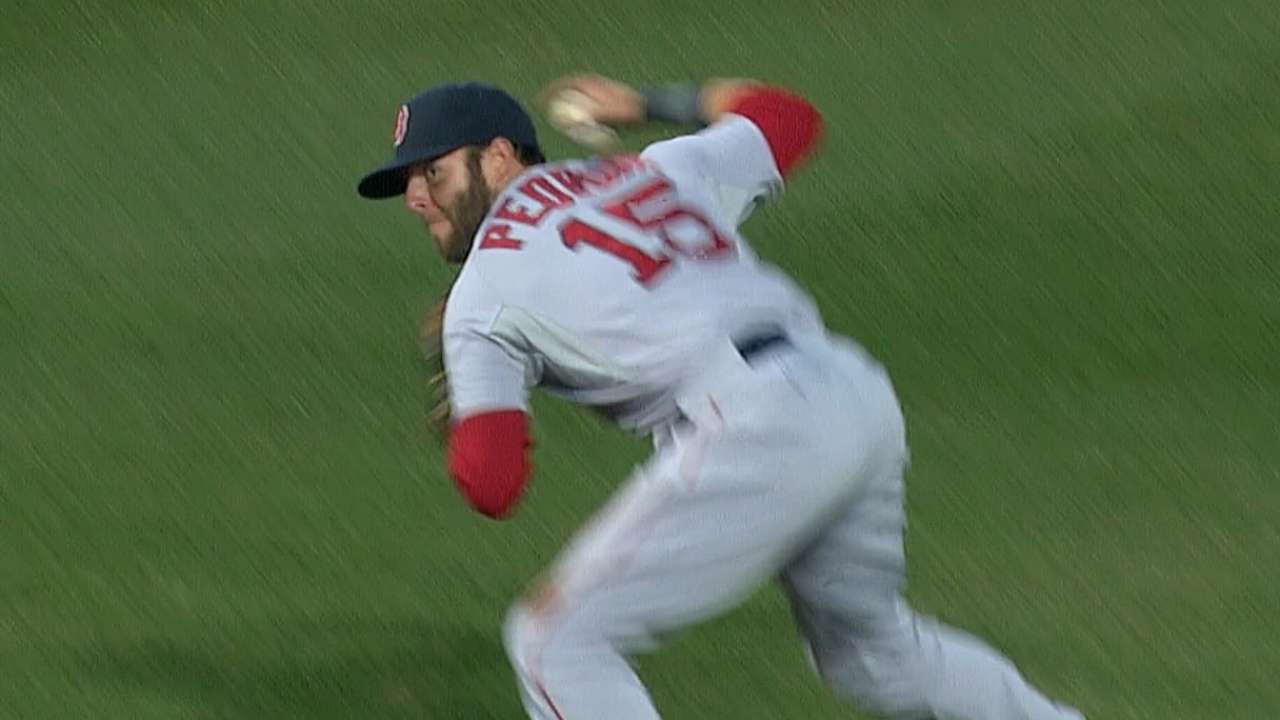 Third base: Chase Headley, Yankees
Headley struggled while dealing with a calf ailment and a herniated disk in his back in the early months in 2014, but he turned things around after receiving an epidural injection on June 20. The switch-hitter boosted his OPS by 35 points in the next month before being traded to the Yanks on July 20, and he then posted a slash line of .262/.371/.398 with New York. After receiving a vote of confidence in his health in the form of a new four-year deal with the Yankees, Headley could see his production increase during his first full season in the Bronx.
Shortstop: Jean Segura, Brewers
Expectations were high for Segura after a 2013 breakout campaign, but he hit just .246 with seven fewer homers and 24 fewer steals during a '14 season in which he faced the tragic passing of his child. He also dealt with poor batted-ball luck, hitting just .224 on grounders after batting .279 in 2013 and posting a batting mark below league average on line drives. Segura may not flash double-digit-homer power again, but his improved walk and contact rates in 2014 suggest that his average and OBP may rebound, leading to more chances to run.
Left field: Brandon Moss, Indians
Moss revealed late last season that he'd played much of the year with so much damaged cartilage in his hip that he was dealing with "bone-on-bone" pain in the joint. Such goes a long way toward explaining his .173/.310/.274 slash line in the season's second half, which came on the heels of a strong .268/.349/.530 line in the first half. Moss had surgery to repair his hip shortly following the season, and he could be primed to have a big year in Cleveland following an offseason trade from Oakland.
Center field: Colby Rasmus, Astros
Rasmus had a rough 2014 campaign with Toronto, battling hamstring and wrist injuries before eventually losing playing time to Dalton Pompey late in the season. But the outfielder maintained his dependable power contributions last year even as his contact woes became more extreme. Though Rasmus had a career-worst 33 percent strikeout rate, his .223 isolated power mark (slugging percentage minus batting average) ranked 20th among players with at least 350 plate appearances in '14. The owner of a lifetime .246 batting average likely won't see a significant uptick in that department, but he could post a career high in homers in 2015 with better health and an increase in playing time.
Right field: Jay Bruce, Reds
Bruce endured the worst season of his career at the plate in 2014, though such may have been more a product of a knee injury than a substantial decline in skills. He missed only 13 games after undergoing surgery for a torn meniscus on May 5, spending less than three weeks on the disabled list before jumping right back into the lineup. The 27-year-old could return to his 30-homer ways following a full offseason to rest and rehab his knee, as Bruce is still in the prime of his career.
Starting pitcher: Justin Verlander, Tigers
Though Verlander took the mound for Detroit's season opener in 2014, he was not close to 100 percent at the outset of the campaign after undergoing core muscle surgery the previous January. The right-hander said this spring that the procedure prevented him from using his core and hips properly when pitching. The 2011 American League Cy Young Award and AL MVP Award winner threw 206 innings in the face of those issues, but he had a 4.54 ERA. With improved health and a better defense behind him -- the Tigers traded for Anthony Gose to start in center field and expect to have Jose Iglesias back at shortstop after he missed all of '14 -- Verlander could be positioned for a rebound.
Relief pitcher: Koji Uehara, Red Sox
Much was made of Uehara's late-season collapse last year, but the pitcher said this spring that he was indeed limited by a physical issue. He is expected to reprise his role as Boston's closer in 2015, having inked a new two-year contract before he hit the open market. Though the right-hander will be 40 years old on Opening Day, Uehara's ability to post brilliant strikeout-to-walk numbers -- which he maintained even through his struggles in '14 -- should provide the basis for another strong campaign.
Steve Adams is a fantasy writer for MLB.com. This story was not subject to the approval of Major League Baseball or its clubs.