Manfred pays visit to Dodgers, talks with players
Commissioner discusses pace of play, Cuban talent, possible All-Star Game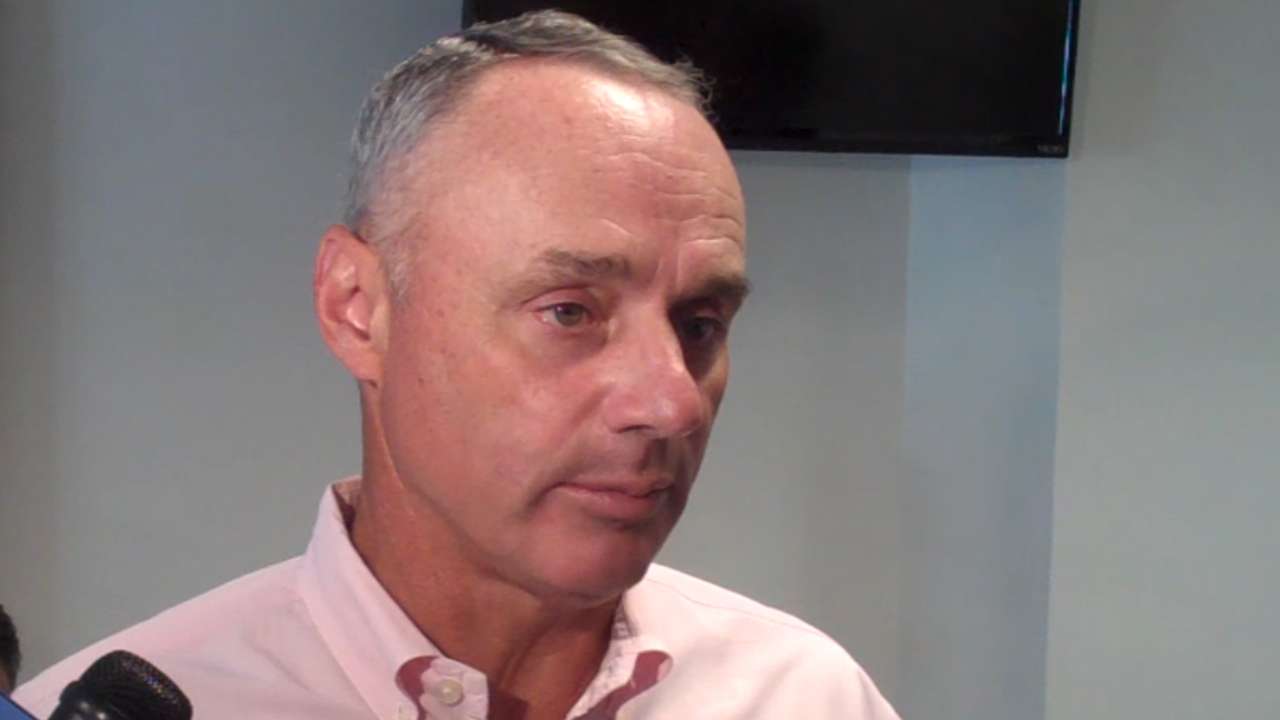 GLENDALE, Ariz. -- Commissioner Rob Manfred visited the Dodgers on Monday, met with the players and discussed with reporters a variety of topics, ranging from the recent pace-of-play changes to marketing the game and its "tremendous cadre of great young players" to the rules regarding the signings of players from Cuba.
He also said that he has had "preliminary" discussions with Dodgers CEO Stan Kasten about awarding an All-Star Game to Los Angeles, which last hosted the game in 1980.
"I'm aware of the facts of how long it's been," Manfred said on Monday. "Obviously, the market of Los Angeles, you can't ask for a better showcase. More to follow on that one."
On the subject of Cuba, Manfred said that Major League Baseball's policies are driven by the federal government and the "perspectives" of President Obama's administration and that the "issue of how players get into and out of Cuba is a concern for us."
Manfred, in his first year at the helm of MLB, praised Dodgers outfielder Carl Crawford's comments about baseball presenting a better alternative to inner-city youth than football as "a really important message we need to get out to young people in areas we feel we're under-represented."
Manfred said he is visiting a number of clubs during Spring Training, "enough so the players understand I made an effort. I want the players to have an opportunity to see who I am in an atmosphere that isn't a crisis."
Ken Gurnick is a reporter for MLB.com. This story was not subject to the approval of Major League Baseball or its clubs.