Kelly unconcerned after leaving with biceps tightness
Red Sox right-hander walked off mound with trainer after 2 2/3 innings Monday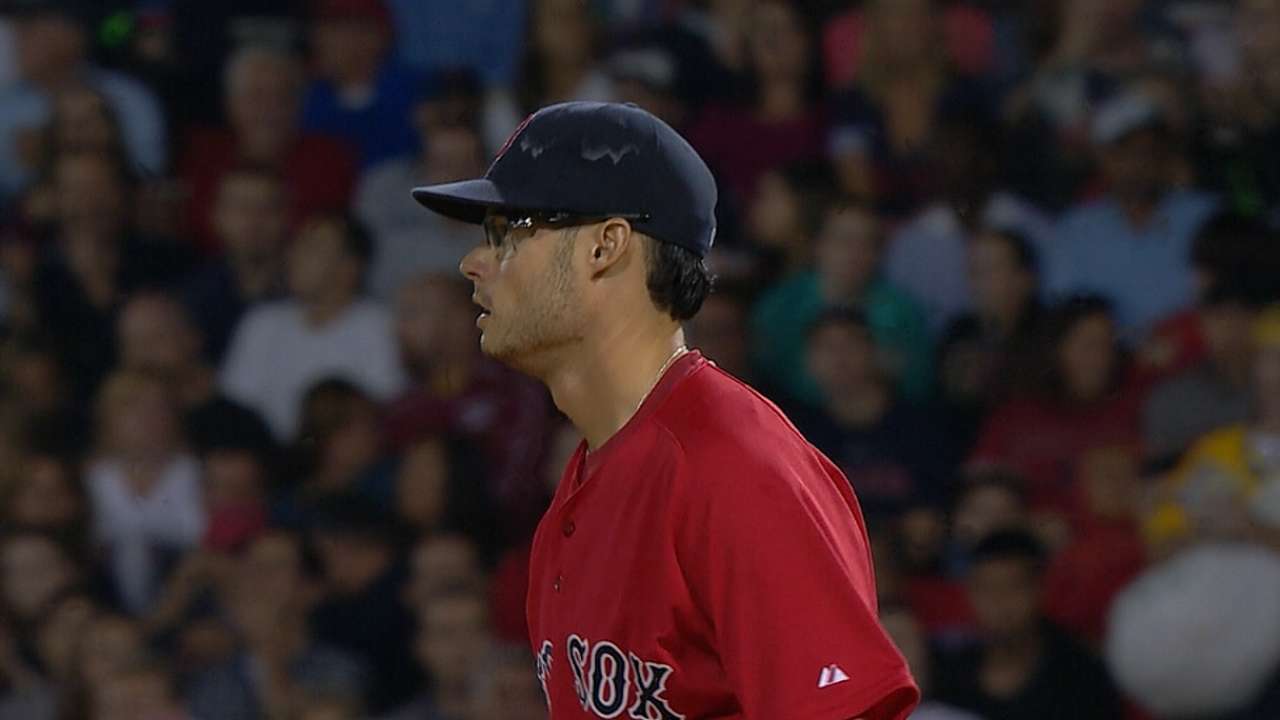 FORT MYERS, Fla. -- Red Sox right-hander Joe Kelly said he is "not concerned" after leaving Monday's start against the Mets in the third inning with tightness in his right biceps.
Kelly, who exited in the middle of an at-bat, will be reevaluated on Tuesday, manager John Farrell said. At that point, the club can decide how to approach treatment and whether to alter Kelly's schedule.
"I think any time a pitcher walks off the mound, you've got to go through some steps of getting on the mound in a bullpen session and test it before you go back out there," Farrell said. "But we'll get more information when he comes in [Tuesday]."
Farrell referred to the injury as "soreness" and was encouraged that it occurred in the "belly" of the biceps rather than in a joint. He was not sure whether Kelly would end up undergoing any tests, such as an MRI.
Kelly said he felt some tightness while warming up for the game. He thought it would improve as he got looser, but instead it worsened as the game progressed. He retired the side in order in the first inning, then surrendered three runs on seven hits over his final 1 2/3, as he struggled to throw breaking balls and eventually even his changeup.
Kelly has experienced the same problem before and found that some work in the training room has alleviated it without much rest. While he wasn't sure if he will have his next start pushed back, he did not believe the issue will impact his readiness for the Opening Day rotation.
"I'm not sure what we're going to do moving forward, but usually it doesn't last too long," Kelly said.
Although the biceps obviously hindered his performance on Monday, Kelly now has allowed nine earned runs on 17 hits over 7 1/3 innings this spring, spanning three starts. The 27-year-old went 6-4 with a 4.20 ERA over 17 starts for St. Louis and Boston last year, while missing time with a hamstring strain.
Andrew Simon is a reporter for MLB.com. Follow him on Twitter @AndrewSimonMLB. This story was not subject to the approval of Major League Baseball or its clubs.