Liriano's unhittable slider making a comeback
Southpaw held lefty batters to .131 average in 2013, but put-away pitch went away in '14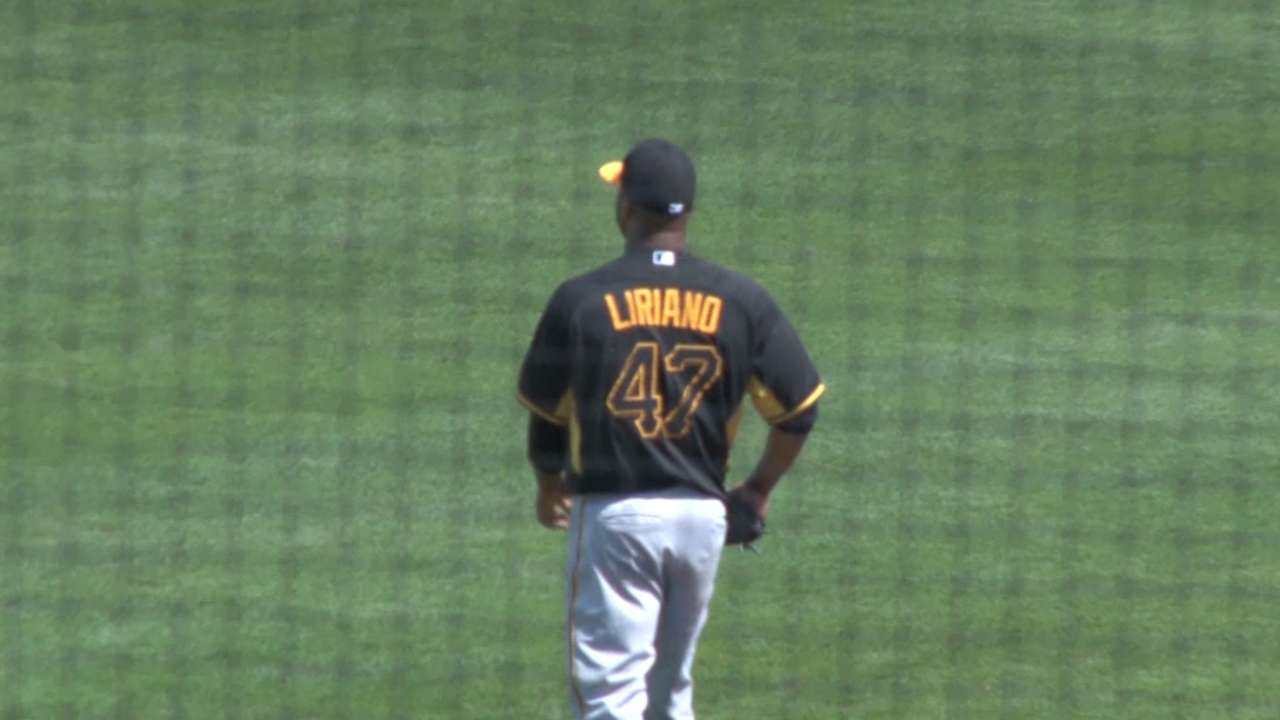 BRADENTON, Fla. -- It was, quite simply, as devastating a pitch as the Major Leagues had in 2013. The time came that hitters, even the best of them, gave up even trying to deal with Francisco Liriano's slider.
Pirates manager Clint Hurdle recalls when Reds outfielder Jay Bruce waved the white towel.
"[Bruce] tried to bunt on him, and the guy's a good hitter," Hurdle said. "It was like him saying, 'Wow. This might be too much for me.'"
Yes, Bruce is a lefty hitter, so he might have had a built-in handicap against the southpaw Liriano. Except the surrender against Liriano had memorably come only days after Bruce had hit two home runs off the Dodgers' Clayton Kershaw, the southpaw kingpin.
During that 2013 season, Liriano was absolute poison to lefties, who got only 17 hits off him in 130 at-bats (a .131 average), and none of them were homers. The slider was the reason.
There was a remarkable turn of tide in 2014, camouflaged by the fact that the season was still solid enough overall to earn Liriano a new three-year, $33 million deal with the Bucs. But the same lefties hit him at a .270 pace, with three homers. The put-away slider had gone away.
Now the slider's bite appears to be back.
Begging to differ, Hurdle said, "I don't think it's ever gone away -- when he's been healthy. Whenever he's been healthy, he's had all his pitches. I think there was a large volume of damage done [last season] when he wasn't healthy. But you might have to dig deeper into it."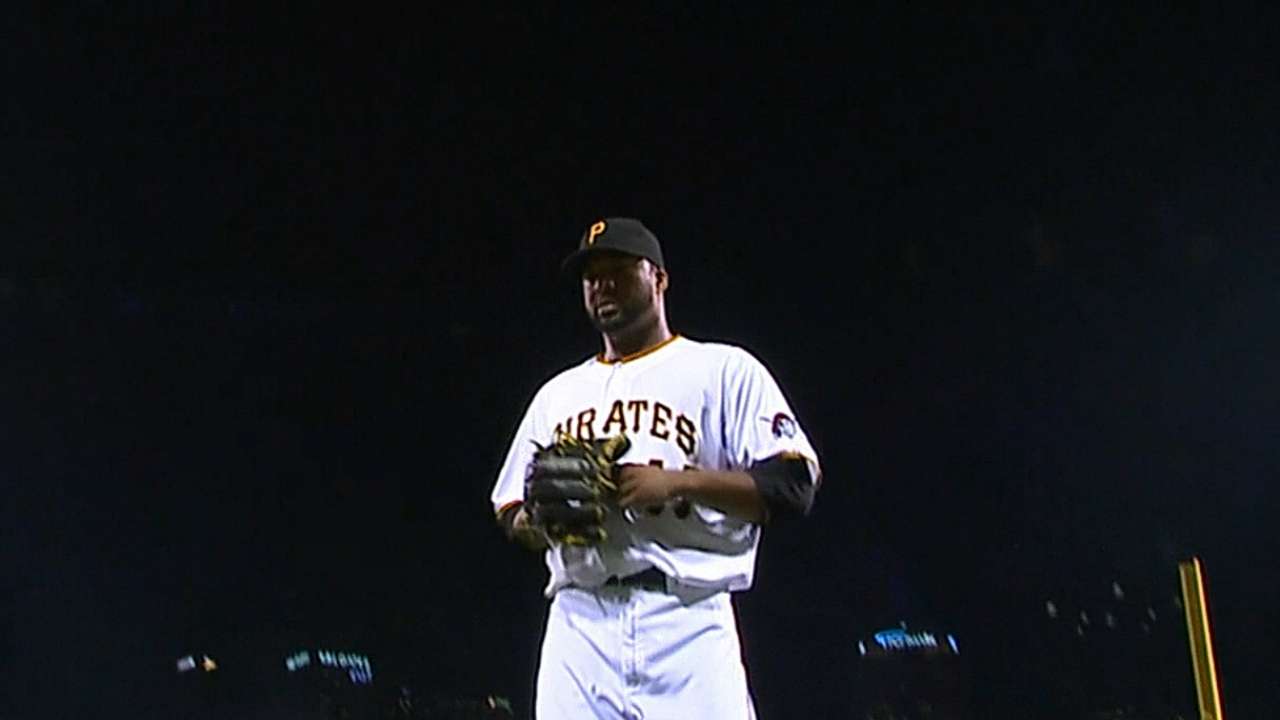 Liriano did work through two injuries in 2014, including a strained groin in Spring Training, before finally returning at full strength from a left oblique strain in mid-July. But lefty hitters still took liberties with him, even as his fastball and changeup handcuffed right-handers, who hit him for merely .206, skewering his splits.
Hurdle cited another reason for the perception that Liriano's slider might have taken the 2014 season off.
"He set the bar so high when he was unhittable," the manager said. "He was so efficient [in 2013] that anything a little off that suffered by comparison.
"When Frank's been healthy, across the board, he's been very good -- as good as we've had."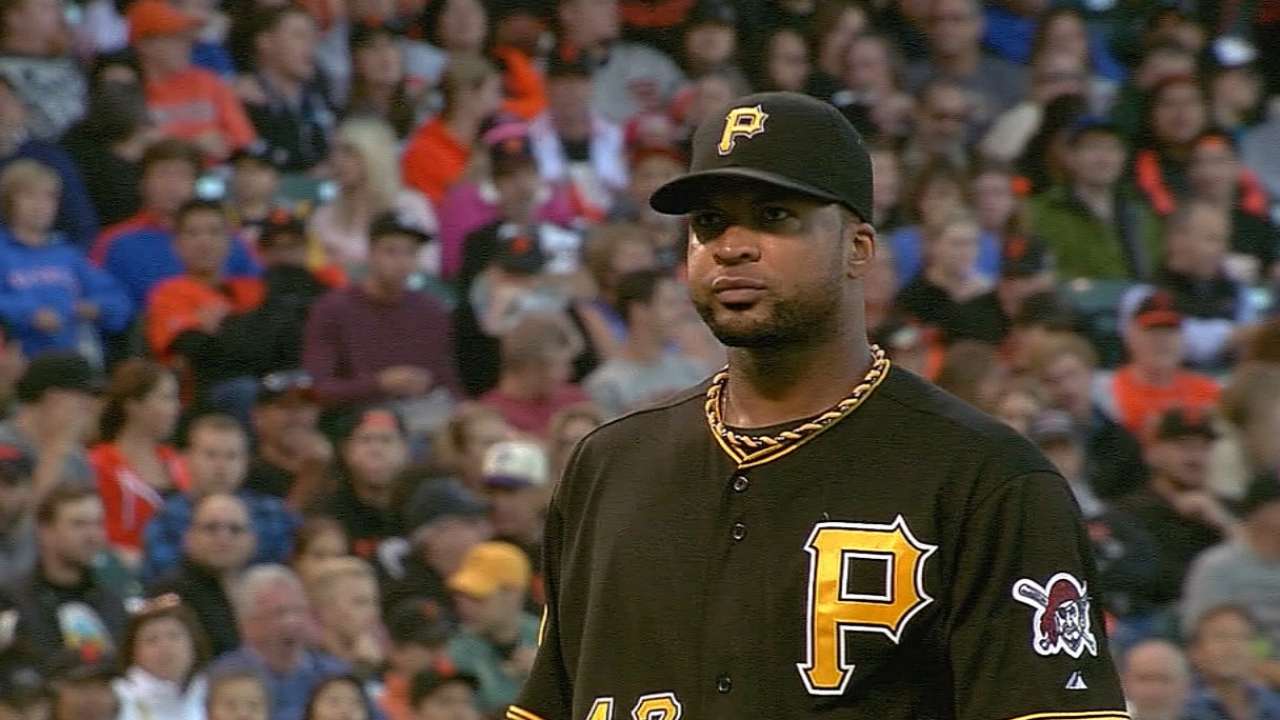 When the regular-season curtain goes up, the wait could be short to see whether Liriano's slider is back to stay. Hurdle is holding off announcing his Opening Day starter, but Liriano did pitch four innings in a "B" game on Sunday, the same day Johnny Cueto, the Reds' obvious Opening Day guy, went four innings in Mesa, Ariz.
"[Gerrit] Cole against Cueto would be a heckuva match," said Hurdle, prolonging the drama. "Liriano against Cueto would also be great."
As would Liriano against the Reds' right fielder. If Bruce steps into the box and squares up to bunt, we'll know the slayer slider has returned.
Tom Singer is a reporter for MLB.com and writes an MLBlog Change for a Nickel. Follow him on Twitter @Tom_Singer. This story was not subject to the approval of Major League Baseball or its clubs.