Call to Hall hasn't changed Biggio's demeanor
Second baseman to spend time in camp working mostly with Minor Leaguers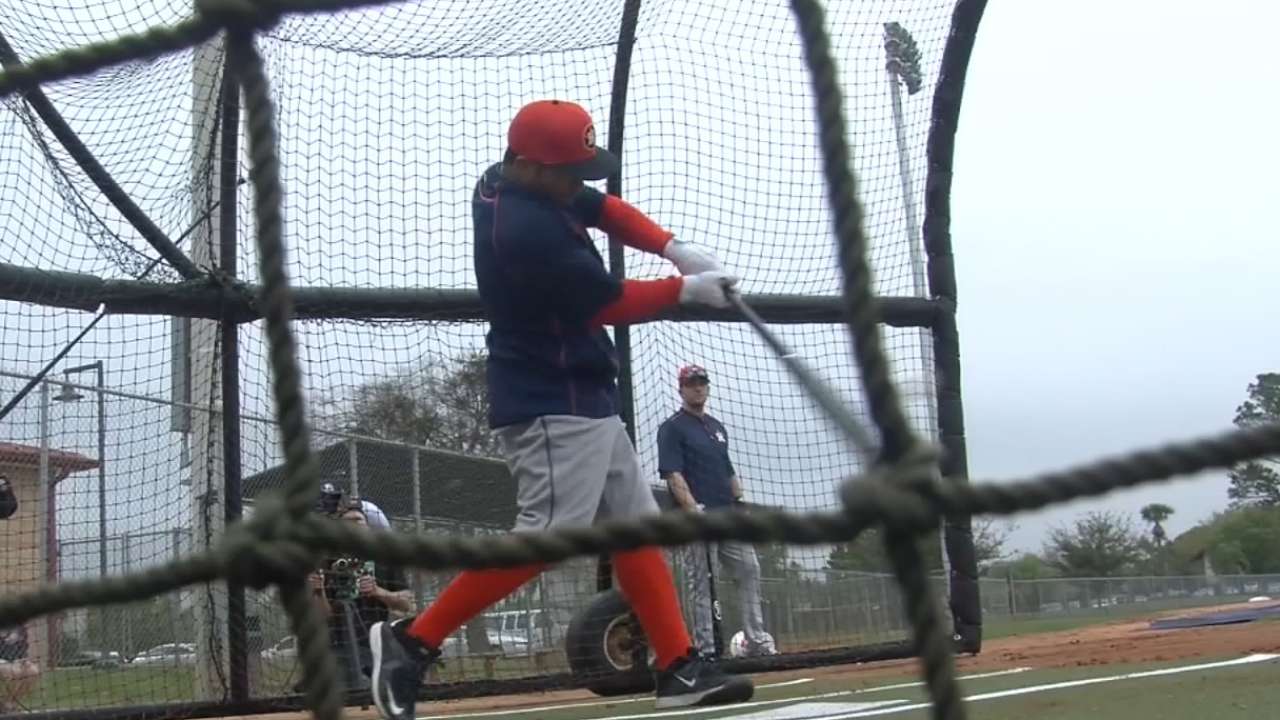 KISSIMMEE, Fla. -- Though working with players at Spring Training is certainly nothing new for Craig Biggio, his arrival at the Astros' Spring Training facilities on Monday marked the first time he's done so with the words "Hall of Famer" attached to his name.
Biggio, who attempted to downplay the label a bit, will be in camp for the next four days, working mostly with the club's Minor League players.
"I've always worn the Astros uniform with pride anyways," Biggio said when asked if it felt any different wearing the uniform this year. "This is the only organization that I've ever been with and I do take a lot of pride in that. Coming down now, it's the same to me. I'm not any different as a person or view myself any differently just because I'm in the Hall of Fame."
While he may not notice much difference himself, Astros top pitching prospect Mark Appel said he and the club's other young players will certainly reap the benefits of having a Hall of Famer in camp.
"He's the model baseball player," Appel said. "Everybody respects him, everybody looks up to him -- we're blessed to have him as an Astro. You know, being the first Astro in the Hall of Fame, I think that says a lot about how he is on the field and also his character. He's always a great guy to learn from whenever he's in camp."
Biggio said that he's ready to help out Minor League field coordinator Paul Runge with "whatever [he] needs me to do," demonstrating the same attitude that was on display throughout his two decades as a player. It was never more apparent than in 1992 when, one season after making his first All-Star appearance, Biggio was asked to move from his natural position behind the plate to second base -- a position he had never played previously, aside from three brief appearances at the keystone in 1991.
Biggio, of course, not only obliged, but actually went on to win four consecutive Gold Glove Awards as Houston's second baseman from 1994-97. It's that constant willingness to put the team first that played a vital role in both his induction into the Hall of Fame, as well as his landing a position in his post-playing days as a special assistant to the general manager.
"As a player, I did everything this organization ever asked me to do," Biggio said. "I had just come off being an All-Star that year as a catcher and then all of the sudden they're going to ask you to go play a position that you've never played in your life before. It could have been catastrophic, and according to the experts, there were about 90 percent of them that said it would never work because it was never done in the history of the game. So I took that as fuel and motivation to prove them all wrong."
Biggio also credited former Astros coach Matt Galante with being the key reason he was able to make the apparently seamless transition. Galante figures to be one of the many names Biggio will mention come induction weekend, but that's about as far as the Hall of Famer has gotten when it comes to planning his speech.
"Yesterday, I had about seven hours driving down here from Clemson and you start thinking about things," Biggio said. "Nolan [Ryan] had some good advice, just write some names down of people that you don't want to forget, but I haven't sat down and put a pen to it yet. I'm just trying to gather thoughts and information and think about positive stories and interactions I've had over my career. There are a lot of people who had an impact on your life to get you there, so you want to make sure you give them the credit they deserve."
Paul Casella is a reporter for MLB.com. This story was not subject to the approval of Major League Baseball or its clubs.