MLB.com Columnist
Phil Rogers
Harper's passion for game keeps things interesting
Nats outfielder who sometimes disagrees with manager could be destined for greatness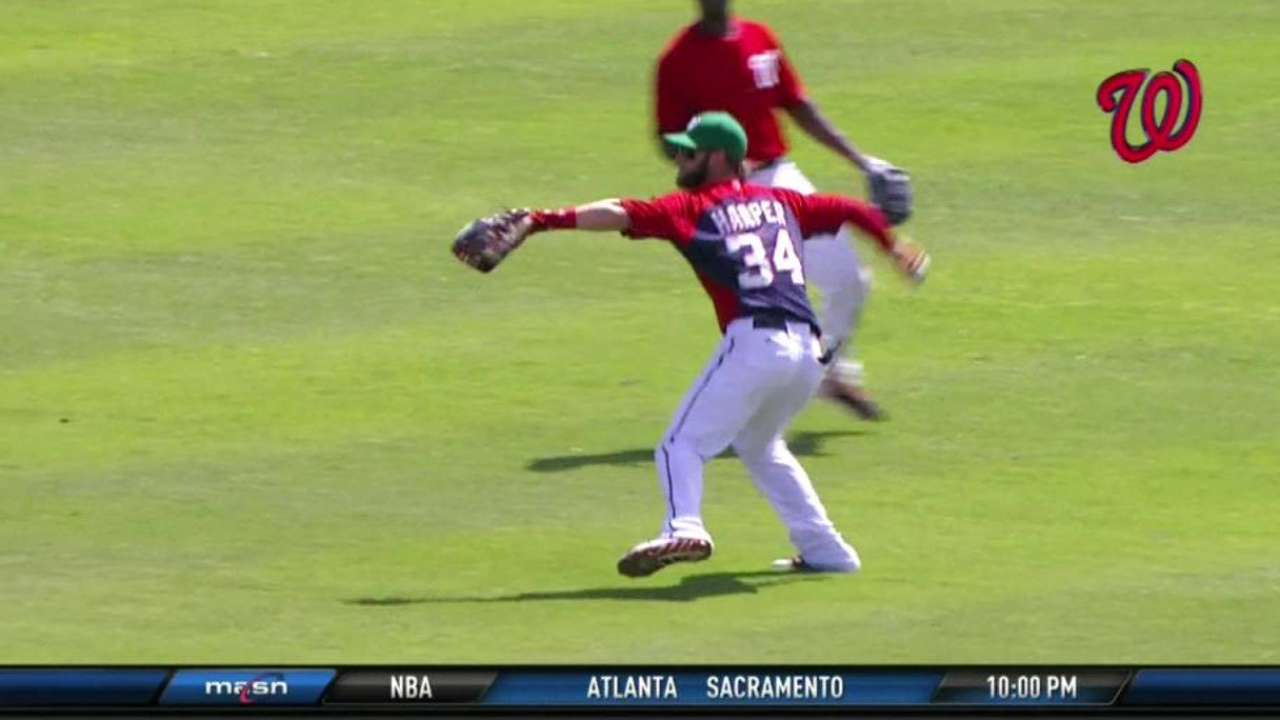 VIERA, Fla. -- Bryce Harper is talented, and he doesn't mind you knowing it.
That's a great thing for those of us who love Major League Baseball but, at times, it can be a challenge for his manager.
One of those moments quietly popped up in the Nationals' 2-1 victory over the Astros on Monday at Space Coast Stadium. It was no big deal, in and of itself, but the widely differing viewpoints of Matt Williams and Harper -- not to mention a case of mistaken identity on the part of Harper -- created a scenario that will be interesting to watch over the course of the season.
Harper, who is thrilled to be moving from left to right field because he can showcase his strong arm, cut down the Astros' Alex Presley trying to stretch a single into a double. It was a good throw and appeared to be a good play on his part. But Williams criticized Harper for appearing to lollygag as he moved to the ball.
"I thought [Presley] shouldn't have even attempted to go to second,'' Williams said. "[Harper] needs to get to that ball quicker, and then the guy doesn't even go. It was a good throw, but if he pounces on that baseball, [Presley] doesn't even attempt to go.''
Williams said he went to Harper in the dugout and told him he wanted the ball thrown back into the infield more quickly in order to stop the threat of an advance. But when Harper met with reporters afterward, it did not sound like he thought he made a mistake.
"I came up slow on purpose, just to see if he would round the bag. I back-pick on something like that. That's something I want to play this year, something I really want to do this year -- coming up on the ball to try to [let the runner] take the extra base so I can throw them out. Today I was able to do that. A lot of aggressive guys will hit a ball into the gap, and they'll round that bag pretty quick. I'll be able to back-pick them. I did that when I caught [in high school]. I couldn't really do it playing left. In right, I can do it a little more.''
Harper provided a rehash of the sequence. In it, he mentioned that he knew Presley had the tendency to be an aggressive runner, which was why he was trying to lure him into running. But there was a problem with his scouting report: He thought the hitter was leadoff man Robbie Grossman, but it was actually Presley, the No. 9 hitter.
Harper said that throwing out runners is "one of my favorite things to do,'' and that -- while he's willing to talk further to Williams about the situation -- his manager and others will come to anticipate him putting his arm on display.
"I'll talk to [Williams],'' Harper said. "A lot of people probably thought there was a possibility I was jogging to that ball, something like that. But it's part of my game. … If somebody puts the ball in the gap and I can back-pick 'em at first, when they try to take the extra bag, I'll try to make a good throw and get 'em out. It really lets me use my arm a little bit more. Of course, I have to be accurate. If [I'm not], it'll look bad.''
Williams was asked if it's sometimes natural for outfielders to want runners to test their arms. Players like Ellis Valentine, Dave Parker, Vladimir Guerrero, Jesse Barfield, Bo Jackson and Ichiro Suzuki loved to cut down runners. Don't guys with strong arms always want to show them off?
"I don't know about that,'' Williams said. "The package [of Harper's tools] is well documented. If a guy decides to challenge his arm, then he's got the ability to make a strong throw. We don't want to get in that situation. We want 'em to stop. The way they stop is him getting on that baseball quickly and being ready to throw.
"Of course we know [Harper] has great talent, has the ability to do a lot of things. But today he could have got on the ball quicker and stopped that guy at first. It was a great throw nonetheless, but we want to stop [the runner].''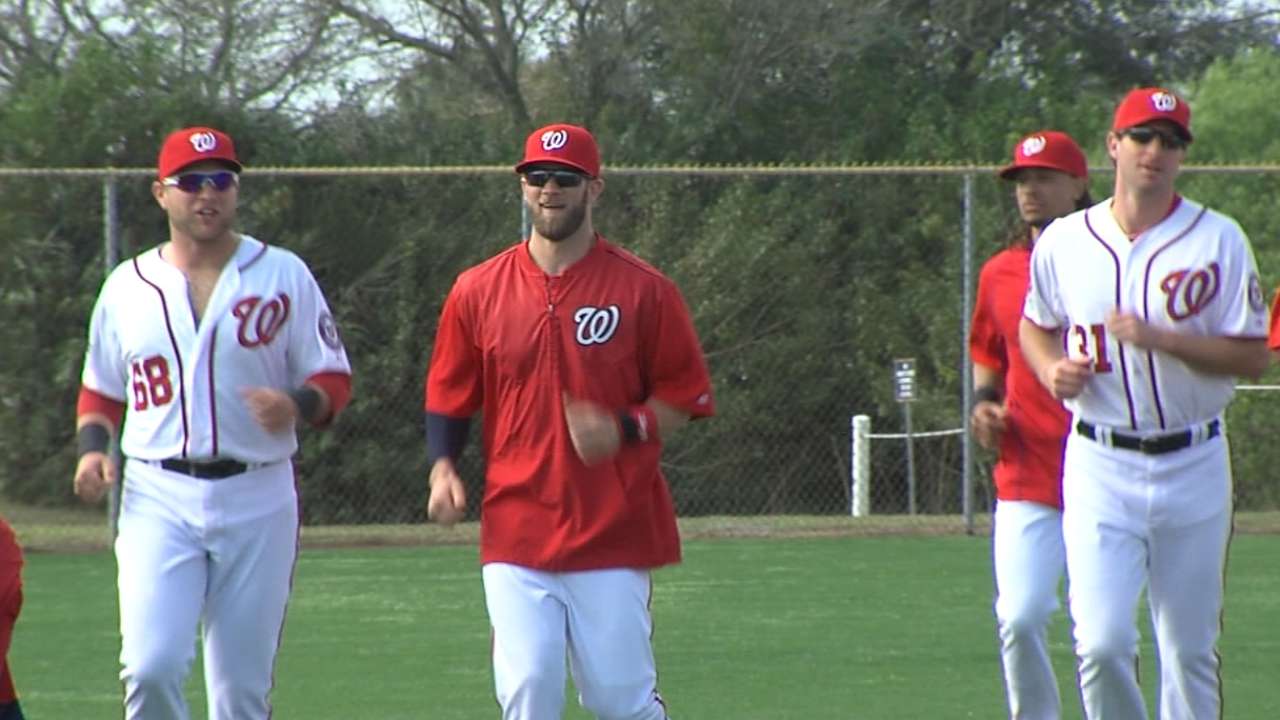 It is sure going to be fun to watch the Nationals and Harper this season. Who knows what you'll see?
Maybe even the occasional throw to a cutoff man.
But, seriously, this is set up to be the tipping point of Harper's career, when he needs only the blessing of good health to remind us that a few years ago it was him -- and not Mike Trout, Jose Altuve or Kris Bryant -- who was expected to lead the next generation of great players.
Harper is coming off the worst of his three full seasons in the NL, batting .273 with a hard-to-stomach .768 OPS in 100 games. He hit a career-low 13 home runs as he battled a torn ligament in his left thumb. But Harper arrived in Spring Training as confident as ever, his swagger restored -- as if it ever went away -- by killing the ball against the Giants' pitching staff in the 2014 National League Division Series.
Like his teammates, Harper hated being part of a 96-win team that lost to a Wild Card entry in four games, just as he hated the Nats being upset by the Wild Card Cardinals in 2012. But in an NLDS where the Nationals were stuffed by power pitching -- the team slash line was .164/.222/.258 -- he was a force throughout. He homered three times and ended with a 1.251 OPS.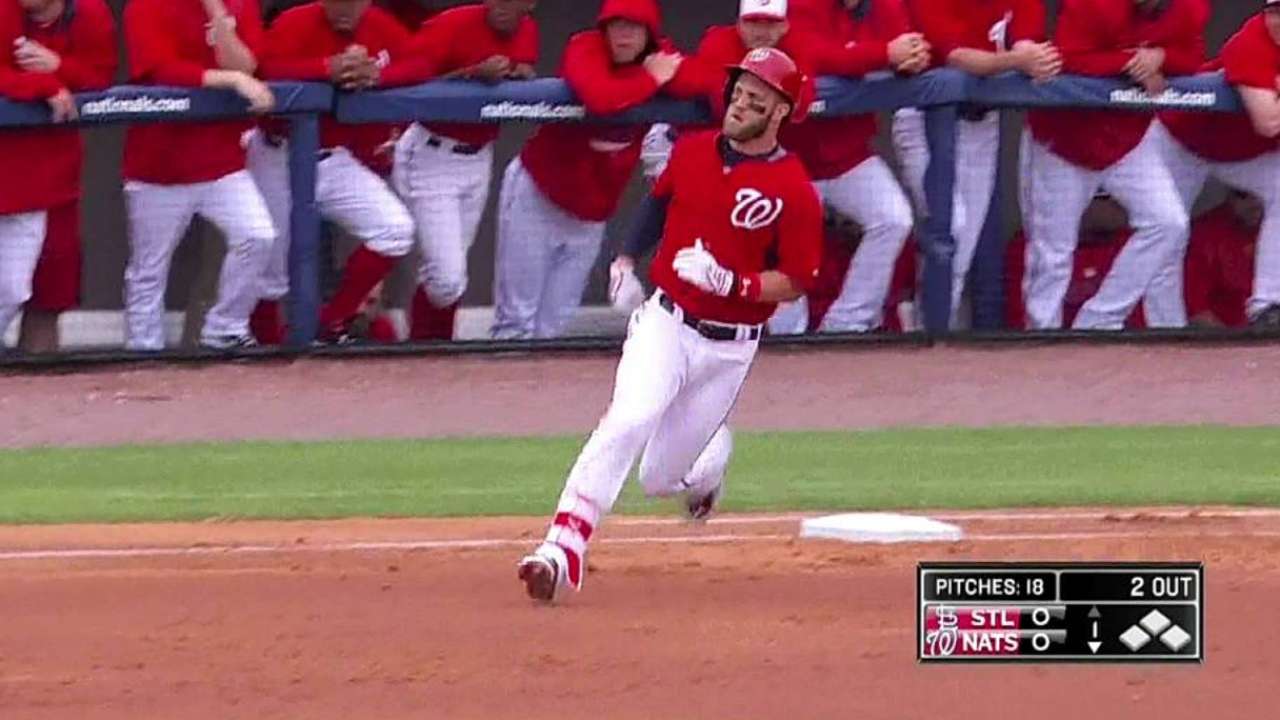 That's what Harper has always expected from himself.
Something new is going to happen to Harper at some point this season. He's going to face a pitcher who is younger than him.
Believe it or not, that hasn't happened in his 496 games as a pro, including 357 with the Nationals. All 2,058 of his plate appearances have been against pitchers older than him.
Despite his sometimes grizzled appearance, the bearded Harper is only 22 years, 5 months in age. He's almost 10 months younger than fellow Las Vegan Bryant, the NL Rookie of the Year favorite whose next big league game will be his first.
No, he's not Trout, but he's poised to be a big fish in 2015.
Harper, who was 0-for-1 with two walks and a stolen base Monday -- diving into second with his helmet flying off and his hair flying (and, by the way, wasting that advantage by getting trapped off second base) -- has had a quiet spring. He's 3-for-14 with no homers, but he has looked better than that, as his six walks against three strikeouts suggests.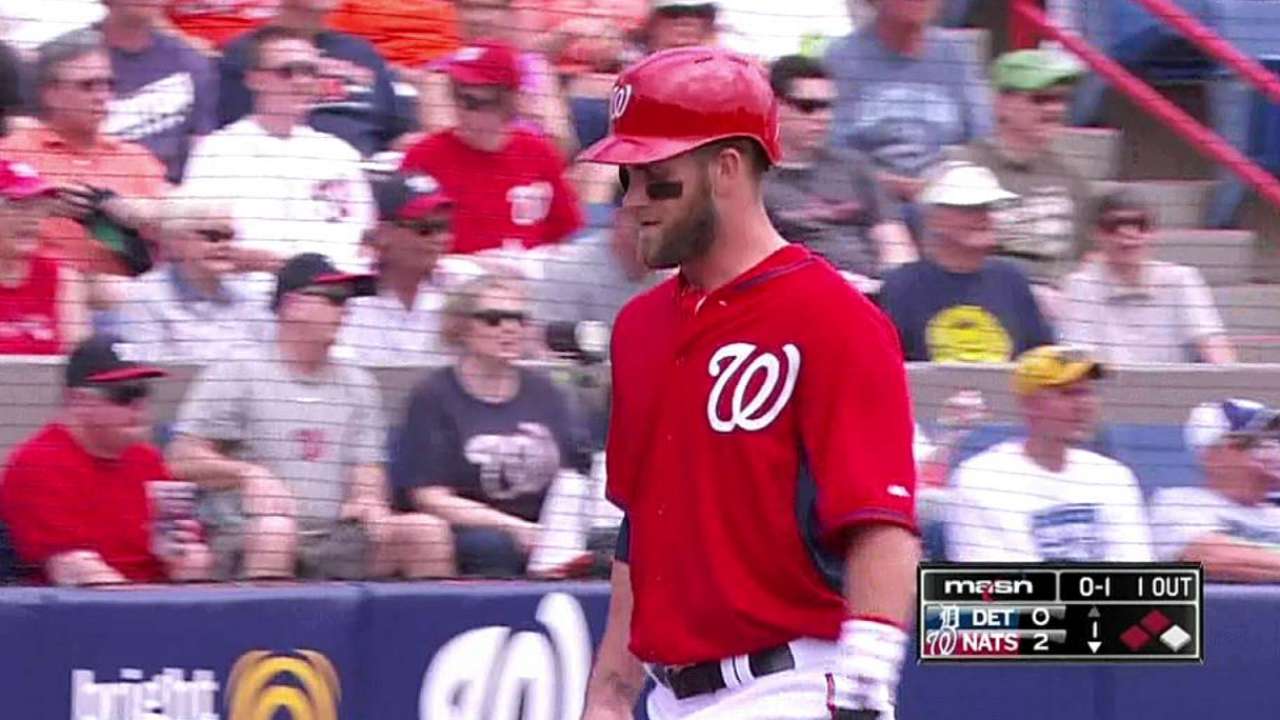 "I've seen great things from Harp [this spring],'' Williams said before the game. "It takes time. As you get through the every-other-day part of Spring Training, where you're having a game and then a work day, once he starts getting consistent at-bats on an everyday basis, the swing comes. We all know that. … We rely on him to be a run producer for us. He brings special talents to the table. He can do a lot of things on the baseball field that will help us win.''
Before Trout and Harper, we hadn't seen a 22-year-old with this combination of talent and experience since the 1978 version of Robin Yount. He was 24 when he had his first All-Star season and 26 when he won the Most Valuable Player Award for the Brewers.
"It's not really a big deal,'' Harper said about facing only older players in his first four seasons. "Growing up, I've always played against older guys. At this level, everybody plays the game the right way, plays hard. Age really doesn't matter when you get up here.''
We'll see about that. A decade from now -- and after a few heated conversations with managers trying to rein him in -- Harper may look back and see his early years as part of a learning process on his road to greatness.
Phil Rogers is a columnist for MLB.com. This story was not subject to the approval of Major League Baseball or its clubs.