Price refines delivery in bullpen, results show in outing
Tigers pitcher worked with pitching coach Jeff Jones in longer than usual session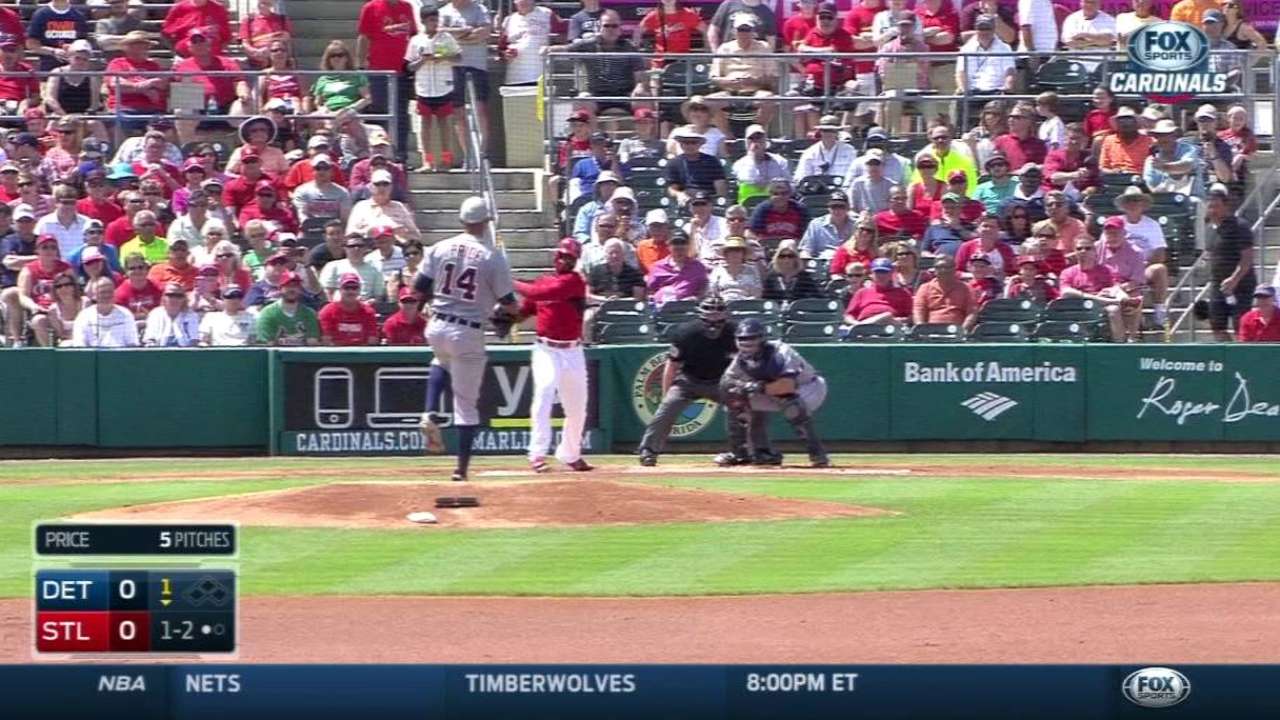 JUPITER, Fla. -- The first thing Tigers pitching coach Jeff Jones asked David Price upon his arrival from Tampa Bay was simple.
"When your delivery gets messed up," Jones said, "what do you want me to watch for?"
It's a standard question Jones has grown used to asking the pitchers the Tigers have acquired at midseason the last few years -- Doug Fister in 2011, Anibal Sanchez in 2012, Jose Veras in 2013, then Price and Joakim Soria last year. In Price's case, it started a discussion.
After Price's last start, he didn't like his delivery. So last Friday, he and Jones went into the bullpen and worked on it until they got it right.
"I threw 38 pitches in my bullpen," Price said Monday, "and that's way more pitches than I would ever throw in any bullpen, but we just needed to work some stuff out and I felt like I found my delivery. If I can just have my delivery, it just puts me in a position where I can repeat everything and be more consistent."
The result was an early glimpse of Price at his best. For four innings, he dueled John Lackey and the Cardinals' bullpen while showing some swing-and-miss pitching against Major League hitters.
Price used four pitches to send Jason Heyward back to the dugout in the opening inning -- two cutters at 90 and 91 mph, a 78-mph curveball that froze the lefty slugger and left him late on the 95-mph fastball that followed. Matt Adams struck out twice, watching a 94-mph fastball on the corner in the first inning before whiffing on a 95-mph version in the fourth.
Price fanned five batters over four innings. His only baserunners were Matt Holliday on a one-out walk and Yadier Molina on a ground-ball single through the left side to lead off the second.
"That was a lot better than five days ago, and a lot better than 10 days ago," Price said. "It was good to be out there and to be able to not only be efficient, but to be able to execute for the most part when I was out there. It was a good day."
It's also a good note for the relationship between Jones and Price, who had one pitching coach his entire career in Tampa Bay. That was Jim Hickey, and the stability led to a rapport. When Price changed teams, it wasn't just an adjustment of cities, but also coaching.
"It's just something that takes time," Price said. "As much as he might have seen me throw while I was in Tampa, it still takes time to see me in person, to stand behind me when I'm warming [up] or performing a bullpen so you can really see when I'm going good what I'm doing, and when I'm going bad what I need to change. And that's something I think Jonesy has done a really good job with, and so has [bullpen coach] Mick [Billmeyer]."
Jason Beck is a reporter for MLB.com. Read Beck's Blog and follow him on Twitter @beckjason. This story was not subject to the approval of Major League Baseball or its clubs.