Veteran Hanigan getting comfortable with Red Sox
Catcher has been traded three times since December 2013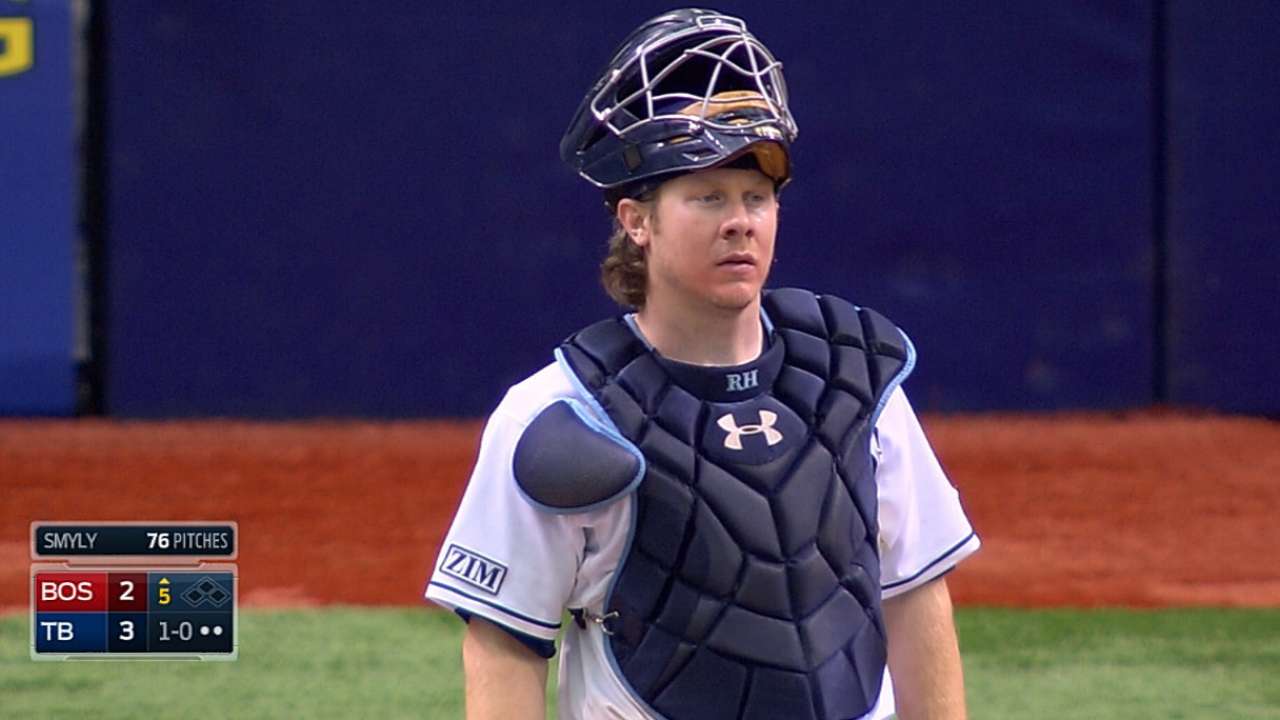 FORT MYERS, Fla. -- When the Red Sox traded for Ryan Hanigan in December, it meant the veteran catcher would be adjusting to a new team and a new pitching staff for the second straight year.
Hanigan had spent all 12 of his professional seasons with the Reds, including parts of seven in the Majors, before Cincinnati dealt him to Tampa Bay in December 2013. A year later, the Rays shipped him to the Padres, who sent him on to Boston for third baseman Will Middlebrooks. But with experience, the transition has flowed a bit easier for Hanigan, who is hoping for improved health as he serves as a backup for 24-year-old Christian Vazquez.
"I learned a few things about what I need to do in terms of preparing myself," Hanigan said. "Really, it's just about good communication with the pitchers and getting some reps with them, understanding what they do, looking at some video. I think I learned a little bit last year on how to quicken that process up, and it's gone fine so far. I feel comfortable."
There's no substitute for seeing things in person, especially in game situations. But Hanigan, a 34-year-old Massachusetts native, prepared himself before Spring Training by studying pitchers' tendencies, their sequencing, what they like to throw in different counts and how those pitches move.
Hanigan owns a .353 career on-base percentage and has walked more times (220) than he's struck out (198). Still, his best attribute has been his defensive work. He owns a career 38 percent caught-stealing rate, leading the National League in 2012 and '13, and advanced metrics have pegged him consistently as a plus receiver.
Part of Hanigan's work this spring has involved talking to Vazquez, himself a standout defender, and Blake Swihart, MLB's No. 1 catching prospect. Hanigan picks his spots, but if he sees things the young catchers can do better, he speaks up.
"It's important to have somebody with experience to help me and Swihart," Vazquez said. "[David] Ross last year and Hanigan this year, it's important to have somebody like them to help us to learn and watch."
In order for Hanigan to contribute with his play as well as with his experience, he will need to stay healthy. He has endured a pair of disabled list stints for two straight years, missing time with oblique, wrist and hamstring injuries while batting .208/.312/.293 in 159 games. To combat that, he changed his training regimen to focus more on building his core.
"I think I understand my body and some of the injuries I've had the past couple of years," he said. "I've worked to prepare to try to avoid that and done some training in my offseason to make sure those areas of my body have been getting some more attention. So I feel good right now."
Andrew Simon is a reporter for MLB.com. Follow him on Twitter @AndrewSimonMLB. This story was not subject to the approval of Major League Baseball or its clubs.