Wainwright declares himself ready for spring debut
Cardinals ace throws about 50 pitches in simulated game Monday morning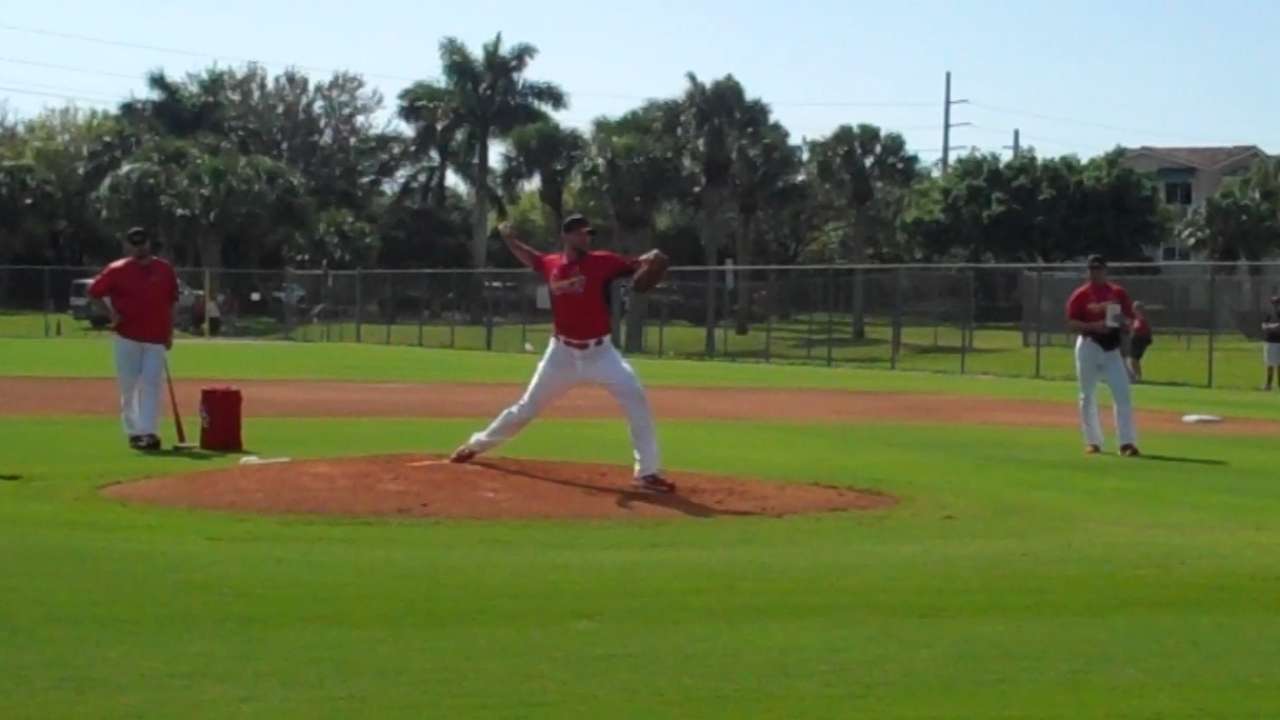 JUPITER, Fla. -- Cardinals ace Adam Wainwright threw a simulated three-inning game Monday morning and confidently announced afterward that he believes he is ready to make his Grapefruit League debut.
"I think a real game is next, whenever that is, five days from now or six days; whenever they tell me to pitch is when I'll be pitching," said Wainwright, who a month ago to the day, sustained an abdominal strain that has delayed his first outing of Spring Training.
Wainwright threw about 50 pitches and, although he didn't field any balls, he reported no problems with his abdomen or his mobility. He faced Cardinals hitters, including Jon Jay, who has been working his way back from offseason left wrist surgery.
"I wanted to go out and do that today before I got into a real game," Wainwright said. "I tried to treat it as real as possible, so today was a good day for me. I threw I think 50 pitches with a full warmup as well, so it's a good step."
Wainwright said he made some adjustments from a two-inning simulated game he threw last Thursday.
"I wanted to command my fastball better today," Wainwright said. "My offspeed has been actually pretty good. When I'm locating my fastball on both sides of the plate, then it just makes my offspeed even better."
Manager Mike Matheny monitored the game behind home plate. There also was a small crowd of Cardinals fans present on the backfield at Roger Dean Stadium where the game was staged, and cheers erupted each time Wainwright came off the mound and were most loud when he finished his stint.
"I was feeding off it," Wainwright said. "Work-wise, today was very similar to a second start. My manager was there and my pitching coach was there. Everybody was critiquing everything I was doing, so I think from everybody I've talked to, I passed all the tests that needed to be passed."
Wainwright ran a few sprints after the simulated game and reported that "everything was good" with his abdomen.
"Everything's gone very well so far," Matheny said prior to Wainwright's simulated game.
Nothing appears to have changed that assessment.
Steve Dorsey is a contributor to MLB.com This story was not subject to the approval of Major League Baseball or its clubs.