Matheny sees Lackey's, bullpen's performance as '15 blueprint
Cardinals pitchers combined for a three-hitter with 12 strikeouts, issued no walks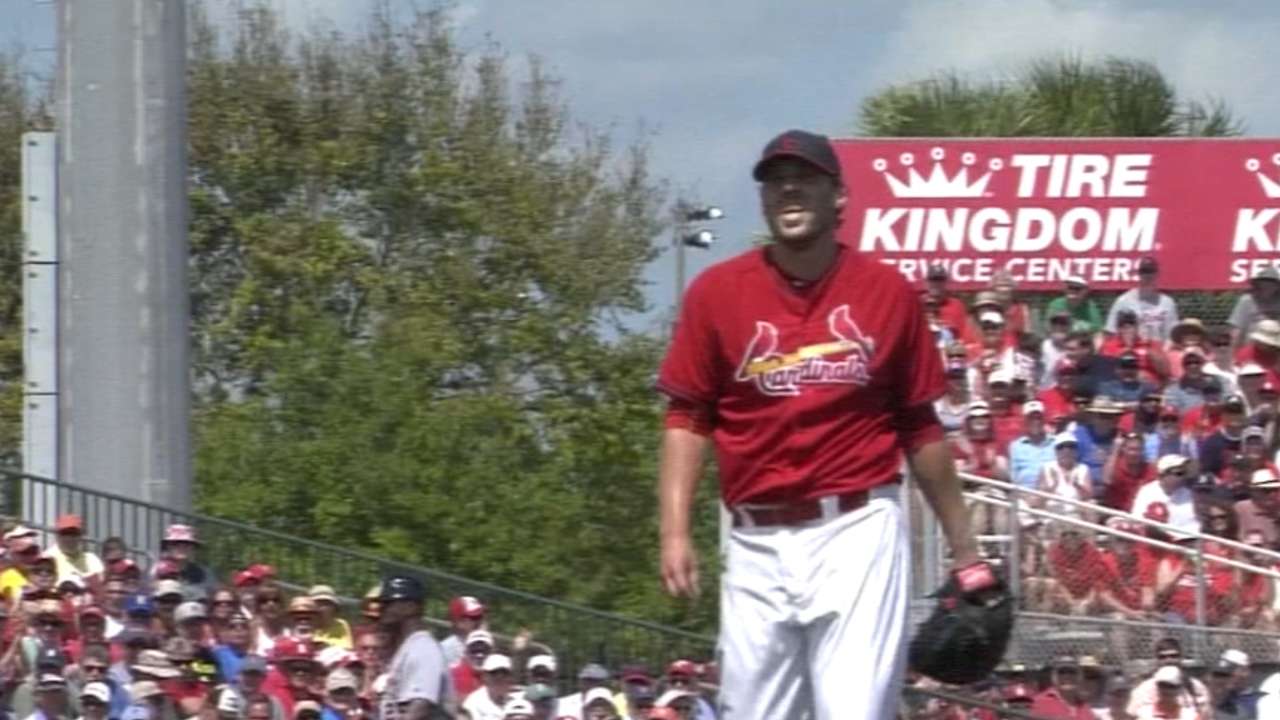 JUPITER, Fla. -- St. Louis manager Mike Matheny would happily accept the Cardinals' performance Monday against the Tigers as a blueprint for the 2015 season.
The Cardinals' 1-0 win at Roger Dean Stadium in Jupiter began with an impressive Grapefruit League debut outing by right-hander John Lackey and ended with a perfect ninth by closer Trevor Rosenthal.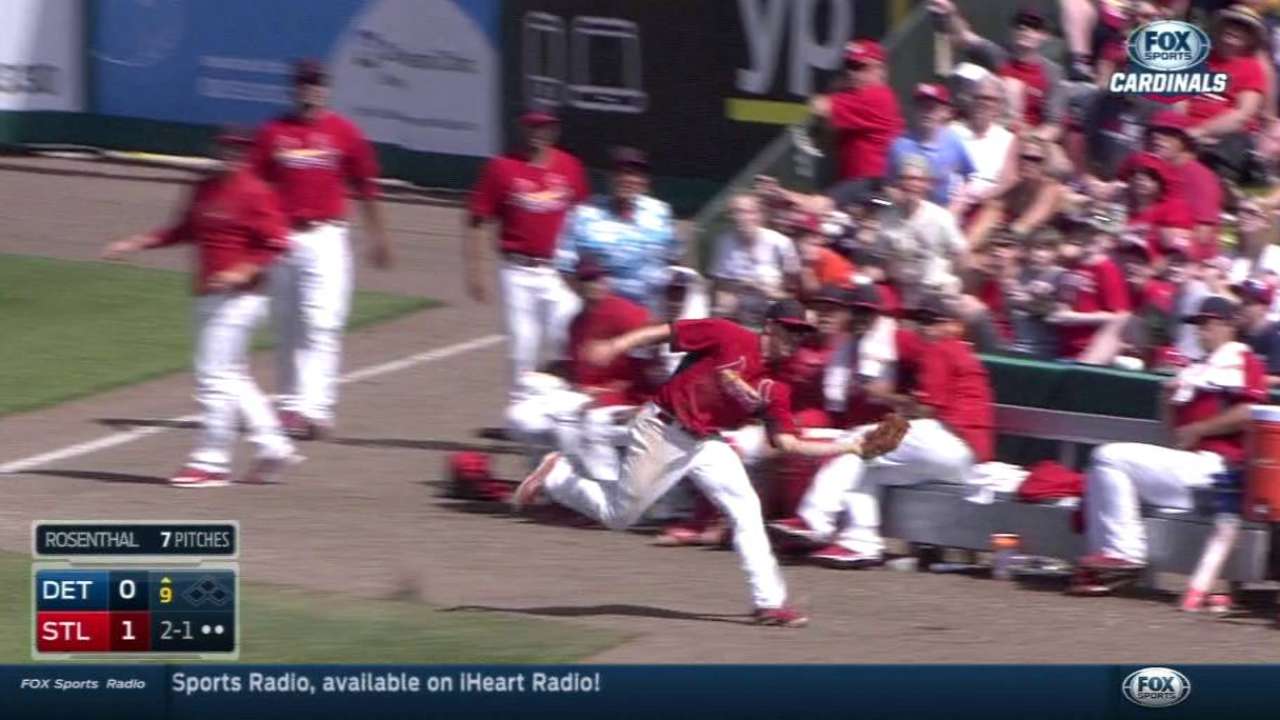 "It was a good day for John. It was a good day for us," Matheny said, pointing out that six Cardinals pitchers combined for a three-hitter with 12 strikeouts and issued no walks.
Lackey set the tone of the game early when he quickly retired the top of the Tigers order 1-2-3, and repeated that sequence in each of the next two innings before exiting the game after 37 pitches.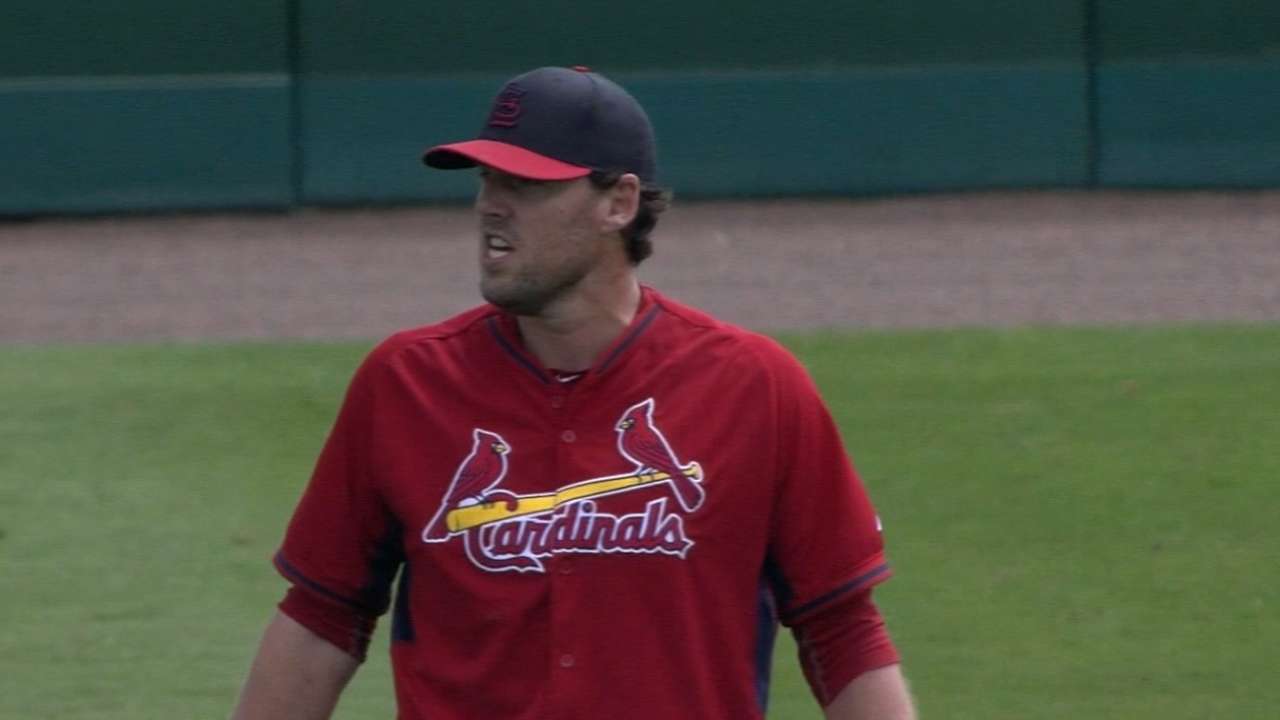 "There was just a crispness to him that he'd shown in all his bullpens," Matheny said of Lackey, who was granted his request to be put on a slower program this spring in preparation for the regular season, therefore the reason for him not making his first spring start before Monday. "Today, he let it go a little bit. The ball was jumping. Great location, great movement. Just nice to watch."
Matheny also was impressed with Lackey's command of the strike zone and throwing of first-pitch strikes.
"I was really pleased with the fastball location for this early, and I felt like I had a little bit on it for this early," Lackey said. "The slider was pretty good. The curveball wasn't great, it needs some work. The changeup, I was about 50-50 on. There are definitely some things to work on. But the main goal of throwing fastballs, building arm strength and locating, that was pretty good today. It was probably a little too early to be throwing that hard. I might back off next time and bring it back later on. That's what was there."
Lackey said he's keeping it all in perspective, especially since it's only one short stint in mid-March.
"I've been terrible in Spring Training and had great seasons, and I've been really good in Spring Training and sometimes it carries over and sometimes it doesn't," Lackey said. "It's just all about being healthy and feeling good at the right time, just building toward the real deal."
Noteworthy:
Good day for Kozma, defense: Pete Kozma is the backup shortstop behind Jhonny Peralta, but Kozma, in addition to driving in the game-winning run, further displayed his versatility and solid glove with a couple of excellent defensive plays starting at third base Monday.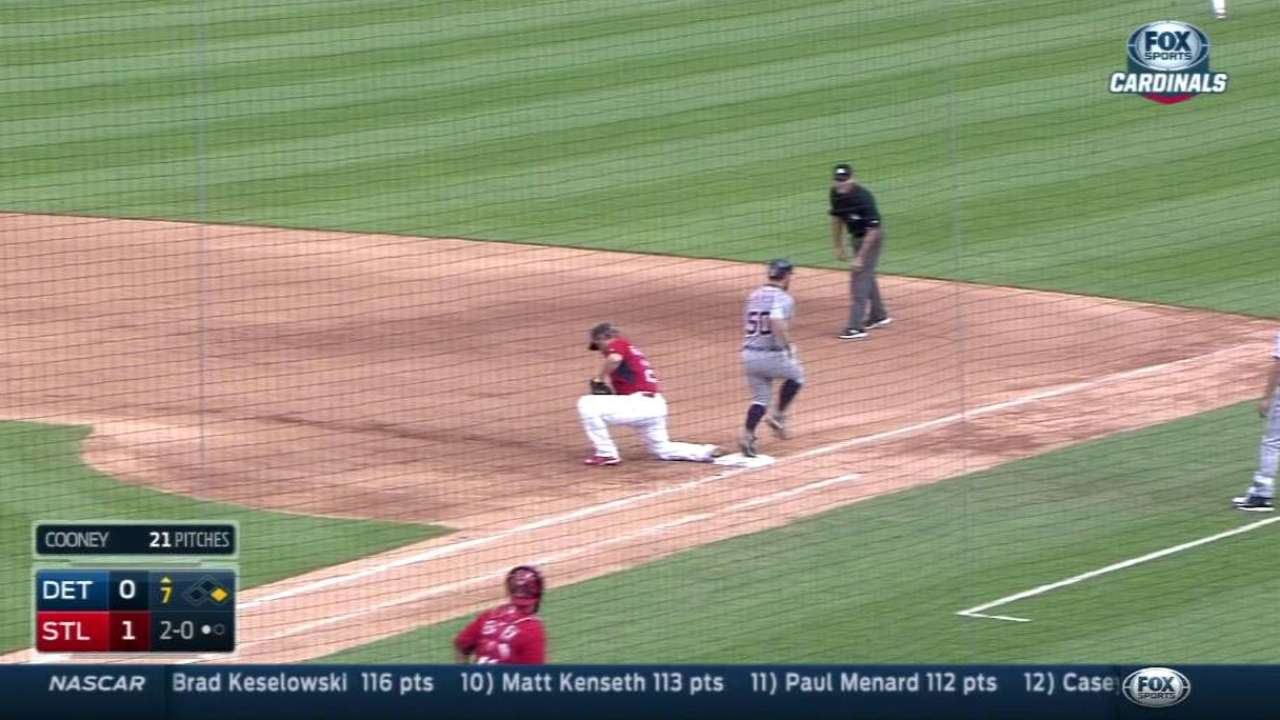 "He's impressive. He's fun to watch," Matheny said of Kozma, adding that he would have no qualms also playing Kozma in center field when needed.
Mark Reynolds also made a nice play at first when he climbed the ladder to rob the Tigers' Nick Castellanos of a potential extra-base hit in the second that ended the inning.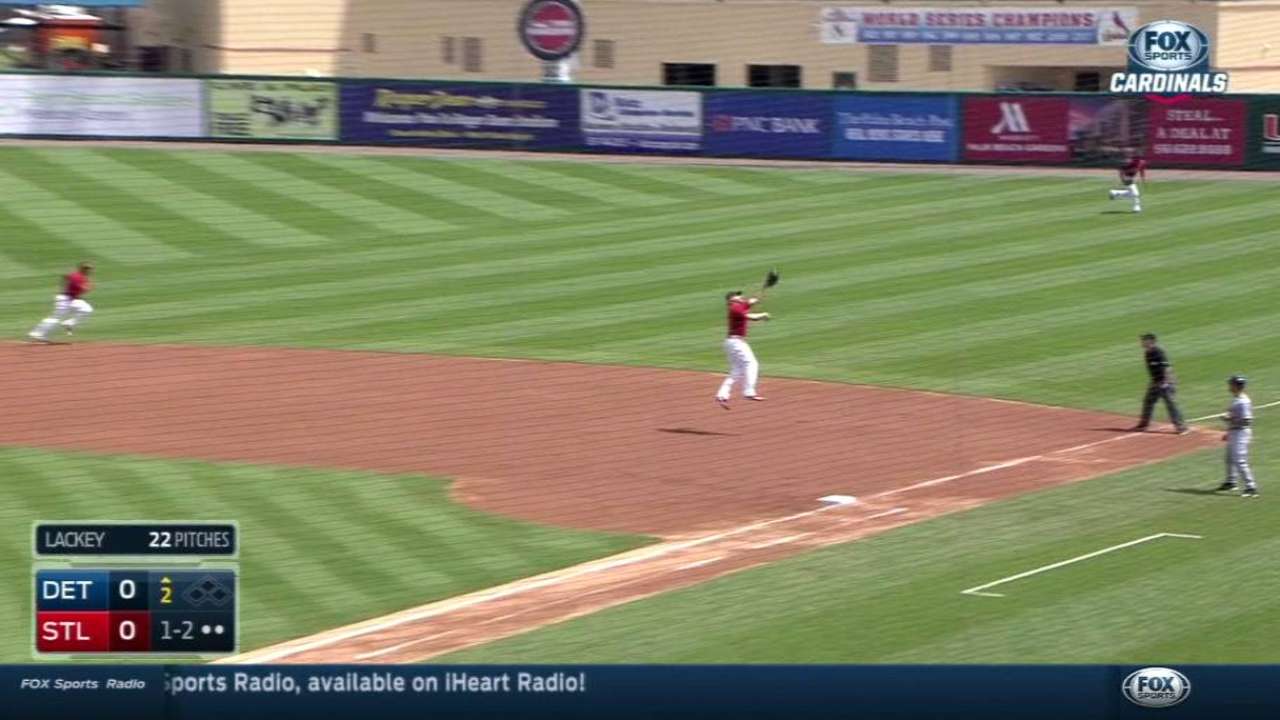 "We gave up no walks, guys playing clean 'D'," Matheny said. "It was just one of those games, nice to see guys making plays."
Walden's reaction to 1-2-3 inning: Reliever Jordan Walden struck out all three batters he faced in the eighth inning, but left Matheny a little perplexed when he returned to the dugout.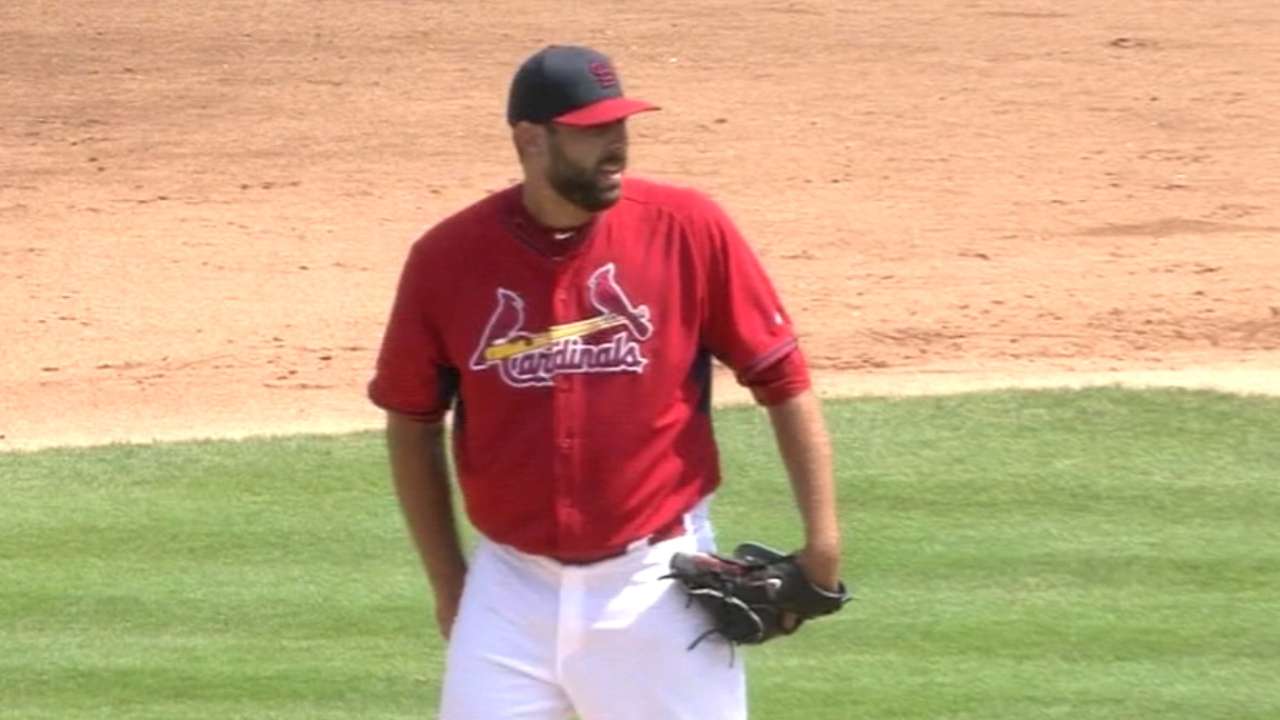 "He came off kind of shaking his head," Matheny said of Walden. 'I'm like, what does he want?' To him that was his 'about time' [reaction]. That's nice to see though, that's what we're hoping for."
Lynn update: Matheny said that right-hander Lance Lynn, who has a left hip flexor strain, will pitch a simulated game Wednesday, similar to the one Adam Wainwright threw on Monday.
Steve Dorsey is a contributor to MLB.com. This story was not subject to the approval of Major League Baseball or its clubs.