MLB.com Columnist
Richard Justice
Pitching depth saving Mets after Wheeler injury
Team can still contend thanks to Alderson's refusal to part with young arms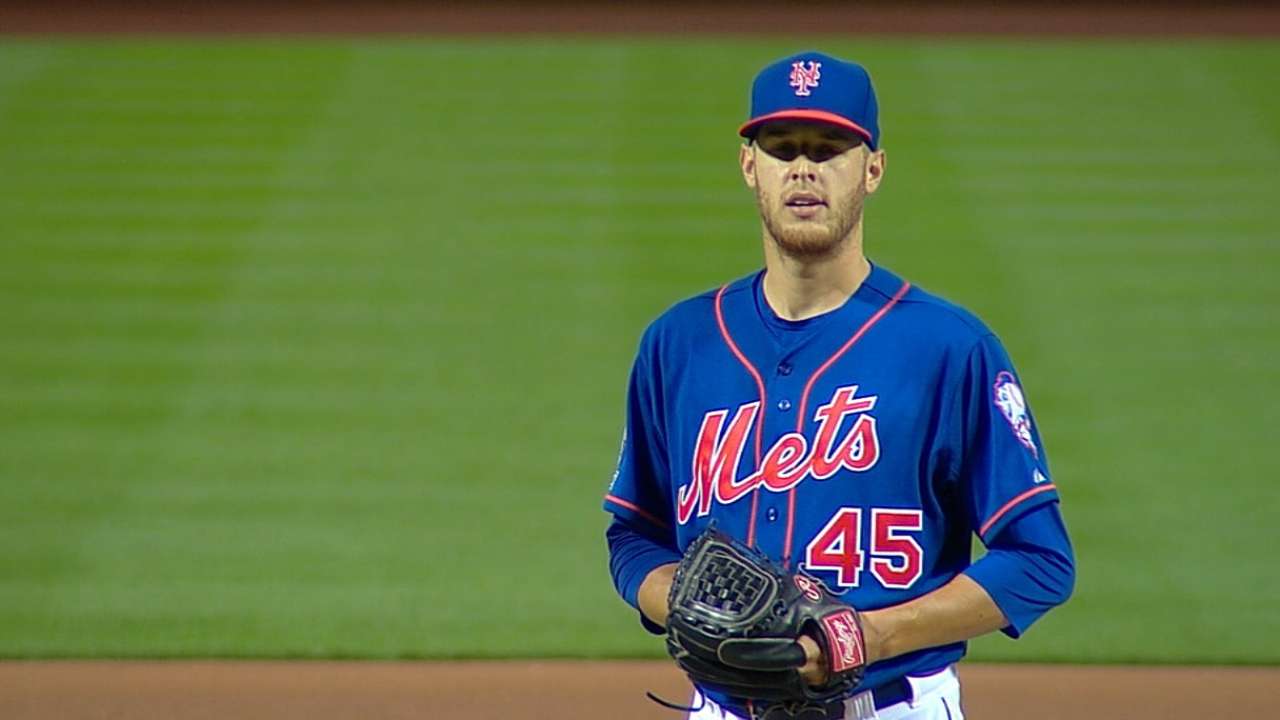 This is lousy news for the Mets. No getting around that. It's a gut punch for an organization that's in a very solid place.
Can the Mets still contend without Zack Wheeler in their rotation in 2015? Absolutely. Let's not get silly. This isn't even about that. That's a separate discussion.
Rather, this is about the disappointment of watching one of the best young pitchers in the game undergo Tommy John surgery. At 24, Wheeler was coming off a breakout season, one in which he seemed on his way to fulfilling the promise forecast for him.
There's every reason to think he'll get his career back on track sometime next year and that his right elbow will be stronger and more durable than ever. He only has to look at his teammate Matt Harvey to see a guy who underwent the same procedure and touched 99 mph in his first start back this spring.
On this day, Wheeler is the focus for the Mets. He'll find support from every level of the organization as he goes through the various stages of recovery and then getting back on the field.
He did not reach this point in his career without understanding the importance of commitment and resilience and making every day count. For awhile, he'll have to channel that drive in another direction.
OK, now about the Mets. While this is a tough day at the office, it's also a reminder how smart general manager Sandy Alderson was not to trade any of his young pitchers. He'd accumulated the kind of depth -- young, high-ceiling arms -- that every organization strives for.
He'd said all along that he wasn't about to trade a pitcher unless he found a deal that he believed pushed the Mets to another level. While he was open to upgrading at shortstop, he didn't see it as the priority others did.
First, he believes that his incumbent starter, Wilmer Flores, is going to end up being better than a lot of people think. Also, he has organizational depth at the position, including 24-year-old Matt Reynolds, who seems very close to being big league ready.
Alderson explored a dozen possibilities during the offseason and got deep into discussions about a deal that would have gotten him Ian Desmond. In the end, he simply was unwilling to trade his top arms.
That decision looks huge with Wheeler going down. Harvey remains at the top of the rotation, but his workload will be monitored in the wake of his nearly perfect recovery from Tommy John.
Jacob deGrom, the NL Rookie of the Year in 2014, moves up one spot. Jon Niese are Bartolo Colon figure to be in the rotation, and Dillon Gee could switch back to a starting role from the bullpen.
Here's where that depth comes into play. Top prospect Noah Syndergaard, who'd been ticketed for Triple-A, figures more prominently in 2015. He's a big, hard-throwing kid who is widely projected as a top-of-the-rotation guy.
Manager Terry Collins already had thought out what he was going to tell Syndergaard when he was dispatched back to the Minors: Go down and show us you belong here. Syndergaard's timetable suddenly changed with Monday's news.
Here's where the Mets can feel comfortable. They have other big arms on the fast track to the big leagues. Right-hander Rafael Montero is one possibility, left-hander Steven Matz another.
Matz is an intriguing prospect after having made his own full recovery from Tommy John surgery. He hasn't pitched a game above Double-A, but was expected to fly through the system this season.
Now, the Mets will take a deep breath and look at his timetable as well. The point in all of this is that the Mets still have enough pitching to make the postseason. Their worries were always about offense and David Wright's ability to remain healthy and productive. It was about catcher Travis d'Arnaud, center fielder Juan Lagares and first baseman Lucas Duda continuing their development.
Obviously, the path to the postseason has gotten a little more narrow and a little more bumpy. The Nationals were solid favorites to win the NL East, and the Marlins and Mets seemed a coin flip apart in the race for second place. Both teams are good enough to grab an NL Wild Card berth.
That was true of the Mets yesterday and it's true today. They look a bit more vulnerable, but this is why teams focus on acquiring depth. Few general managers have done a better job of acquiring pitching depth than Alderson in recent years. He hoped he'd never have to use it this way.
At least, he knows now that his offseason decision to hold fast to that pitching was the right thing to do. It may end up saving this season of optimism for the Mets.
Richard Justice is a columnist for MLB.com. Read his blog, Justice4U. This story was not subject to the approval of Major League Baseball or its clubs.