Phillies make first round of roster moves
Southpaw Biddle among six sent to Minor League camp; outfielder Paul released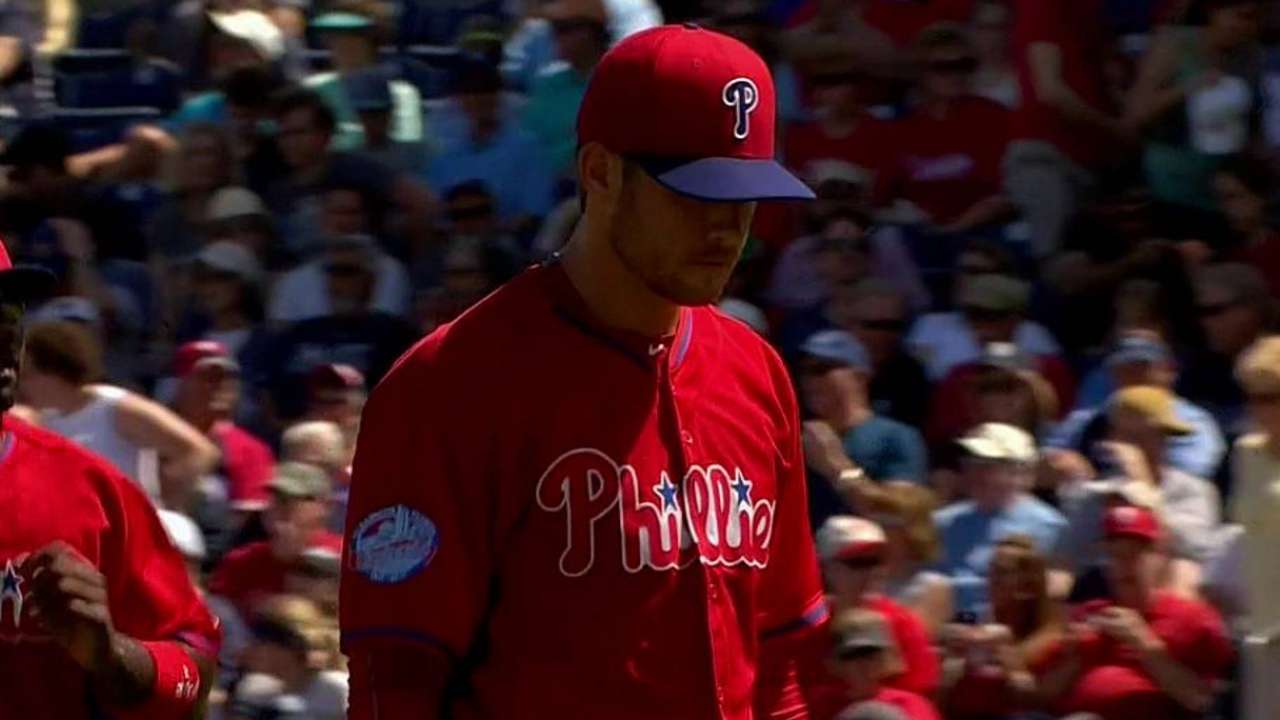 CLEARWATER, Fla. -- The Phillies made their first round of roster moves Monday morning at Bright House Field, and there were no surprises.
The club optioned left-hander Jesse Biddle, left-hander Adam Morgan, right-hander Ethan Martin and outfielder Aaron Altherr to Minor League camp. Additionally, right-hander Sean O'Sullivan and catcher John Hester were reassigned to Minor League camp, while outfielder Xavier Paul was released.
Biddle, Morgan, Martin and Altherr need to pitch or play on a regular basis, and getting limited work in big league camp served them little benefit. The Phils hope each can contribute at the big league level in the near future.
The Phillies are planning for Biddle and Morgan to be in the rotation at some point. Martin is a bullpen candidate, although the Phils have been preparing him to start this spring. Director of player development Joe Jordan said over the winter that Altherr "is as good of an outfielder as we have in our system, and possibly in the Major Leagues as well."
The rebuilding Phillies could use some young outfielders.
Altherr hit .286 with five doubles, two triples, four home runs, 27 RBIs and an .878 OPS in 105 at-bats with Aguilas de Zulia in the Venezuelan Winter League. It is a marked improvement from a disappointing season with Double-A Reading, in which he hit .236 with 27 doubles, two triples, 14 home runs, 57 RBIs and a .686 OPS in 492 plate appearances.
"I just went out and had fun," Altherr said, explaining his impressive play in winter ball. "I really didn't think too much. Sometimes I just put too much pressure on myself during the [Minor League] season. I didn't worry about anything in winter ball."
O'Sullivan provides the organization starting-pitching depth. Hester is recovering from left knee surgery, while Paul simply no longer fit in the Phillies' plans.
The Phillies also reassigned right-handers Mike Nesseth and Seth Rosin to Minor League camp following Monday's 16-4 loss to the Orioles.
Todd Zolecki is a reporter for MLB.com. This story was not subject to the approval of Major League Baseball or its clubs.