Wheeler has torn UCL; Tommy John surgery a possibility
Right-hander heading to NYC to confirm diagnosis on elbow, weigh options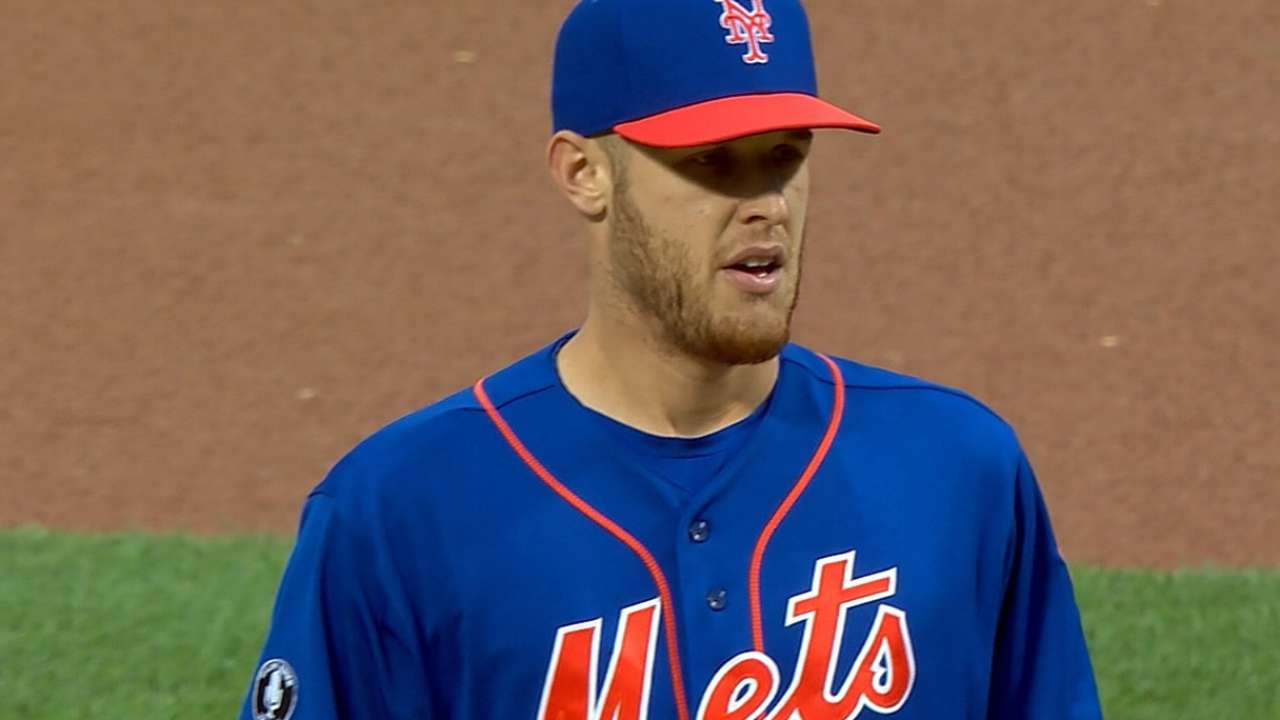 FORT MYERS, Fla. -- What was supposed to be a banner Monday for the Mets, with Matt Harvey monopolizing the baseball world's attention, instead collapsed under the realization that their rotation will be incomplete for a second straight summer.
Starting pitcher Zack Wheeler has been diagnosed with a completely torn ulnar collateral ligament in his right elbow, the team announced, making Tommy John surgery inevitable. Though Wheeler has not committed to the operation, general manager Sandy Alderson described his situation as "pretty clear-cut," calling the diagnosis preliminary only because Wheeler has yet to meet with team orthopedist Dr. David Altchek.
Tommy John ligament-replacement surgery is the standard treatment for a torn UCL, requiring an approximate 12-month recovery.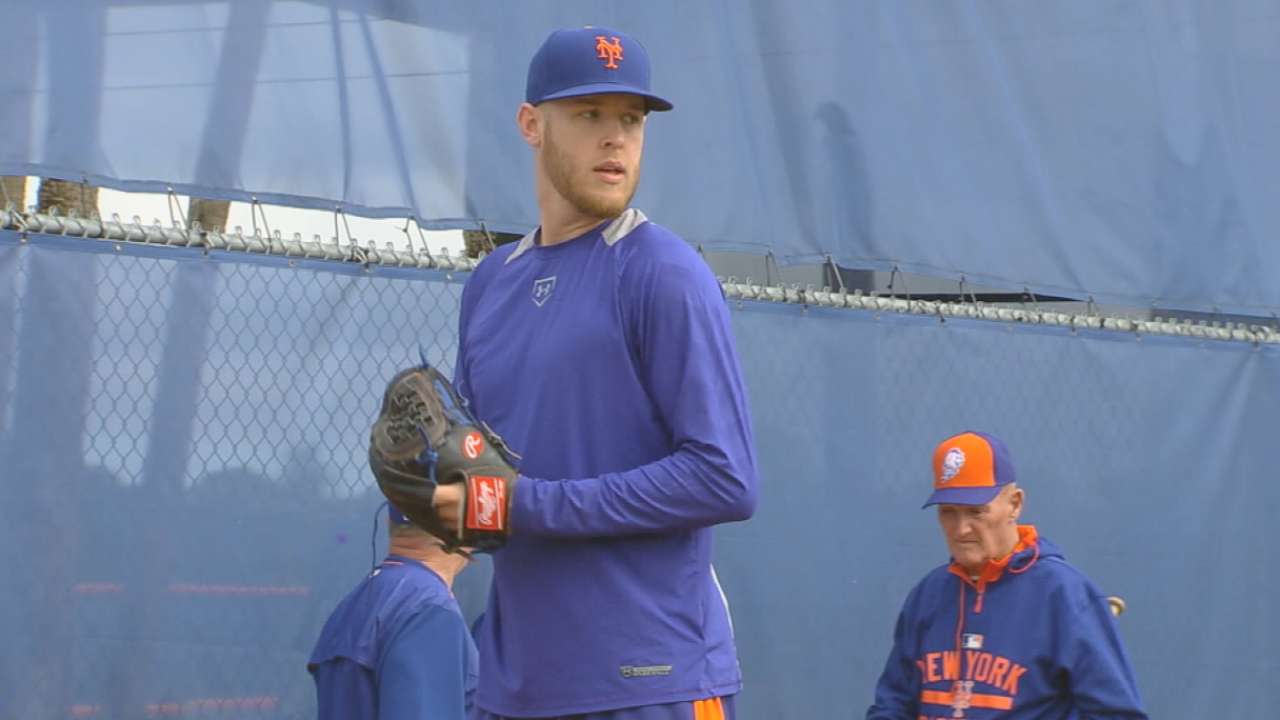 "The diagnosis is not surprising," Alderson said. "We had been forewarned by the doctors that his elbow was a concern, and that it was going to have to be managed over the course of this season. It wasn't clear that the ligament was involved at that time, but we understood that we were going to have to manage his medical condition over the course of the season.
"When the elbow is involved, anything can happen."
The news broke as Harvey, who spent the entire 2014 season recovering from Tommy John surgery, prepared to make his third spring start at JetBlue Park. Like Harvey last summer, Wheeler will miss this entire season.
"Thanks for everybody's support and kind words," Wheeler wrote on Twitter. "It's greatly appreciated. Long road ahead."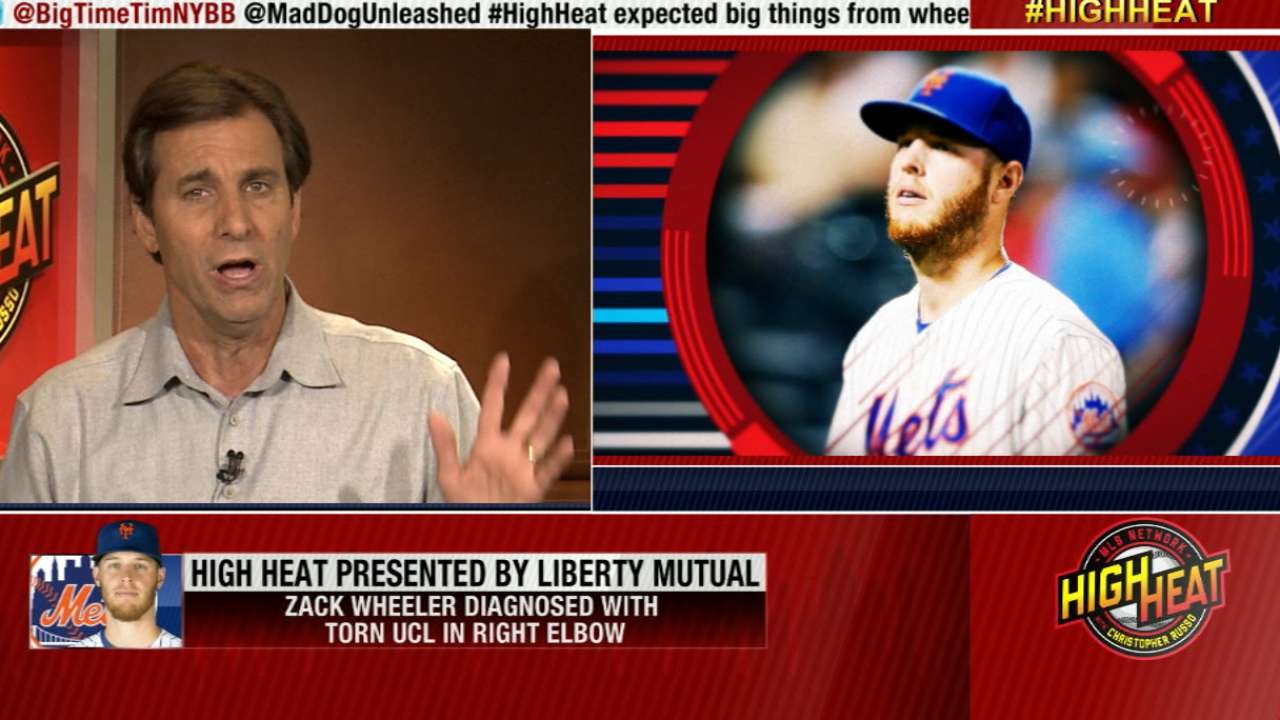 Wheeler, 24, was 11-11 with a 3.54 ERA in 32 starts last season, putting him in contention for the Mets' Opening Day start. But his elbow was an issue as far back as last summer, Alderson said, when he first complained of discomfort. The Mets ordered an MRI in September, while Wheeler was putting the finishing touches on a 16-start run that saw him go 8-3 with a 2.71 ERA. Though that test came back clean, Wheeler complained of elbow discomfort again over the winter. A second MRI in January also showed no UCL tear.
Reporting to Spring Training in February as usual, Wheeler complained of elbow discomfort a third time last week, prompting the Mets to scratch him from his Saturday outing. At the time, they indicated it was more due to a blister underneath his right middle fingernail than to anything related to the elbow, with Alderson going as far as to say that Wheeler would not need another MRI. That changed a day later, when the team sent him for one and forwarded the results to Dr. Altchek in New York.
Shortly thereafter, it became clear that Wheeler was destined to become the fifth Mets pitcher to have Tommy John surgery in the past 20 months, joining Harvey, Bobby Parnell, Jeremy Hefner (twice) and Josh Edgin, who announced Sunday that he would undergo the procedure. Several pitchers with partially torn UCLs have attempted to rehab their injuries in lieu of surgery, most notably Yankees starter Masahiro Tanaka. But rehab is unrealistic if the UCL is completely torn, as in Wheeler's situation.
"I feel terrible for Zack," manager Terry Collins said. "Losing two pitchers in two days is certainly going to be tough for us."
"It's a blow, but at the same time we knew there would be a lot of uncertainty surrounding Zack and his elbow over the course of the season," Alderson added. "We're obviously not happy he won't be with us, but I think if there's a silver lining, it's that we now have some certainty. We know that we have a solution for this, that he won't have to manage the kind of pain that I think he had to manage over the course of last season. Doing that over a career is simply unsustainable."
To replace Wheeler in the rotation, the Mets will turn to Dillon Gee, a longtime starter who had been demoted to the bullpen. But the Mets also have several top prospects ready or close to ready for the Majors, including Noah Syndergaard, Steven Matz and Rafael Montero. They will be considerations early in the season.
"We still think we've got a pretty good pitching staff," Collins said. "Dillon's won games. He's won a lot of games in the big leagues in a short time. He's going to have to step up and fill some big shoes, but he can handle it. He's a good pitcher."
Anthony DiComo is a reporter for MLB.com. Follow him on Twitter @AnthonyDicomo. This story was not subject to the approval of Major League Baseball or its clubs.