MLB.com Columnist
Jonathan Mayo
Breaking down the Mariners' 2015 Top 30 Prospects
Outfielder Jackson tops club's list after being selected in first round of 2014 Draft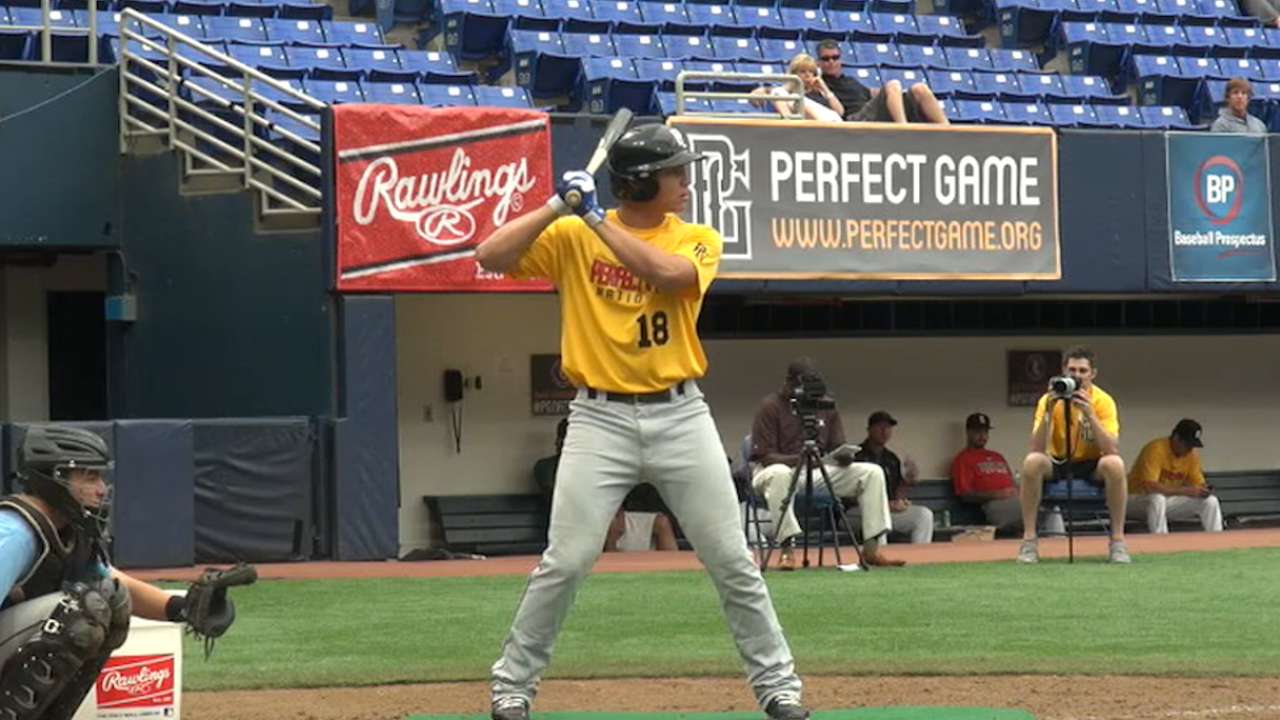 Being a high Draft pick brings with it a certain set of expectations. Add in being installed as your organization's No. 1 prospect, and people might be disappointed with anything less than superstardom.
Outfielder Alex Jackson, the Mariners' top pick (taken No. 6 overall) in the 2014 Draft is one of three members of the Class of 2014 to be the No. 1 prospect in their organization. He joins two pitchers, Tyler Kolek (drafted second) of the Marlins and Carlos Rodon (drafted third) of the White Sox.
Jackson is far from alone in being a newcomer to Seattle's Top 30 list. Three other recent draftees join Jackson in the Top 30, along with a 2014 international signee to round out the group from the amateur ranks.
Those players all come in the 11-20 range, but some prospects who have been around for longer have parlayed strong 2014 campaigns to jump way up on the list to be closer to Jackson. Infielders Patrick Kivlehan and Ketel Marte were deep in the teens a year ago, and both have vaulted into the top five.
Mariners' 2015 Top 30 Prospects list
Biggest jump: Patrick Kivlehan, 3B/1B (2014: 19 | 2015: 4)
Biggest fall: Tyler Pike, LHP (2014: 9 | 2015: 28)
Best tools
Players are graded on a 20-80 scouting scale for future tools -- 20-30 is well below average, 40 is below average, 50 is average, 60 is above average and 70-80 is well above average.
Hit: Alex Jackson (60)
Power: Jackson (60)
Run: Ketel Marte (65)
Arm: Gabriel Guerrero (65)
Defense: Austin Cousino (60)
Fastball: Edwin Diaz (60)
Curveball: Ryan Yarbrough (45)
Slider: Carson Smith (55)
Changeup: Danny Hultzen (55)
Control: Yarbrough (55)
How they were built
Draft: 20
International: 8
Trade: 1
Rule 5: 1
Breakdown by ETA
2015: 5
2016: 13
2017: 9
2018: 2
2019: 1
Breakdown by position
C: 2
1B: 2
3B: 3
SS: 3
OF: 8
RHP: 6
LHP: 6
Jonathan Mayo is a reporter for MLBPipeline.com and writes a blog, B3. Follow @JonathanMayoB3 on Twitter. This story was not subject to the approval of Major League Baseball or its clubs.