Pujols, Trout feed off each other with strong bond
Exuberance, wisdom combine in friendship between legendary veteran, young superstar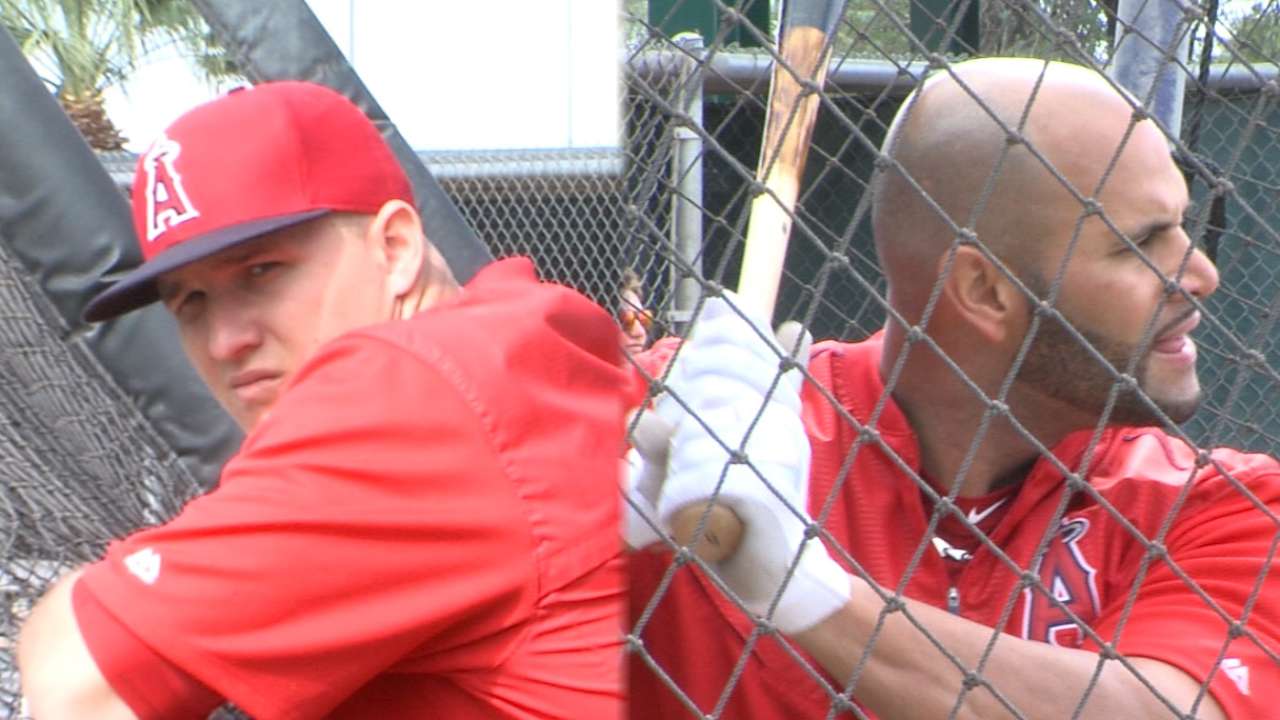 TEMPE, Ariz. -- It was Spring Training 2012, and Albert Pujols and Mike Trout were worlds apart.
Pujols was a living, breathing legend, fresh off winning a World Series championship with the Cardinals and signing a $240 million contract with the Angels. Trout was nothing more than a prospect in waiting, which meant he sat in the crowded, disconnected section of the clubhouse and kept his mouth shut.
So there Trout was one morning, doing just that, when out of the corner of his left eye, he saw Pujols facing his direction while talking with Maicer Izturis. Trout could swear the nine-time All-Star was making eye contact, so he got a little anxious, perhaps a bit nervous, and blurted the first thought that came to mind:
"'Sup, Pujols?"
Silence.
Trout put his head down, glanced around the room and turned to the fellow rookie seated to his right.
"You think he heard me?"
Three brilliant Major League seasons later, Trout is the consensus best player in the game and the proverbial face of baseball at age 23 -- and he still remembers that first encounter with Pujols.
"Definitely, I do," Trout said. "I felt like an idiot."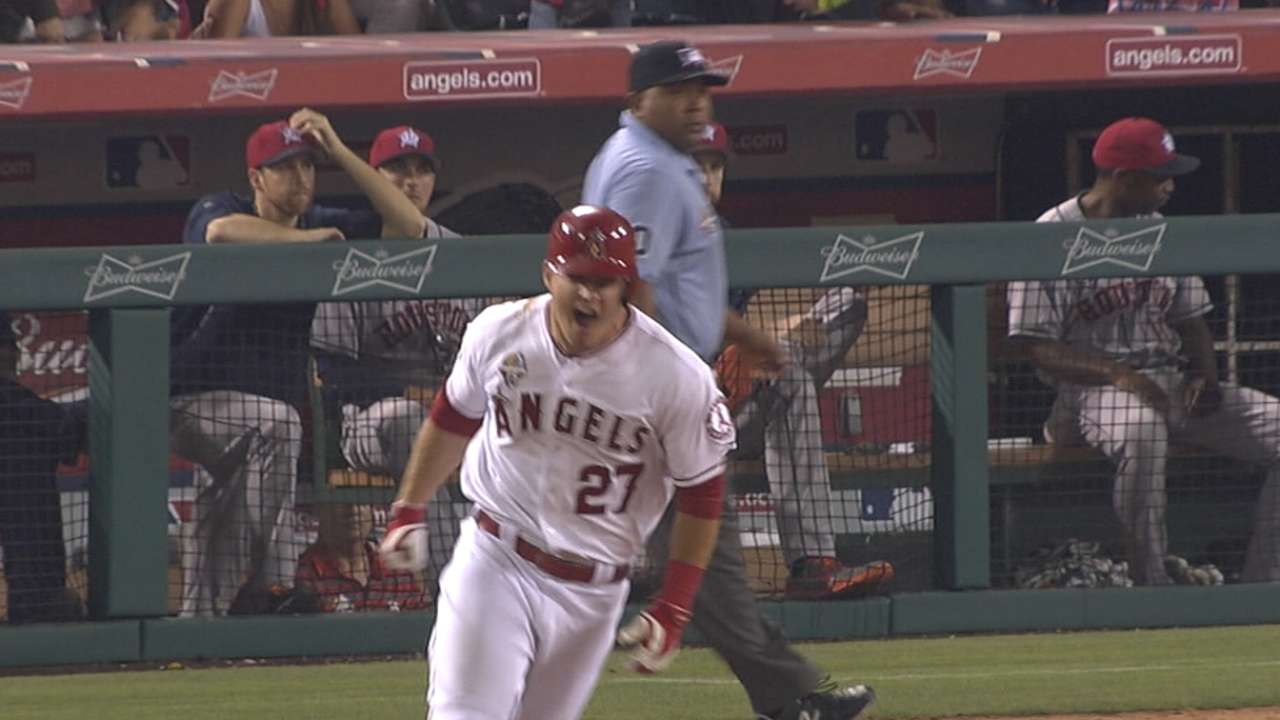 It's Sunday morning in 2015 now, and Trout and Pujols are laughing their way through pregame stretching, as usual. They're 11 1/2 years apart in age, they hail from different countries, they were brought up speaking different languages and were raised under vastly different circumstances. But they've grown inseparable. They golf together, attend sporting events together, fling imaginary arrows at Fernando Rodney together and cope together.
Trout and Pujols have come a long way in three springs together.
"It's nice to have two of the best players who have ever played this game be close friends," Angels third baseman David Freese said. "They feed off each other."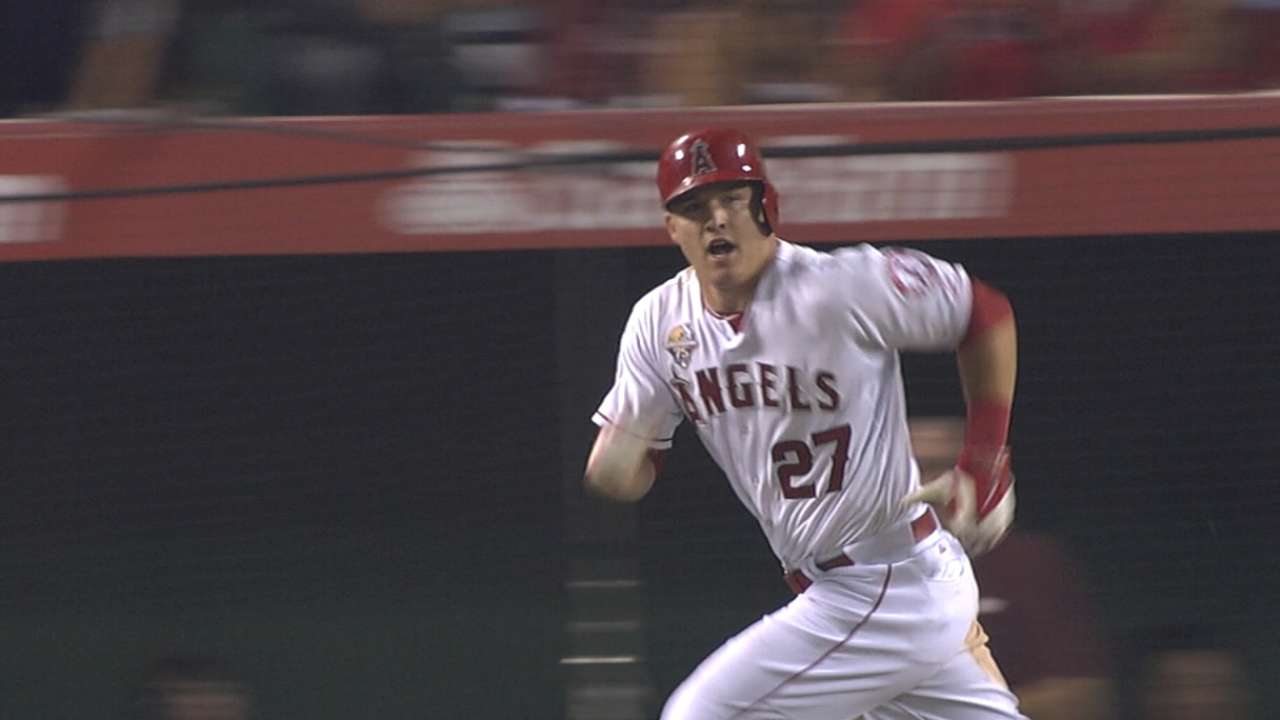 Maybe Trout and Pujols just realize how special it is, their two iconic careers intersecting in this way.
Maybe it's the perfect time, Trout's youthful exuberance coinciding with that stage in Pujols' life when he's finally letting his guard down a little.
Pujols is still a force, batting .272 with 28 homers and 105 RBIs in 2014. But at 35, mortality is ever present, the end increasingly discernible, and so he has made a greater effort to pass wisdom along to the next generation. And Trout just so happens to be the perfect recipient.
"He's a special kid," Pujols said, as he often does. "Really humble. Great parents. That's what happens when your parents raise you the right way."
Trout could very well go down as the greatest player of this decade; Pujols is arguably the greatest of the last one.
They share the rare instant bond of a rapid rise to prominence, though they got there with contrasting styles. Trout stole a lot more bases; Pujols struck out a lot less frequently. Trout approached baseball like a kid in the sandbox; Pujols approached it like a CEO in a corporate office.
But Trout, like Pujols, was never afraid to ask questions.
"And I think that's the coolest thing," Pujols said.
"I can't thank him enough," Trout said of Pujols. "I'm just happy to have him in the clubhouse."
Trout was one of three young players Pujols was eager to meet upon joining the Angels, along with Mark Trumbo and Peter Bourjos. They spoke in passing that first spring, reconnected as Trout navigated through a historic rookie season later that summer and grew closer with each passing season, as Trout's fame skyrocketed and Pujols settled into the background.
"I know that Albert really appreciated the talent from the first day he saw Mike," Angels manager Mike Scioscia said. "Mike was never intimidated, but at times, when you have a presence like Albert, it might take a young player a little time for the familiarity to get to where it bonds them. But those guys, they talk baseball all the time. I think Albert set some goals that I know Mike would like to eventually reach."
They see the game similarly, feel it a little different than anybody else. Sometimes Trout gets obsessed with hitting the ball to the opposite field, going inside out with his swing too often and getting jammed because of it. Before he even says a word, Pujols will meet him in the dugout and remind him to hit pitches where they're thrown.
"It's pretty crazy," Trout said. "You go up there and you feel one thing, and when you come in the dugout and ask him about it, he sees it."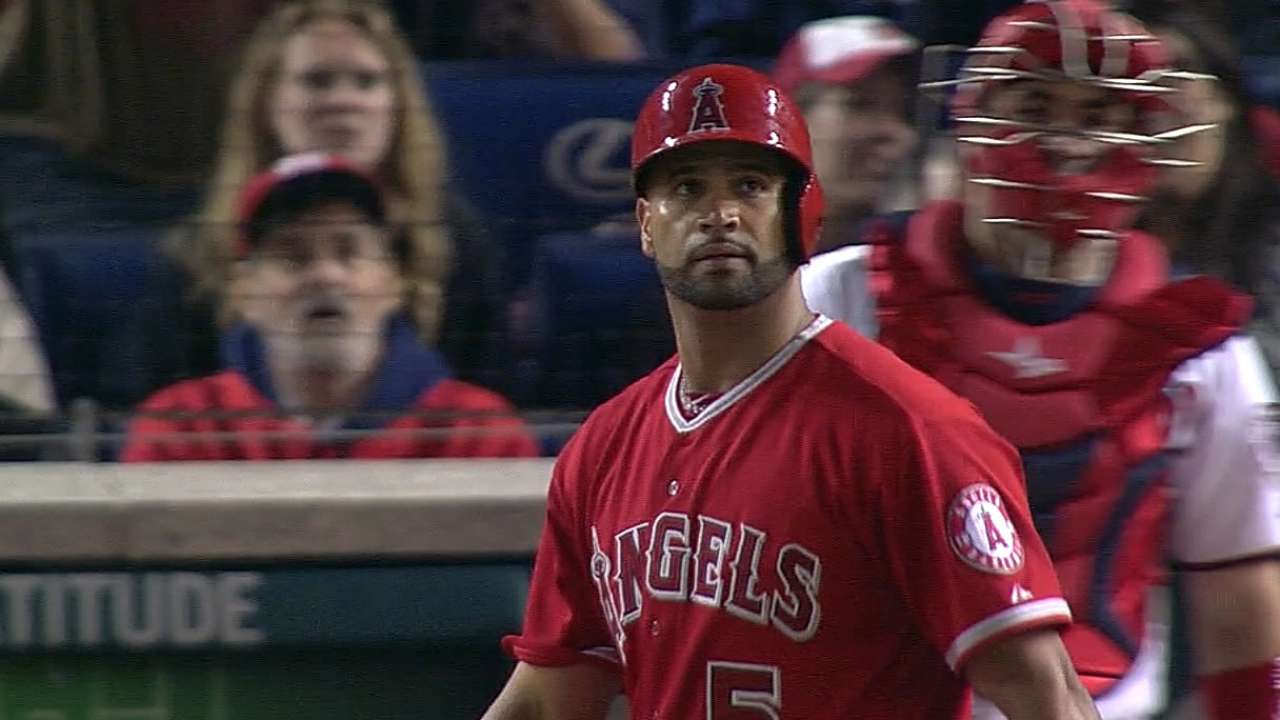 This is the way it has to be, really. Pujols is the only one who could truly understand what it's like to do whatever you want on a baseball field, to have the entire game at your feet and to carry the burden of an entire franchise, an entire city, on your shoulders.
Only they can understand each other.
"They understand what they have together," Freese said, "and I think they understand that two players of that caliber playing together for so many years is a rare thing. It's just even better that they're boys."
Alden Gonzalez is a reporter for MLB.com. Read his blog, Gonzo and "The Show", and follow him on Twitter @Alden_Gonzalez. This story was not subject to the approval of Major League Baseball or its clubs.