MLB.com Columnist
Mike Bauman
Upgraded Mariners ready to take on all challengers in new season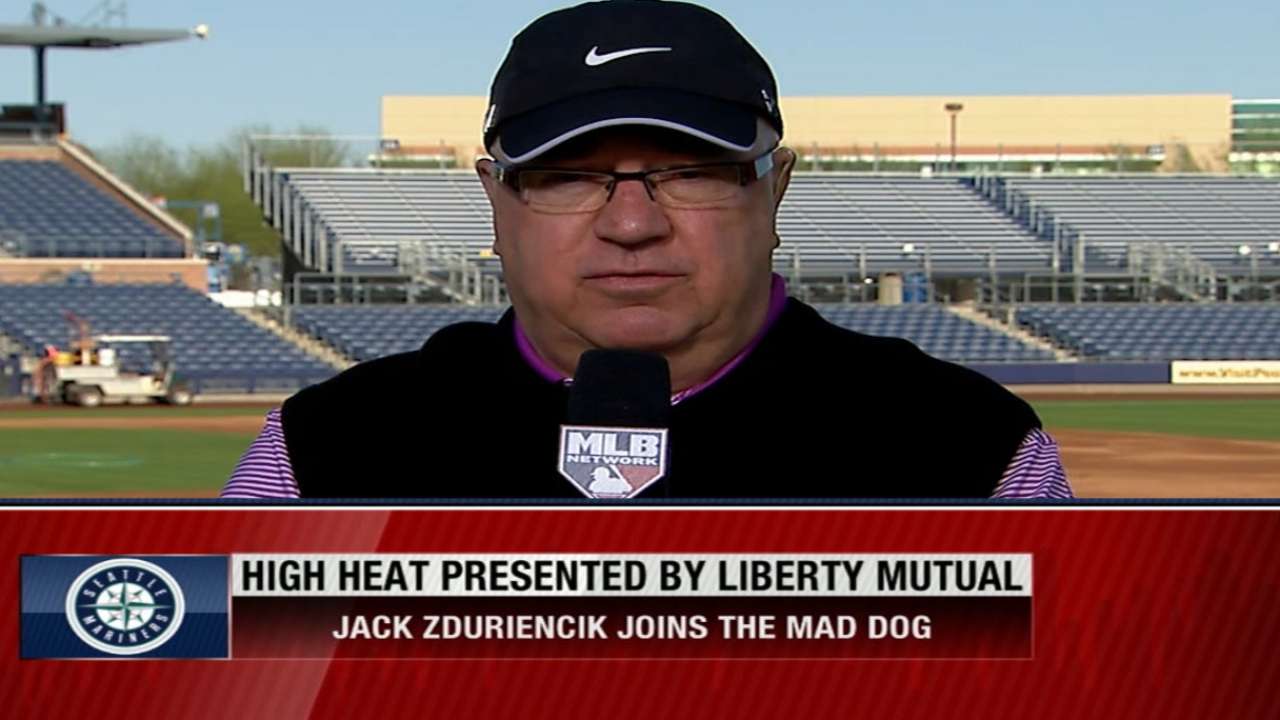 PEORIA, Ariz. -- The Seattle Mariners, having gone through the necessary tough times, have emerged into what looks very much like the beginning of a solid, successful era.
This is what Jack Zduriencik, executive vice president and general manager, baseball operations, envisioned when he joined the Mariners before the 2009 season. There would be a steady stream of young talent coming through the developmental system that could be supplemented by veteran talent, as needed.
This would be the basis for long-term success. Maybe it didn't occur as rapidly as some people wanted, but it started to happen last season, when the Mariners made a 16-game improvement, won 87 games and finished one game out of qualifying for the postseason as a Wild Card.
And now, further upgrades have been made to the offense. The Mariners don't have to boast about how positive their outlook is. Playing the games will be enough.
"We had a nice year last year, we came the one game short and the day that everyone went into the locker room after the final out, there wasn't a happy camper in the whole clubhouse," Zduriencik said Sunday at Peoria Stadium. "Everybody was disappointed, in spite of the fact that it was an improved season. The goal is not to have an improved season. The goal is always to get to the playoffs.
"Last year we addressed some real specific needs, investing in Robbie Cano. The year before, we signed Felix [Hernandez] long-term. Then last year we also brought in Fernando Rodney, which was huge, and [Logan] Morrison had a really nice last part of the season for us, too.
"Now you evaluate yourself and you say: 'Where do we need to go?' We clearly needed a middle-of-the-lineup hitter and we were able to bring in [Nelson] Cruz. We needed another starter, so we made a trade for J.A. Happ. And we brought in the other offensive pieces, in terms of Seth Smith, Justin Ruggiano and Rickie Weeks. So I think it sets us up to be a nice club, left-handed and right-handed hitting. I do think we're in a pretty good spot right now having a balanced ball club. We'll have a better bench and a veteran presence."
Getting to this level was not an easy or automatic process. "We were committed to building through scouting and player development and we paid a price," Zduriencik said. "We paid a price in the wins and losses columns. It takes time. And then when you try to put a Band-Aid on it here or there to help yourself, sometimes it works and sometimes it isn't what you hoped for."
The Mariners, even in the seasons of offensive shortcomings, have had the basis of a strong pitching staff and a solid defense. Now the offense is being improved to reach the level of the rest of the club.
"Last season we were a really, really good defensive club and we had a very good bullpen, and the pitching overall was very good," Zduriencik said. "The pitching components, in both the starting and bullpen were commendable."
Along with the players added for offense, the Mariners have reason to believe that their young position players will make further strides in run production. It should be, Zduriencik says, "a real good blend."
"I like the club. I like what should be our 25-man roster. We've got a good Minor League system, we've got young players knocking on the door. It's the cycle that we hoped we could get to. We hoped we could have a good, competitive club year in and year out, a good Minor League system that could continue to fill the void when you have a need, instead of what we had a few years ago, when we had 16, 17, 18 players that debuted in the big leagues in one year. We're beyond that now.
"There were a few disappointing seasons. But when you look back on it, during those disappointing seasons there was a lot of growth, a lot of experience being gained."
Watching Hernandez pitch on a practice field Sunday, you were reminded of the increased star power of the Mariners. He was sharp, he was fluid, he was King Felix. He threw 51 pitches, 38 for strikes, while allowing two singles and striking out four over 3 1/3 innings. He would have had four innings, but a double play grounder was booted behind him on his final pitch.
Yes, he was facing Minor Leaguers, but guys with Major League service time and long-term contracts don't do anything with his pitches, either.
Hernandez was one of four Mariners All-Stars on the 2014 American League squad, the others being Cano, Kyle Seager and Rodney. The Mariners added a fifth 2014 All-Star by acquiring Cruz.
"That's a lot better than we've been in recent seasons," Zduriencik said of his club's collection of All-Star talent.
That is true. And for the Mariners this sort of thing could be just the beginning of a sustained stretch of better days and better baseball.
Mike Bauman is a national columnist for MLB.com. This story was not subject to the approval of Major League Baseball or its clubs.