Minor League catcher Bandy's plate discipline coming around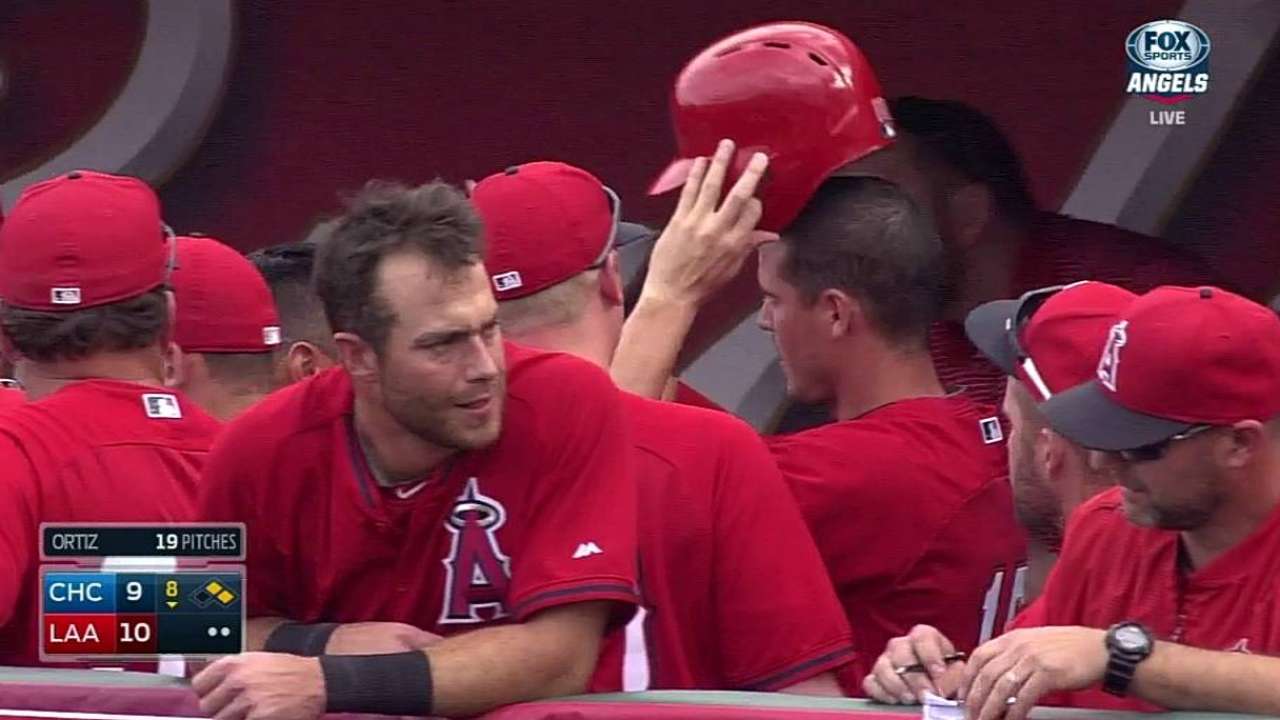 GLENDALE, Ariz. -- Two questions immediately come to mind when it comes to Angels catching prospect Jett Bandy, so let's get them out of the way first.
Yes, that's his real name, as spelled out on his birth certificate.
"My grandpa's name is Chester, but they call him Chett for short, and my dad's name is John," Bandy explained. "So they just put Chett and John together and got Jett."
And yes, Bandy is staying behind the plate despite his size.
He's listed at 6-foot-4 and 235 pounds, a stature that would prompt many to wonder whether a move to first base is inevitable, but Bandy is uncommonly athletic as a catcher.
"It's impressive," Bandy's longtime Minor League teammate, C.J. Cron, said. "He has great hands and blocks everything, it seems like."
Bandy has thrown out 35 percent of would-be base stealers in his four-year Minor League career -- the Major League average during that time was 27.1 percent -- and has always impressed the Angels with his actions behind the plate. But the former 31st-round pick was hardly on their depth chart until the middle of last summer, when his plate discipline finally started to come around.
Bandy posted a .247/.318/.386 slash line at Class A Advanced Inland Empire in 2012 and a .241/.303/.376 mark in his first season of Double-A. By the end of May last year, the 24-year-old was hitting .203/.288/.352 for the Arkansas Travelers.
Then something happened.
For the last three months of his second season in the pitcher-friendly Texas League, Bandy reached base nearly 40 percent of the time. He posted a .283 batting average, a .389 on-base percentage and a .457 slugging percentage, belting nine homers and drawing 23 walks -- nine more than he had for his entire 2013 season.
The reason is even weirder.
"Fatigue set in," Bandy said. "I don't know, I guess when I get tired I start doing better."
Allow him to explain.
"I'm not going to swing at that high fastball because I don't have the energy to get there," said Bandy, who was added to the 40-man roster in November and invited to Major League camp shortly thereafter. "You have to really get a good pitch, really focus, slow everything down."
Alden Gonzalez is a reporter for MLB.com. Read his blog, Gonzo and "The Show", and follow him on Twitter @Alden_Gonzalez. This story was not subject to the approval of Major League Baseball or its clubs.