Crain closer to game action; Abreu running well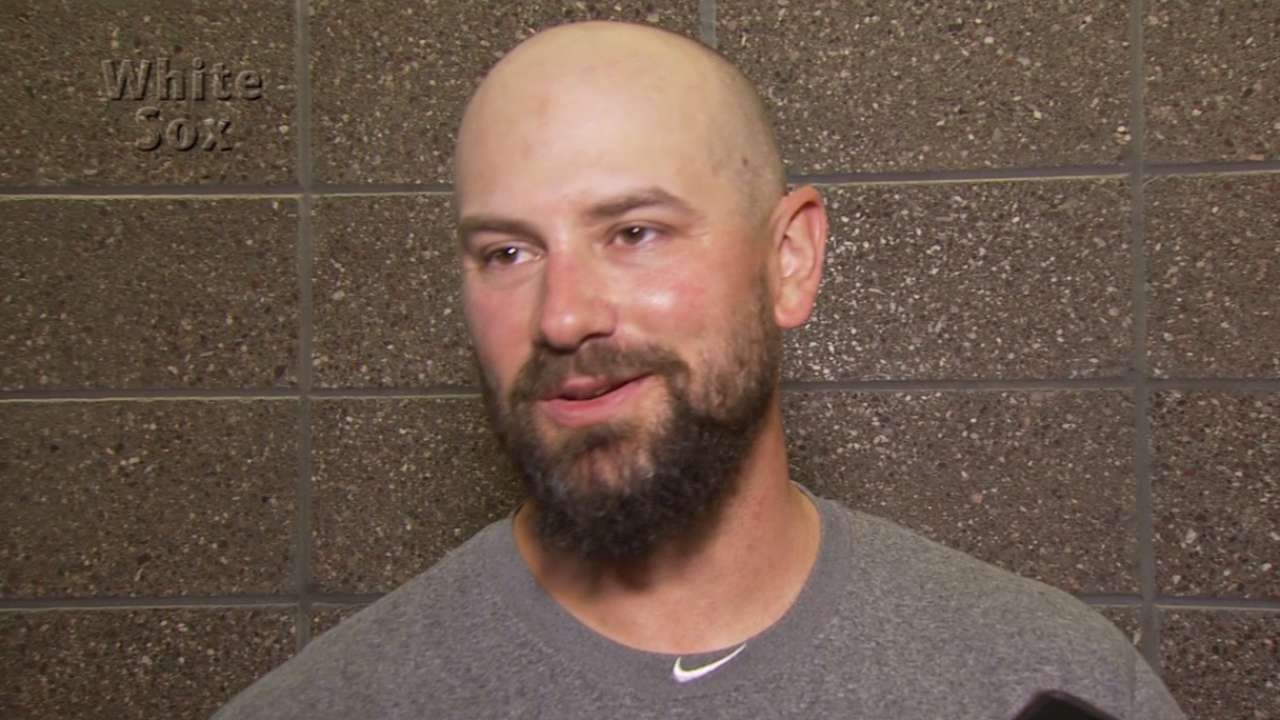 GLENDALE, Ariz. -- Jesse Crain is running out of superlatives to describe his pitching in live batting practice sessions. So after his third successful effort at Camelback Ranch Sunday, the veteran right-hander looks to be moving to game action.
"Some sort of game, whether it's a [simulated] game or Minor League game," Crain said. "We'll see how the next two days go and go from there.
"That was the best pitching that I've done the whole time. I hit spots a little better today. My breaking pitches were a little more under control."
Crain believes mechanics will fall in line simply from facing hitters. But health is not an issue for the 33-year-old who has battled shoulder issues and not pitched in a Major League game since June 29, 2013 with the White Sox. The most frustrating part of the recovery for Crain was not knowing how his arm was supposed to feel and not knowing how long this return process would take because there's no prescribed plan as there is for Tommy John surgery, as an example.
There's little doubt Crain feels the best he has since the injury at this point, having faced hitters one time at the end of last season and that's it. He's done three live BPs in Spring Training and been off the mound 10 times, with a look toward possibly breaking camp with the team.
"I still have some work to do. How close is that going to be toward the end of camp? I don't know," Crain said. "Every time I go out there, I feel like I'm getting better and it's different. I have to make sure I'm still climbing, which I am. There's almost three weeks left and I'll let those play out and see where I'm at."
• For a brief moment during Friday's contest in Scottsdale, Jose Abreu looked as if he was motoring toward an inside-the-park homer. The play was set up when Drew Stubbs misplayed Abreu's line-drive single and the ball rolled all the way to the wall.
While Abreu stopped at third, that play was another example of how Abreu looks to be running well and not bothered by the ankle problems from last Spring Training.
"I feel good. I feel much better than last year," said Abreu, through interpreter and White Sox Spanish-language announcer Billy Russo. "That's good for this season and for the thing that we are hoping to get this season."
• White Sox manager Robin Ventura mentioned that David Robertson promised to be better in his next outing when he was pulled after two-thirds of an inning Thursday evening against the Giants. With a smile on his face, Robertson explained that scenario in a little more detail after Sunday's one-inning performance.
"When Robin came out there to get me last time he was like, 'Hey I'm gonna get you outta here.' And I said, 'Well, you need to because I stink right now. Put somebody in here who throws strikes,'" Robertson said. "This time I was afraid it was gonna happen to me again. Thank goodness for that double-play ball."
Robertson walked two in the fifth on Sunday before getting Albert Pujols with an inning-ending double play grounder.
"I feel much better than I felt the first two," said Robertson, who threw 22 pitches. "It's something to move forward on. Maybe the next outing will be a quick one."
• John Danks said that he's pretty confident he won't be starting on Opening Day in Kansas City. He's equally as confident in Jeff Samardzija or Jose Quintana as the final Day 1 choice.
"Come the second week of the season it doesn't matter who threw that first game," said Danks after throwing 61 pitches over 3 2/3 innings. "Both those guys are going to get all their starts and we need them to be good. And I have all the confidence that they will."
Scott Merkin is a reporter for MLB.com. Read his blog, Merk's Works, and follow him on Twitter @scottmerkin. This story was not subject to the approval of Major League Baseball or its clubs.