Kennedy in line to start Petco opener vs. Giants
Padres' fourth starter sees improved mechanics in latest spring start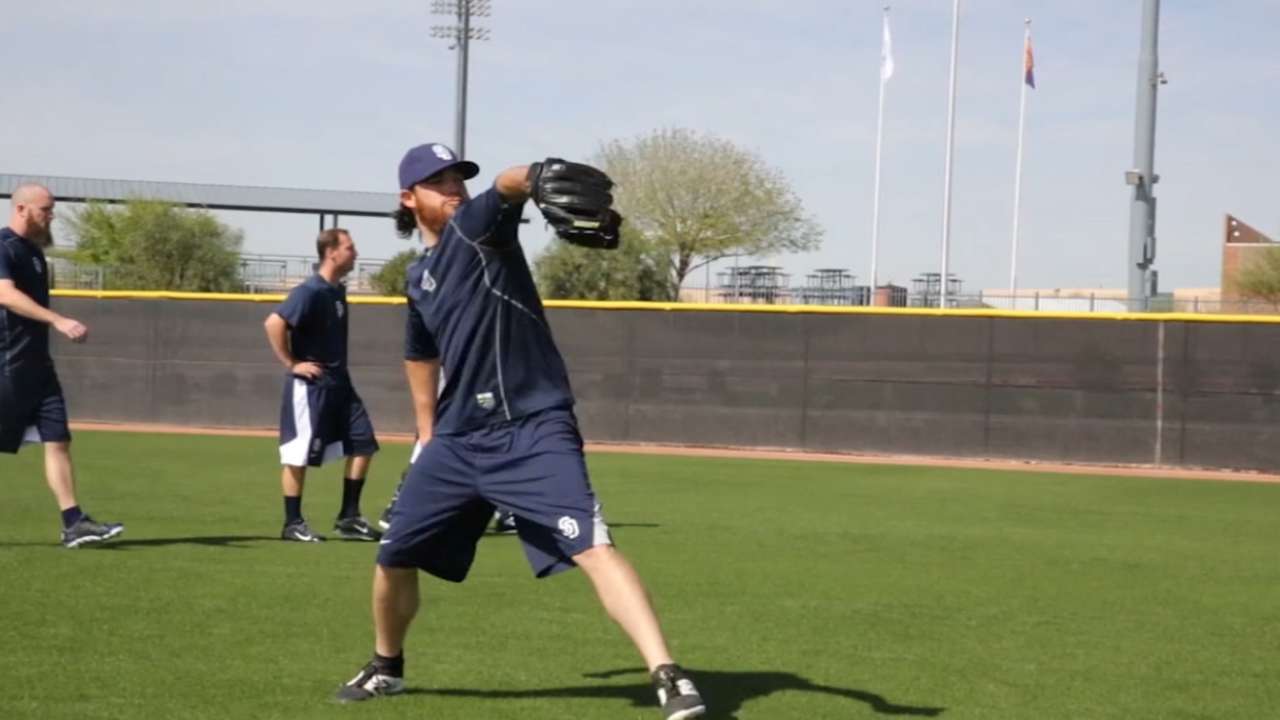 GOODYEAR, Ariz. -- The Padres' starting rotation is beginning to shape up as a group of bearded wonders. And the way the schedule is aligned for the rest of the spring, Ian Kennedy -- the guy with the bushy red beard -- would start the home opener for the Padres against the World Series champion Giants at Petco Park on April 9.
It's an honor Kennedy has had before and would love to have again.
"That's the fourth game against the Giants," said Kennedy, whose club opens the season in Los Angeles on April 6 with a three-game series against the Dodgers. "If everything lines up and hopefully everybody stays healthy all the way through Spring Training, which we're planning on, that will be cool. Really, exciting."
Free-agent signee James Shields would get the Opening Day start against all-world Dodgers left-hander Clayton Kershaw, with Tyson Ross and Andrew Cashner to follow. Brandon Morrow and Odrisamer Despaigne are in competition for the fifth slot.
Shields, Cashner and Morrow all have beards longer than the other, as do relievers Dale Thayer, Kevin Quackenbush and Brandon Mauer. Josh Johnson and Casey Kelly, both recovering from Tommy John ligament replacement surgery, are full beard cladded. Ross and Despaigne are not.
"It's trendy now, isn't it?" said Padres manager Bud Black, perhaps forgetting the 2013 World Series champions, the completely bearded Red Sox.
Does Black plan on joining them?
"No, no," he flatly responded.
Kennedy was asked if he was in a Beard of the Month Club competition with his fellow pitching colleagues.
"I'm just trying to catch up with Cash and be the reddest one," he said. "Dale has plenty. He's pretty unique. He has hair everywhere. You never know what to expect from Dale. Shields is long. I don't think he's cut it since the World Series. My little one combs [mine] and then, bam, she pulls it. She's only 1."
When Kennedy was with the D-backs, he started the season openers three years in a row from 2011-13. The D-backs won all three and Kennedy earned the victories in 2012 against the Giants and 2013 against the Cardinals, both at Chase Field. He was a career-best 21-4 after being traded from the Yankees to Arizona in 2011. The D-backs then shipped him to the Padres at the July 31 non-waiver trade deadline in 2013.
Last year for the Padres, Cashner started the opener in a Sunday ESPN game at home against the Dodgers. Kennedy pitched the second game, an afternoon affair two days later, which the club billed as "Opening Day."
"I joked about that," Kennedy said. "I said, 'Hey, I did it again, Opening Day starter.' It was fun."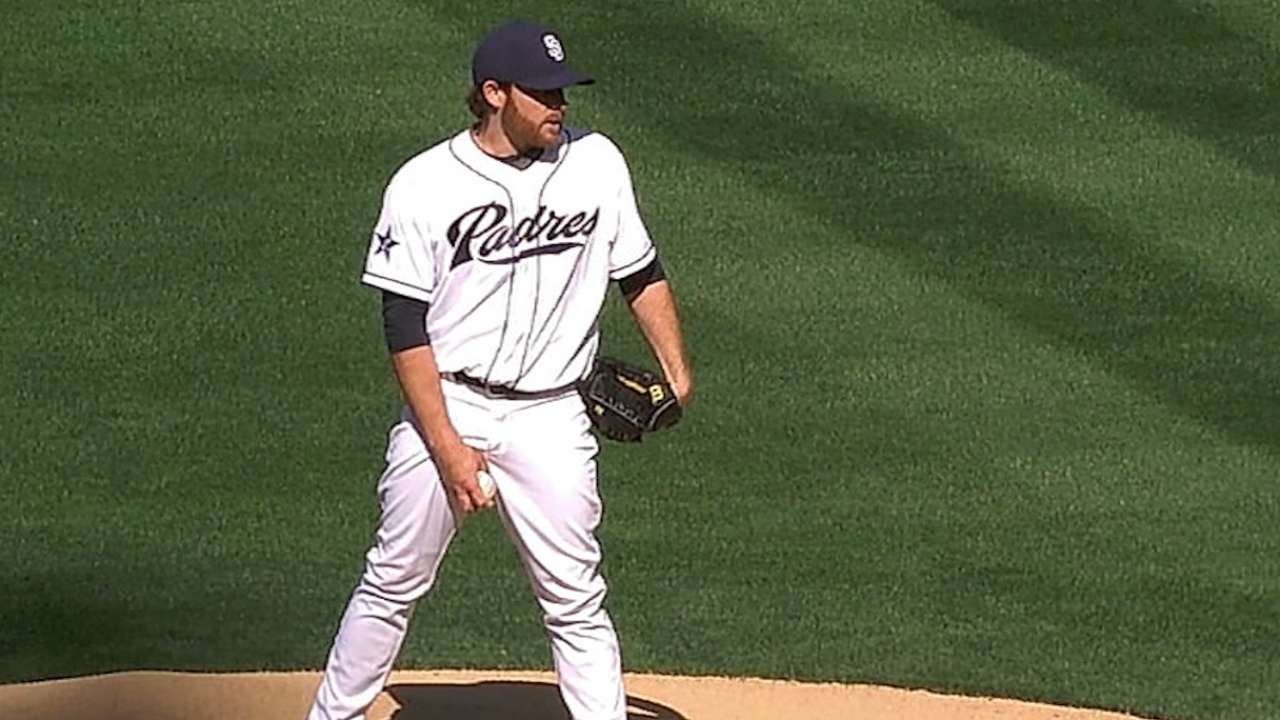 With the addition of Shields, the rotation is so stacked that Kennedy has slipped to No. 4. Thus, he's in position to open the season at Petco.
"Hey, I'll be the best No. 4 starter I can be," he said.
Thus far this spring, Kennedy has struggledt. In his first two starts, he was 0-1 with a 12.27 ERA.
Despite homers on Sunday by Cleveland's Carlos Santana and Francisco Lindor -- the latter an inside-the-park shot botched by the seemingly sun-blinded Will Myers in center field -- Kennedy thought he threw well enough.
"I felt much better. Timing is starting to come around," said the red-bearded wonder. "I threw more changeups than normal today. I was telling [catcher] Wil [Nieves] that I was just trying to keep it game-like. The first few [starts] I was just trying to get my fastball established. My mechanics were a little bit better than last time. Which is good. ... I think I have four more [starts] so I have to pace myself. You can't be too good too soon."
Barry M. Bloom is a national reporter for MLB.com and writes an MLBlog, Boomskie on Baseball. Follow @boomskie on Twitter. This story was not subject to the approval of Major League Baseball or its clubs.