MLB.com Columnist
Richard Justice
Cubs abuzz as Bryant blasting his way to stardom
Humble off field, third-base prospect showing flashes of greatness on it this spring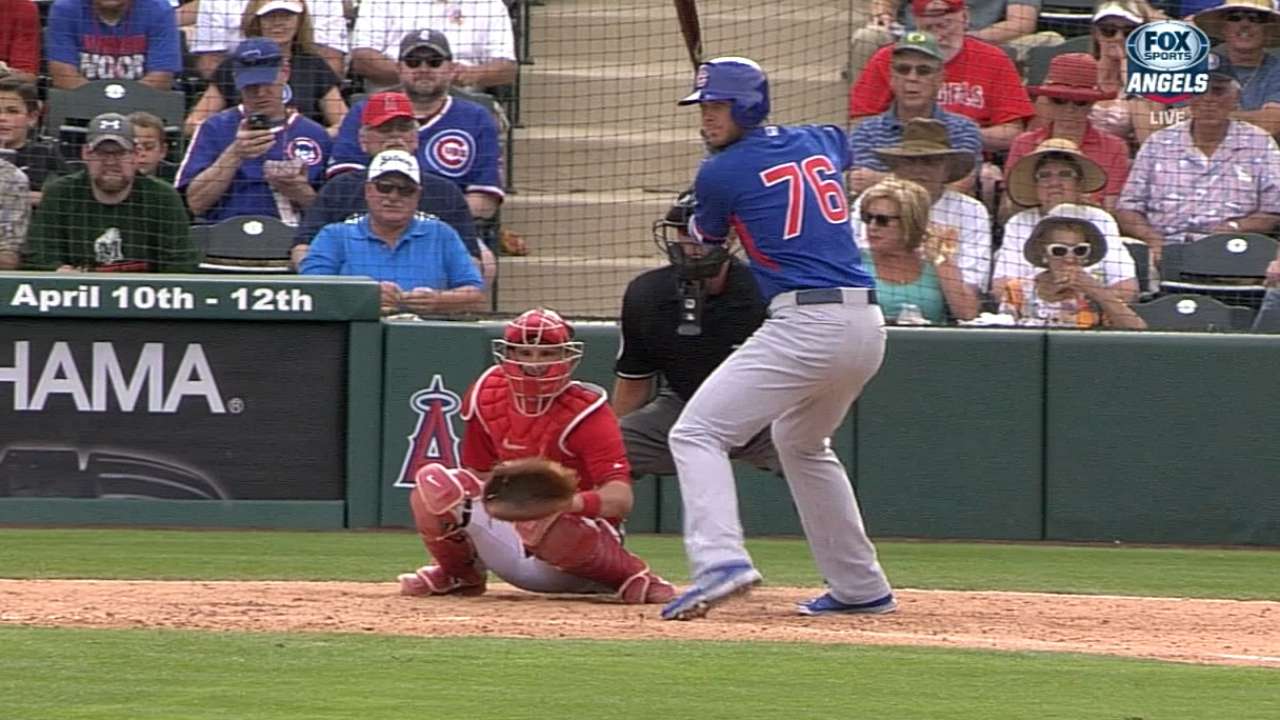 MESA, Ariz. -- This Spring Training seems to have verified all the things we thought we knew about Cubs rookie third baseman Kris Bryant. That is, he's on his way to becoming baseball's next great player. Sometimes, the bottom line couldn't be simpler.
"It's almost comical to see some of the things he's done," teammate Jake Arrieta said. "He's like a video game. He gets the ball in the air, and he's just so strong. It seems like he's hitting 450-foot popups, and they never come down."
When scouts talk about the baseball coming off the bat of certain guys with a distinctive sound, they're talking about players like Bryant. It's a sound that's impossible to describe, but baseball men know it when they hear it. It helps define the special ones.
"There are a bunch of guys who have superstar capabilities," Cubs hitting coach John Mallee said. "He falls in that category. He's got tremendous bat speed and long arms and a lot of leverage. He's also very consistent."
From the moment the Cubs made Bryant, now 23, the second pick of the 2013 First-Year Player Draft, he has been projected as a future cornerstone piece, perhaps even more than that. Players have these kinds of projections placed on them way more than they actually fulfill them.
In Bryant's case, he's on course to be what he was supposed to be: He begins the season as MLB.com's No. 2 overall prospect. When he hit 43 home runs last season across two levels in the Minors -- his first full season -- it set the stage for 2015, not just for Bryant, but for a Cubs organization that seems on the threshold of greatness.
From the moment Theo Epstein took over as president of baseball operations in October 2011, he steered the Cubs toward a path of sustained success. He has acquired so many high-ceiling young players that it's impossible to know how good the Cubs will be in 2015. But no franchise has a brighter future.
There are gifted young players dotted up and down the roster. There was a big-ticket free-agent signing (pitcher Jon Lester) last winter. And, perhaps most important, there was the hiring of one of the game's best managers, Joe Maddon, who is better than almost anyone at nurturing young players along and putting them in position to succeed.
Bryant? This spring, he has announced himself to the world with one booming home run after another. Bryant leads the Majors with six and is hitting .450. He's being given a day or two off to rest a sore shoulder, but he'd surprise no one by winning the National League Rookie of the Year Award.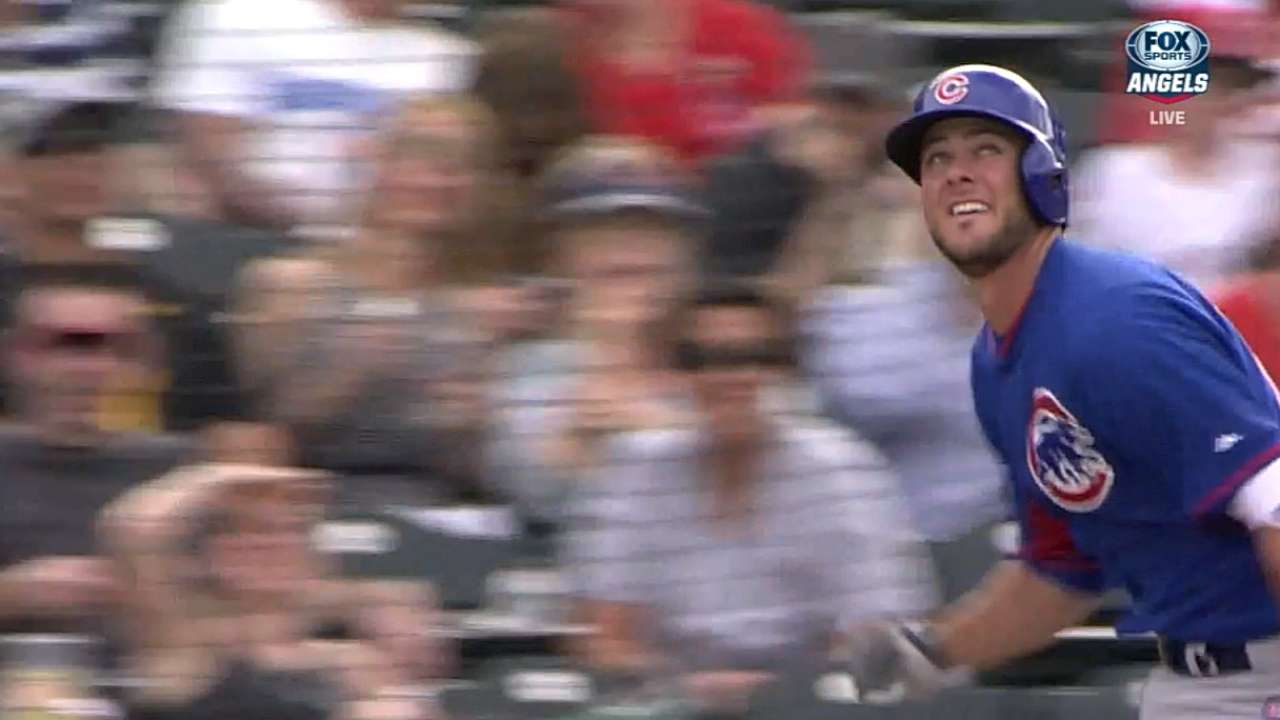 "I feel a lot more comfortable this camp," Bryant said. "The guys we brought in really make me feel welcome. They've really opened their arms up to me. It's a good situation to be in if you're my age and a guy trying to make it to the big leagues. Everybody has been great, and I'm very fortunate to have 'em as teammates."
Bryant has played so well that the Cubs may face a tough decision at the end of Spring Training. If he spends the first 12 days of the season in the Minors, his free agency could be delayed a year. So the Cubs would have control of Bryant for seven years instead of six.
Given Epstein's focus on the big picture, it's seems a foregone conclusion that Bryant's debut will be delayed. Whenever he arrives, he seems on his way to being something special.
When the Cubs discuss Bryant, they don't begin with his power or bat speed or any of that. They begin with his work ethic and attitude and overall demeanor. At times, Bryant seems too good to be true. In other words, he's a generational-type player, the kind who can be the face of a franchise for years to come.
"When you watch him hit, you get excited," Maddon said. "When you talk to him, you get even more excited. He's very unassuming. The statements come from his play. He's not a big talker. But he's confident. He's very confident. He's not going to back away from the fact that he's good and knows he's good. He does it the right way."
Bryant's teammates have seen many of the same things.
"He knows he's good, but he's not cocky about it," Cubs first baseman Anthony Rizzo said. "He's a great kid. That's important. He was the best player in the Minor Leagues, and sometimes a guy like that will be a little more arrogant and cocky. He has a quiet kind of attitude."
Mallee worked with Miguel Cabrera, Giancarlo Stanton and Jose Altuve during his stops with the Marlins and Astros. In Bryant, he sees some similar traits.
"It's the way he carries himself and how professional he is," Mallee said. "He's the same guy whether he strikes out or hits a home run. There's no emotion with him, no fear. He's very mature for his age in regard to how he handles different situations. His ability to bounce back after a pitch or if the umpire makes a bad call. He blows it off and gets ready for the next pitch."
Bryant certainly has dealt with the attention in stride. He seems completely unflappable about both the success and the speculation on where he'll begin the season. As the Cubs say, almost too good to be true.
"I'm always having fun," Bryant said. "We get to play a game for a living. It's hard not to go out there with a smile on your face."
Richard Justice is a columnist for MLB.com. Read his blog, Justice4U. This story was not subject to the approval of Major League Baseball or its clubs.