Cardinals' young players making good impression in spring
Ortega throws out runner at home to end game; Stanley clubs homer in tie vs. Twins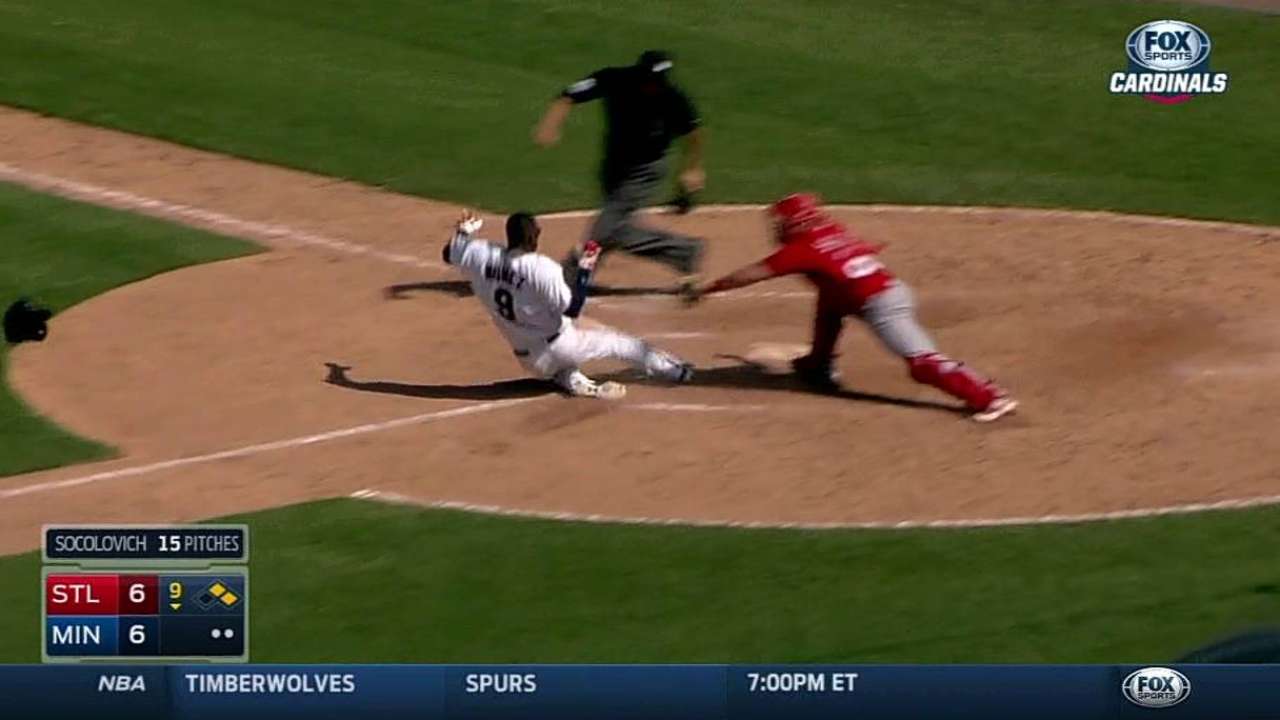 FORT MYERS, Fla. -- Rafael Ortega charged the base hit, fielded it in shallow left field and uncorked a strong throw to home plate, where Cody Stanley snatched it out of the air and slapped a tag down on the sliding Eduardo Nunez, who was called out. With that, the Cardinals had preserved a hard-fought 6-6 tie against the Twins, one in which young players such as Ortega and Stanley played a major role.
That put a smile on the face of Cardinals manager Mike Matheny, who watched his starters put St. Louis in a 5-0 hole before a group of backups and prospects rallied in dramatic -- for Spring Training -- fashion at Hammond Stadium. By the time the dust from Nunez's slide had settled, and the game was called, Matheny had deployed 27 of the 30 players on his travel roster.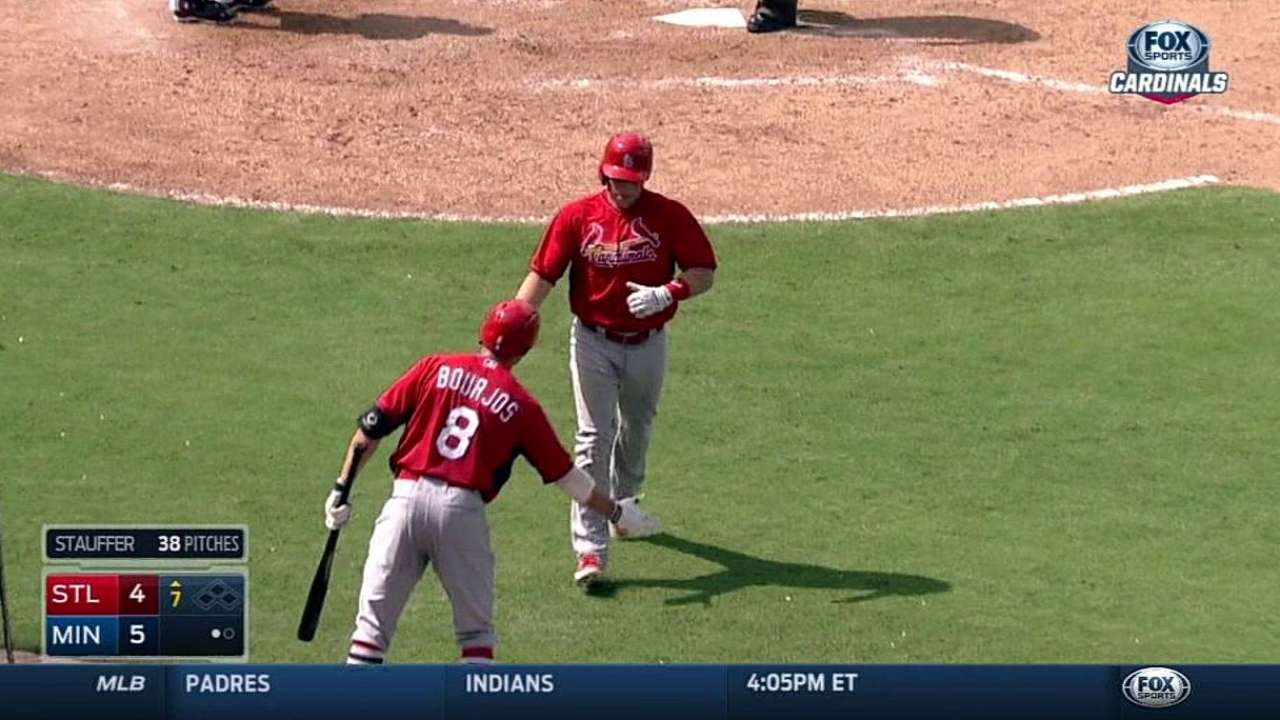 "That's a win in my book," Matheny said.
"That's fun. Obviously, we want to get the big boys ready for the season, but really what you want to watch are the young guys, watch them compete. We've seen a couple days of that now where they've got us right there at the doorstep by just playing with heart. It's fun to watch."
Besides his tag, Stanley also clubbed a solo homer to right field off Tim Stauffer that brought the Cardinals within a run in the seventh inning. In his only other plate appearance, the left-handed hitter fought back from an 0-2 count to draw a walk off Twins southpaw Caleb Thielbar.
There were plenty of other contributions as well. Greg Garcia, Jacob Wilson and Ed Easley all came through with pinch-hits. Relievers Sam Tuivailala, Dean Kiekhefer and Miguel Socolovich contributed to a bullpen that allowed one run over the final 5 2/3 innings.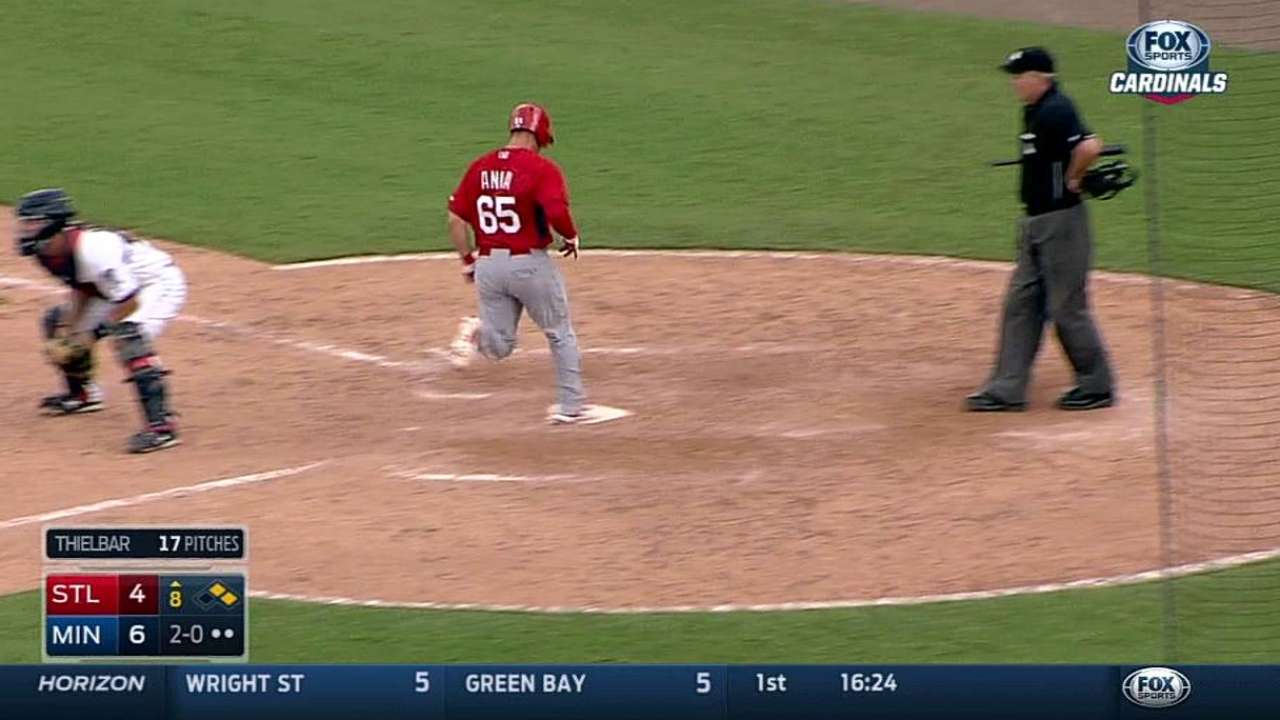 Those performances may not earn anybody on a spot on the Opening Day roster, but they could be remembered down the line.
"We're not wasting anybody's time here," Matheny said. "They're competing, they're performing for future opportunities. You never know. You just don't rule things out. You come in here and play. You don't get caught up in what might happen, you just control what's in front of you right now."
Worth noting
• Pete Kozma started the game at shortstop, shifted to left field in the sixth and then back to short in the ninth. Kozma, who has played four regular-season innings in the outfield, also picked up three singles in four at-bats.
"Great day. He's a joy to watch at shortstop," Matheny said. "Every time the ball's hit to him, you feel safe. That's a shortstop, but I still like him wherever he is. He doesn't look out of place in the outfield. He's mad right now that he wasn't out there to throw the guy out at home [to end the game]. But he just wants to be where the action is."
• Second baseman Kolten Wong, who came into the day 1-for-14 this spring, went 1-for-2 with a single and a hit-by-pitch. Center fielder Peter Bourjos went 0-for-4 with a walk to fall to 1-for-20, but Matheny said he is making progress and "looks like he's just a click off from really having the results he wants."
Andrew Simon is a reporter for MLB.com. Follow him on Twitter @AndrewSimonMLB. This story was not subject to the approval of Major League Baseball or its clubs.