Myers fuels offense with homer, Kennedy amps up innings
Padres starter sees improved mechanics vs. Indians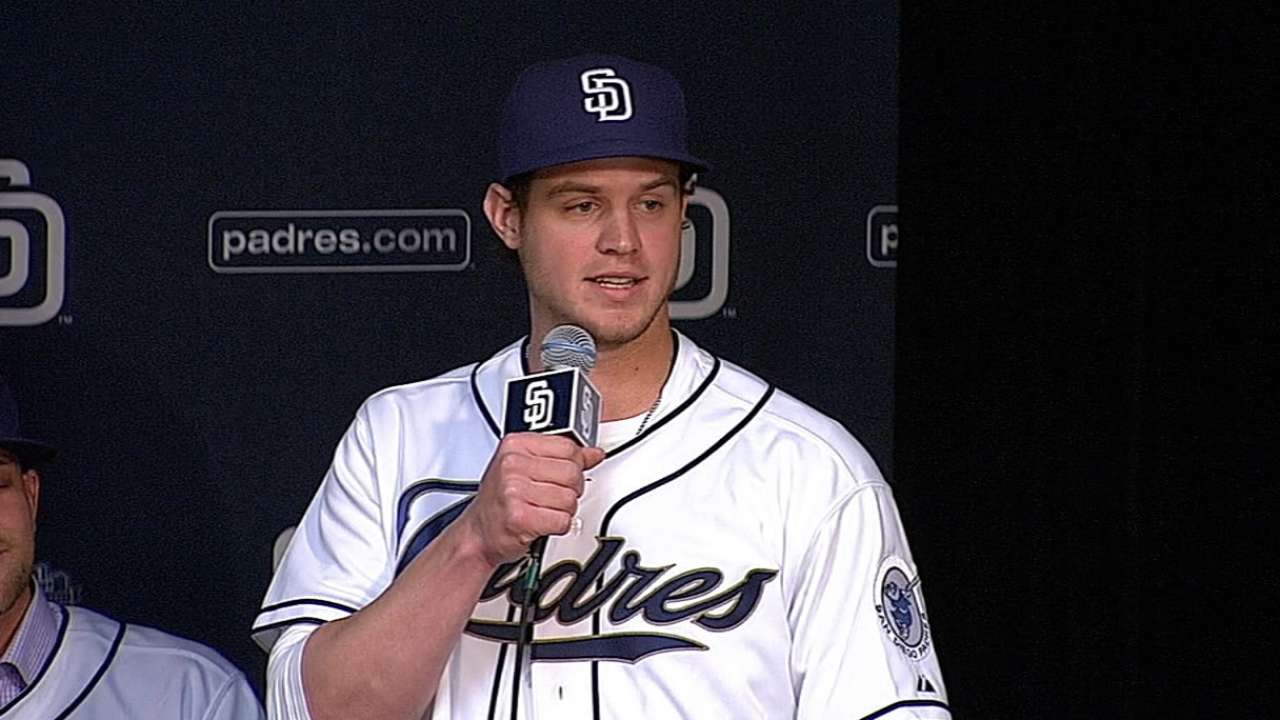 GOODYEAR, Ariz. -- Indians top prospect Francisco Lindor collected an inside-the-park home run, Cleveland's Trevor Bauer and San Diego's Ian Kennedy continued to build their innings, and the Indians claimed a 4-2 Cactus League win over the Padres on Sunday afternoon at Goodyear Ballpark.
Lindor's bolt around the bases provided the highlight of the afternoon for the Tribe.
In the home half of the third, Lindor lifted a pitch from Kennedy to deep center field, where the bright Arizona sun and windy conditions at Cleveland's spring home toyed with Padres outfielder Wil Myers. The center fielder got turned around, the ball dropped just short of the wall and Cleveland's young shortstop sprinted around the basepaths.
San Diego's relay reached the infield far too late, as Lindor dove head-first through home plate to push the Indians to a 2-1 lead.
"That's an out-of-the-park home run. It's just the wind brought it back in," Indians manager Terry Francona said. "It's hard, because I think he thought it was caught, too. ... But the minute he saw the ball rolling, man, he started sniffing it. About the last 15 feet, I don't know if that was a dive or exhaustion."
One inning earlier, Cleveland collected its first run on a towering solo home run -- one of the traditional variety -- off the bat of first baseman Carlos Santana.
Myers, who engaged in a 10-pitch at-bat with Bauer to open the game, got back at the Tribe in the fifth inning, when he belted a 1-0 pitch from the right-hander deep to left-center field for a solo home run. The blast marked the second homer of the spring for Myers, who was acquired by San Diego from Tampa Bay via trade in December. Myers added a double in the eighth.
Bauer finished the fifth inning with a flyout to Yangervis Solarte, marking the only at-bat among 20 batters faced in which the pitcher registered a three-ball count. Overall, Bauer threw 68 pitches (50 strikes), ending with two runs allowed (one earned) on four hits with four strikeouts and no walks. In the first, Myers reached on a throwing error by third baseman Lonnie Chisenhall and scored on a double by Matt Kemp.
"That's been my only goal my first three outings, is just throw strikes," Bauer said. "I'm not so much worried about the results. I'm not really worried about the results at all -- just how I executed. I felt like I executed a lot better today than I did last time even."
"He was pretty good, man," Francona said of Bauer. "He continues to pound the zone. He's trying to work ahead and he's using his fastball. I think there's some instances where he could go to a breaking ball and get a strikeout, but knowing it's Spring Training, he's pounding his fastball. It's pretty impressive."
Kennedy surrendered two runs -- on the homers by Santana and Lindor -- on four hits in his three innings. The right-hander struck out three and issued one walk.
"I felt much better. Timing is starting to come around," Kennedy said. "I threw more changeups than normal today. I was telling [catcher] Wil [Nieves] that I was just trying to keep it game-like. The first few times I was just trying to get my fastball established. My mechanics were a little bit better than last time. Which is good. Third time and I think I have four more so I have to pace myself."
In the seventh inning, Padres reliever Jose Valverde was on the hook for Cleveland's third run. Indians second baseman Michael Martinez, who had a pair of singles and stolen bases in the game, connected for a one-out base hit and promptly swiped second. Two batters later, Martinez crossed the plate on a single from David Murphy.
An error by the Padres later in the inning allowed Tyler Holt to score from second, giving the Indians a 4-2 lead.
Up next for Padres: Back home on Monday against the Cubs in a 1:05 PT game, newcomer Brandon Morrow continues his quest for the fifth spot in the rotation.
Jordan Bastian is a reporter for MLB.com. Read his blog, Major League Bastian, and follow him on Twitter @MLBastian. This story was not subject to the approval of Major League Baseball or its clubs.