Martinez still in mix for rotation spot despite struggle
Right-hander allows five runs and four extra-base hits in tie vs. Twins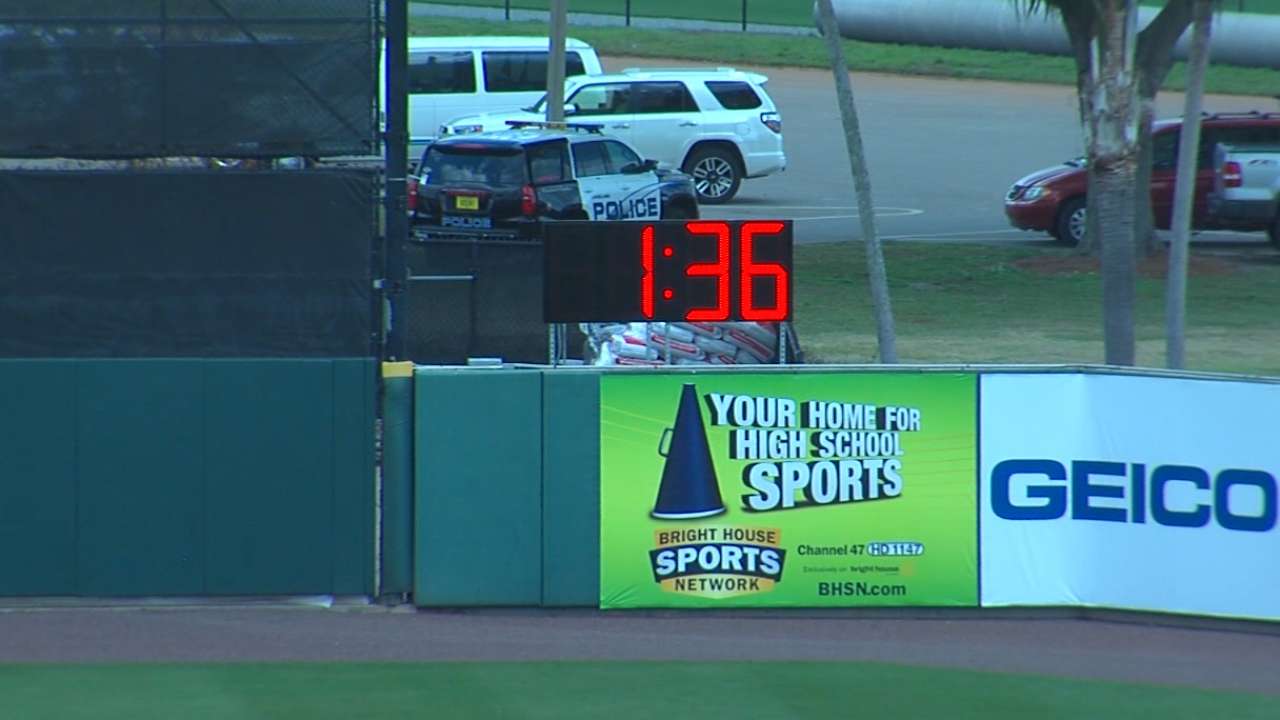 FORT MYERS, Fla. -- Carlos Martinez's final pitching line wound up looking a bit crooked after Sunday's game against the Twins at Hammond Stadium, but Cardinals manager Mike Matheny indicated that won't have an adverse effect on the right-hander's quest for a rotation spot.
Martinez surrendered five earned runs on four extra-base hits, including a homer, and walked two batters in a 6-6 tie. His actual performance was better than those numbers showed, Matheny said, and the competition remains open between Martinez and lefties Jaime Garcia and Marco Gonzales.
"Carlos also had two extremely impressive outings, and this one wasn't as bad as it looked," Matheny said. "The door's open. It's just competition. We're truly trying to watch with an open mind to see what looks the best. Obviously we have a lot of games left, a long way to go to get everybody there."
Martinez, who was not available for comment, breezed through the first two frames, retiring all six batters he faced. He then got himself into trouble by walking Kurt Suzuki to lead off the third and dealt with some bad luck when a close play at first on a potential double-play grounder went against St. Louis. Following Jordan Schafer's well-struck RBI double and another groundout, Brian Dozier smacked a two-run homer to left, a ball Matheny did not believe was hit all that well.
In the fourth, Suzuki chased Martinez from the game when he bounced his 56th pitch over the head of third baseman Scott Moore for a two-run double. Once again, there was some bad luck, but once again, Martinez had set up the damage with a walk.
"It didn't look like five runs, but still, you can't give the free bases up," Matheny said. "His stuff's too good to do that. That was a conversation he and I had. Overall, I thought his stuff looked good. He used his slider, used his curveball, his changeup is really good right now. Sinker's good, too."
Matheny doesn't believe that Martinez, who has worked mostly in relief in the big leagues, is running out of gas as he goes deeper into games. The 23-year-old doesn't look tired, Matheny said, but puts himself into bad counts by trying to be too fine with his pitches.
But time remains this spring for Martinez to work on that, and his manager fully expects him to bounce back.
"I think he believes in himself, sees himself as a big league starter and can't wait for every opportunity to go out there and show everybody and make it real obvious," Matheny said. "He does have a day where he had a couple things slip away, I know he wears it pretty hard. He's going to come back with a vengeance. That's just what he does. He's a competitor."
Andrew Simon is a reporter for MLB.com. Follow him on Twitter @AndrewSimonMLB. This story was not subject to the approval of Major League Baseball or its clubs.