Collins 'not worried' about Wheeler
Right-hander should return to game action by end of next week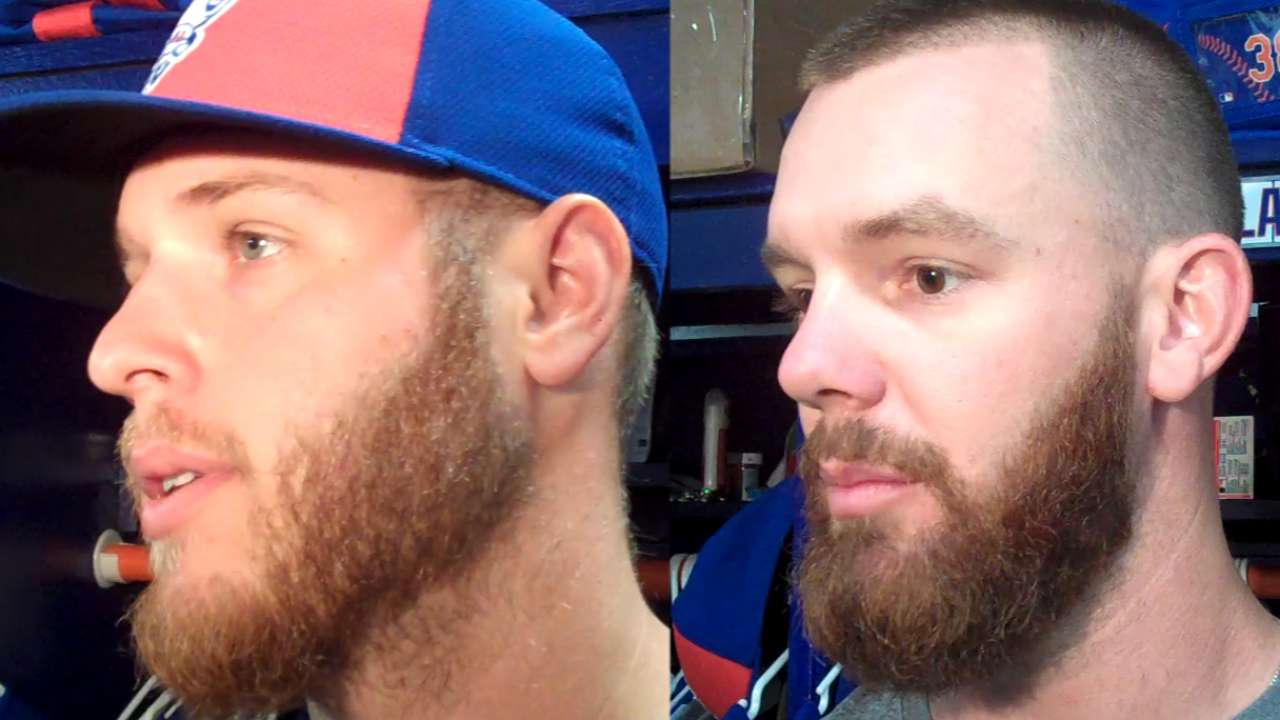 PORT CHARLOTTE, Fla. -- Though the Mets sent Zack Wheeler's MRI results to New York City for further testing on Sunday, the organization remains relatively unworried about the state of his right elbow. In an interview Sunday afternoon, manager Terry Collins repeated the phrase "I'm not that concerned" nearly a dozen times, saying Wheeler should return to game action by the end of next week.
Wheeler will not start either of Thursday's split-squad games, as the Mets originally planned, with Dillon Gee taking his place. But the Mets expect him to be back on the mound shortly thereafter, once both his elbow tendinitis and the blister on his right index finger subside.
"Everybody gets MRIs today," Collins said, downplaying the significance of Wheeler's latest test. "That's the nature of the beast. You come in with an upset stomach and you get an MRI."
Wheeler first complained of elbow soreness earlier this week, calling it similar to what he felt at times last summer. Never skipping a regular-season outing, Wheeler did miss a few scattered bullpen sessions toward the end of the year, but went 8-3 with a 2.71 ERA over his final 16 starts. Collins used that as evidence to conclude that Wheeler is just fine, while Mets pitching coach Dan Warthen noted that Wheeler performed better on four days' rest last season than he did on five.
"If there was something serious, I'm sure the trainers would have run me down in the dugout today," Collins said. "I'm not that concerned."
Wheeler also underwent two MRIs last winter, both of which came back "clean as heck," in the manager's words. Much of the issue stemmed from general manager Sandy Alderson's recent contention that Wheeler would not need an MRI for his latest bout of soreness. That changed Saturday, when Wheeler went for testing in Florida -- standard operating procedure whenever pitchers complain of discomfort, Collins said. And once any pitcher goes for a test, team orthopedist Dr. David Altchek reviews it.
"If there would have been something in there, it would have been discovered this past winter," Collins said. "There's always a worry. But I talked to him the other day and he didn't think it was that bad. Certainly, if he thought it was that bad, he really would have raised some red flags, and he didn't."
Assuming he is healthy, Wheeler will start this season in a five-man rotation alongside Matt Harvey, Jacob deGrom, Jon Niese and Bartolo Colon.
"Nothing alarming," was how Harvey -- no stranger to elbow woes -- described Wheeler's condition. "He thinks just a little rest will be fine."
Anthony DiComo is a reporter for MLB.com. Follow him on Twitter @AnthonyDicomo. This story was not subject to the approval of Major League Baseball or its clubs.